Excerpts from RHB report

Analyst: Juliana Cai


Expecting Temporary Blip In 2Q; Keep BUY
• Maintain BUY with new TP SGD0.75 from SGD0.88, 47% upside and c.3% yield. 1Q20 net profit was USD6.6m (-13% YoY) largely due to FX losses.


Food Empire

Share price:
51 c

Target:
75 c
Excluding FX, core net profit came in strongly at USD9.5m, (+33% YoY), accounting for 33% of our estimates – in line.

We however cut our FY20F-22F core profit by 17%, 11%, and 10% as we expect more impact from currency depreciation and COVID-19 in 2Q20.

This lowers our TP pegged to 12x FY20F P/E.

• 1Q20 revenue recorded 5% growth. According to management, the group saw stronger sales across all markets in local currency terms during the quarter.

This was attributed to rising sales of newer products, better product mix and general improvement in consumer sentiment at the start of the year.

Russia, however, registered a 2% YoY sales decline in USD terms due to the sharp RUB depreciation resulted from the oil crisis.

Excluding FX losses, core profit surged 33% YoY to USD9.5m as selling and administration costs were kept fairly stable despite improving sales.

Gross margin also expanded 0.2ppt YoY to 40.4%.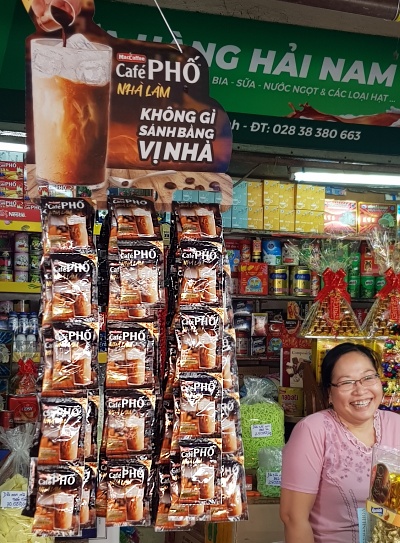 Vietnam, Food Empire's rising market, is a bright spot as the number of Covid-19 cases has been low. NextInsight file photo• 2Q20 likely to take a turn for the worse with various markets being in some form of lockdown due to the COVID-19 pandemic while Russia and most of the CIS countries are seeing the full quarter impact of currency depreciation.

Sales volume in Russia and some of the CIS markets should be more severely impacted as footfall declined sharply for grocery retail.

Vietnam, however, is not likely to be severely impacted due to the lower number of COVID-19 cases.

The second instant coffee plant in project, scheduled for completion in mid-2020, is also likely to see some delays due to international travel restrictions.


10% price increase

"Our sensitivity test suggests that 5% depreciation of the RUB could lower earnings by c.15%, all else unchanged.

"To mitigate the negative FX impact, we note that Food Empire has implemented c.10% price increase in certain key markets and we expect to see the full impact of the price hike in 3Q20.

"Commodity prices have also fallen as a result of weaker global demand.

"In addition, the group is now shifting its focus to higher-margin sales rather than chase topline growth to ensure sustainable profitability."


-- Juliana Cai (photo),
RHB analyst
• Not all bleak and gloomy.

Given it is largely in the staple food business, we believe that full-year sales volume would remain resilient as a whole.

We expect sales volume to pick up once the lockdown eases in 3Q20 for most cities.

Nevertheless, we cut FY20F-22F revenue by 7%, 5%, and 4% and core profit by 17%, 11%, and 10% due to weaker currency and economic outlook in some of its key markets.

This in turn lowers our TP to SGD0.75. Key risks are volatility in the RUB and prolonged lockdown.

Full report here.