(Note: Subsequent to this article, Tropika Kiara bought 12,422,500 shares of Sim Leisure from Sim Choo Kheng on 11 March 2020 for S$2,952,950, or 22 cents a share. A director of Tropika, Tan Boon Seng, also bought 1,000,000 shares for his own account from Mr Sim.)



Singapore-listed Sim Leisure Group, a theme park developer and operator based in Penang, has received a letter of intent from Tropika Kiara Sdn Bhd with the intent to become a strategic shareholder of the Company.

Helmed by Tan Boon Seng, eldest son of the late Dato' Vincent Tan, Tropika Kiara is an investment holding company which owns and operates Malaysia's largest Chinese restaurant food chain including renown brands such as Dragon-I, Canton-I, Ho Min San and the Japanese franchise Yayoi.

Tropika Kiara has about 40 restaurants spread over Peninsular Malaysia and the state of Sabah, and owns the Advance Tertiary College with 750 students across two campuses in Kuala Lumpur and Penang.

In addition, Tropika Kiara owns two unique FMCG brands including Bad Lab and Good Virtues which specialise in personal grooming products.


Alliances welcomed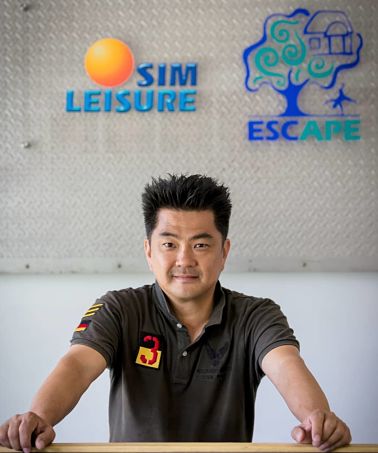 "As we continue to execute aggressive growth strategies both in Malaysia and overseas, we remain on the lookout and welcome potential strategic alliances which may give us access to new markets, new customers as well as new business opportunities. The Board will consider the potential merits of this letter of intent as we continue to strive towards our long-term goal of enhancing shareholder value."

-- Sim Choo Kheng (photo),
CEO, Sim Leisure.
(Owns 77.93% stake in Sim Leisure)
According to the Letter of Intent, Tropika Kiara sees potential synergies between its F&B business operations and Sim Leisure, which is the number 1 ranked theme park in Malaysia by Trip Advisor.

The potential transaction would involve the subscription of new shares of Sim Leisure by Tropika Kiara and/or its nominee and the acquisition by Tropika Kiara and/or its nominee of part of the shareholding stake of Mr Sim Choo Kheng (the Executive Director and CEO of the Company who is also the controlling shareholder of the Company).

The Group is presently embarking on aggressive expansion initiatives in Malaysia and overseas with the upcoming opening of ESCAPE Challenge, the Group's first indoor recreational centre at Paradigm Mall in Petaling Jaya by March or April 2020.

Overseas, the Group expects to begin construction of ESCAPE Sri Lanka in March 2020.


Record visitors in 2019, record revenue
Driven by all-time high numbers of visitors at the Group's ESCAPE theme park in Penang, the Group reported a 5% year-on-year increase in revenue to a record RM21.86 million for FY2019.

Visitor numbers increased to a record 205,000 for FY2019 (FY2018: 185,000 visitors).
Net operating cashflow: RM7.9 million (FY18: RM9.4 million).

Gross profit increased 8% yoy to RM13.13 million, while gross profit margin expanded 1.9 percentage points to 60.0%.

As a large portion of the Group's operating costs are fixed which do not increase significantly with the increase in revenue, the Group is able to benefit from increasing profit margins when visitor numbers increase.

The majority of the Group's cost of sales are non-variable, including depreciation and staff costs.


Finance costs declined significantly from RM1.54 million for FY2018, to RM0.39 million for FY2019.

The decrease was attributed mainly due to lower interest expenses in respect of the redeemable convertible preference shares which were fully redeemed in March 2019.

Excluding the one-off IPO related expenses from the Group's listing on the Singapore Exchange on 1 March 2019 and expenses incurred by the ultimate holding company to maintain its listing status (comprising directors' fees, audit fees, sponsorship and other compliance fees) in FY2019, the Group's core net profit (generated purely from its operations of theme parks) declined marginally to RM5.48 million for FY2019, as compared to RM5.65 million for FY2018.

All in, net profit came in at RM131,769 in FY19.

A special dividend of 3 sens (RM) has been proposed, representing an effective dividend yield of 4.7% based on the closing price of $0.21 and 0.33 MYR/SGD exchange rate on 28 Feb 2020.