Shares of Tritech Group rose 37% to 4.4 cents in the first half hour of trading today after it said it is

seeking to venture into fintech and capital raising

.


If that materialises, Tritech would have a new controlling shareholder.



It's a new field for the Singapore specialist engineering services and water &
environmental group, which has a track record of contract wins for government transport projects in Singapore.

Tritech said it has entered into two non-binding
MOUs
to explore cooperation with two Chinese entities to meet demand from state-owned enterprises
(SOEs) and private companies in China to raise capital
offshore through the issuance of USD-denominated bonds in overseas markets.



Tritech signed the MOUs with China Business Credit Guarantee Co., Ltd (中国企业

信用担保有限公司) and OOway Technology Co., Ltd (大路网络科技有限公司).


• China Business Credit Guarantee Co (CBC) is a SOE established to assist other SOEs to raise capital overseas and intends to develop or expand its business by assisting existing or potential SOE clients to undertake the issuance of USD-denominated bonds in Singapore.

The first MOU with CBC contemplates the possibility of the Group entering into a cooperation agreement with CBC, whereby the Group will assist or cooperate with CBC by providing certain services in connection with the cross-border financing platform and Credit 3.0 product developed by OOway Technology.

• OOway Technology is a B2B Fintech company with two main areas of business, namely, the provision of advisory services to SOEs for the issuance of USD-denominated bonds overseas and to help privately-owned Chinese companies to raise USD denominated funds (including loans) from offshore and onshore financial institutions.

As China's first cross-border financing platform, OOway Technology has designed and developed its proprietary credit assessment system – the Behavior Model of Association Risk System ("bMARS") – to help members on its platform connect with international financial institutions.


Tritech to invest in OOway
Technology?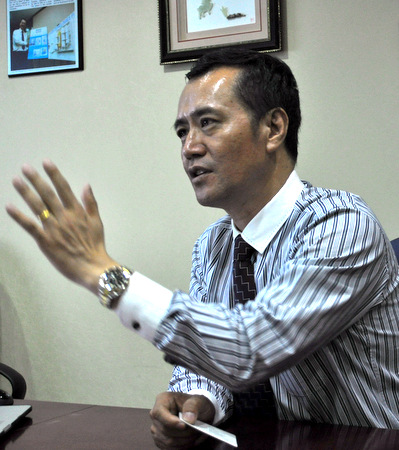 Dr Jeffrey Wang, MD of Tritech.
NextInsight file photoThe second MOU contemplates the possibility of Tritech Group investing in OOway Technology by way of a share swap arrangement which would lead to OOway becoming a new controlling shareholder of Tritech.

The transactions contemplated under the MOUs will be subject to the entry of definitive agreements, which will represent the Group's foray into the area of fintech.

Dr. Eve Yang, Chief Strategic Officer of OOway Technology, commented, "We understand that for SOEs and Chinese private companies, raising capital offshore is arduous, complicated and involves risks.

"Our platform aims to provide a holistic solution to help our members raise capital offshore in an efficient and cost-effective manner. Likewise, we have developed the bMARS to help international financiers assess the creditworthiness of the borrowers by leveraging on predictive analytics powered by big data and artificial intelligence."


Tritech stock price

4.4 c

52-week range

1.3 – 7.6 c

Market cap

S$41.5 m

PE (ttm)

--

Dividend yield

--

Year-to-date
return

33%

Shares outstanding

945 m

Source: Yahoo!
Dr. Jeffrey Wang, MD of Tritech, said, "The Chinese bond market is currently the third largest in the world with a market capitalisation of USD12 trillion. In tandem with this, overseas investors' investment in bonds issued by PRC issuers have increased, and there also appears to be increasing interest of SOEs in the PRC to raise capital offshore through the issuance of USD-denominated bonds in overseas markets.

"We will be keen to have the opportunity to work hand-in-hand with CBC and OOway Technology as this partnership presents a rare opportunity for the Group to service and address this burgeoning market."

See company announcement here.