WHAT DO the MRT Circle line, Marina Bay Financial Centre and Reflections @ Keppel Bay have in common?

Apart from being big name local projects, they involved the participation of Tritech Group (Tritech), a new entry to the Catalist board and a specialist in geotechnical, ground and structural engineering.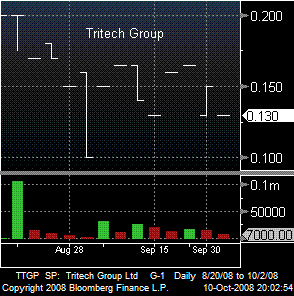 Listed on 21 August 2008 at 20 cents, Tritech's share price has fallen to 13 cents (on 2 Oct) as the US subprime crisis brought down investment banks and damaged confidence.

Nonetheless, the indiscriminate selling has cheapened the valuation of many companies with robust fundamentals, which should prove attractive for long term investors.

Supporting Infrastructure & Construction

Tracing its origins to Tritech Engineering in 1999, Tritech has come a long way to become a respected player in Singapore's infrastructure development.

With its ability to deliver comprehensive and complementary services as compared to its competitors, Tritech has won many important projects in Singapore over the years.

Presently, Tritech is engaged in the provision of specialist engineering services and ground and structural engineering services for a wide range of industries such as oil and gas, infrastructure, integrated resort and residential and commercial market.

In addition, Tritech has also conducted research and development on wastewater and desalination treatment technologies and secured a patent for its Unitcell Desalination System.

With infrastructure projects spanning across the island, customers include government statutory boards, property developers and main contractors.

Commendable Growth
| | | | |
| --- | --- | --- | --- |
| S$'000 | FY06 | FY07 | FY08 |
| Revenue | 7,412 | 19,488 | 31,293 |
| Gross Profit | 4,287 | 7,263 | 12,710 |
| Profit Before Tax | 1,687 | 2,671 | 8,682 |
| Net Profit | 1,545 | 2,060 | 7,251 |
| GPM (%) | 57.8 | 37.3 | 40.6 |
| PBTM (%) | 22.8 | 13.7 | 27.7 |
| NPM (%) | 20.8 | 10.6 | 23.2 |
Booking a 60.5% increase, or S$11.8m, in turnover for the financial year ended March 2008, Tritech benefited from the slew of infrastructure and construction projects in Singapore.

Specialist engineering services accounted for S$7.8m of the increased turnover with ground and structural engineering services segment making up the rest.

Earnings increased 251.9% to $7.2m. Gross profit margin was maintained at an impressive 40.6%.

"Looking ahead, we do not foresee any reason for margins to decline as Tritech does not rely heavily on raw materials and the company can be selective in the projects that it undertakes owing to its niche and specialised services," commented Dr Loh Chang Kaan, Executive Director of Tritech in an exclusive interview with Shares Investment (Singapore).

For FY06 to FY08, revenue and earnings grew at a compounded annual growth rate of 105.7% and 120.6%, respectively. As at 31 March 2008, Tritech had a cash balance of $4.5m compared to $2.3m year-on-year.

Branching Out Geographically and Into New Product

With increasing urbanisation, industrialisation as well as population growth, demand for potable drinking water is set to rise. According to the UN World Water Assessment Programme, by 2050, 7 billion people may have to face water scarcity in their daily lives.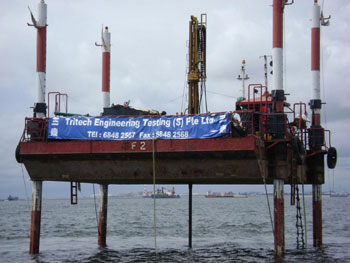 While we are unable to increase the supply of freshwater, technology may provide a solution to the problem. Seeking an entry to a fast growing market, Tritech has earmarked S$0.9 million of its IPO proceeds for commercialisation of the company's water technologies. Specifically, Tritech is targeting the lucrative desalination market.

"Although the water treatment business is not a business segment, it has the potential to contribute to future growth," added Dr Jeffrey Wang, managing director of Tritech.

Tritech has made tentative steps to venture into the Middle East market for desalination technologies with the aid of IE Singapore.

Besides venturing into the water business, Tritech is also looking to China and Malaysia to propel earnings. Management believes that the rapid urbanisation and economic growth in both countries will create a sizable demand for its services.

With its IPO listing, Tritech's platform has been raised, which should aid the company in establishing contacts and securing contracts overseas.

Like many small companies, Tritech faces the challenges of attracting talent and maintaining its technical edge. But with 6 PhDs among its staff, Tritech has managed to attract its fair share of talent.

Originally published at www.sharesinvestment.com, this article is reproduced here as part of a collaboration with NextInsight.