​​In this picture are, clearly, two grown men. What is raising their adrenaline level and getting their pulse racing is their impending slide down an exceptionally long tube that winds its way over a forest canopy.



Yeah, it's not your usual water slide -- and there's nothing wrong or surprising about their child-like enthusiasm.

In fact, it's exactly what a sign at the entrance of the Escape Theme Park in Penang predicts:


But you wouldn't guess the serious stuff the two men do in their working life.

In the picture, on the left, is Sim Choo Kheng, who is the CEO of, and driving force behind, Penang-based Sim Leisure Group.

It owns and operates the theme park, and was listed in Singapore in March 2019.

With him is Jackson Tay, the Chairman of the board of Sim Leisure.

Based in Singapore, Jackson is also chief operating officer of Hafary Holdings and an independent director of OUE Lippo Healthcare. These two are Singapore-listed companies.
OK, the news is out: At 1,111 metres long, that sliding tube has been officially recognised as the world's longest by Guinness World Records.

Here's our 3-minute video on the award presentation ceremony in Escape Theme Park and the splashing fun after that.


... and turn on the volume



Mr Sim, the CEO, gave an interesting speech and here it is in full:

Pete Fairbairn, adjudicator, Guinness World Records, Jonathan Bagang, Director, Ministry of Tourism Penang; Ooi Chok Yan, CEO of PGT (Penang Global Tourism), Jackson Tay, Chairman of the Board Sim Leisure Group Ltd, journalists, reporters, bloggers, friends.
Welcome to ESCAPE and Thank you for being here this morning to celebrate with us.
Milestone
Today is a important milestone for ESCAPE, a significant achievement that we hope that will help put Penang on the World tourism map.
Belongs to
First of all, I must say this Guinness World Record does not belong to me. It belongs to a group of dedicated men and women from Sim Leisure who had been working very hard in the last 24 months.

Special Thanks
A special thanks to our Design Manager Hilal Husni, Constructions Manager Ahmad Sabri who are instrumental in making this project a reality.

Tough Time
Together we had gone through some of the most challenging moments of our career, especially in the last 8 months during the physical installation of the water slide inside the forest.

Basic Equipment
Because of accessibility inside the forest and to avoid damaging the surrounding trees, the slide was installed using very basic equipment, mainly scaffolds and chain hoist without heavy machinery.

Components
This water slide is made up of 488 pieces slide sections, 326 pieces of side guards, secured the with 10,248 sets of bolts and nuts and washers.

Steel Structure
For the support of the slide we've erected structure using a total 1.2km of steel pipes and 1.2km of rectangular steel sections. Total combined amount steel used was 66 tonnes.

Again, all these were done manually inside the Jungle.

4.5 minutes
The end product is The Longest Tube Water Slide that takes about 4 and a half minutes to complete and the slide will take you through 20 turns and 5 loops through the tree canopy.

4.1 metre/sec
Guests will ride at an average speed of 4.1m/s or about 15km/h and you'll have to ride with a water park Tube.

The moderate speed and waterpark tubes indeed make the slide very safe to use, without losing the fun excitement.

70m and 600m away
The start platform of the slide sits on a 70m elevation (23 storey) and about 600m away from where we are.

Only 1 in the world
Due to its elevation and distant, this is the only water slide in the world where guests take a ski lift to the top of the slide tower.

Never my intention
Ladies and Gentlemen, breaking the previous Guinness World Record of 356m was never my original intention. I would not have broken the previous record 3 times of its length.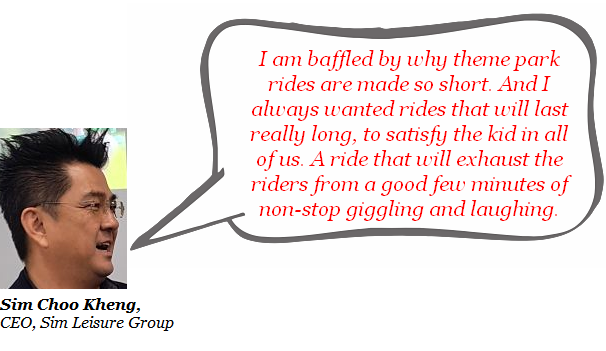 Looked up the Hill
So I looked up the hill, and it was during the conceptual design stage we realised this slide would exceed 1km and it would be the longest in the world.

That was it, The Guinness World Record suddenly became our goal.

Although breaking this Guinness World Record was never my original intention.

Getting good
I'm getting good at it now and it looks like I may want to break a few more records in the future.

I was at our project site in Shandong, China last week and the government officials asked me if I could help bringing them an attention grabbing World Record to Shandong at our future ESCAPE park.

There you are, get yourself ready Pete, I'll see you in Shandong soon.

Penang Government
Ladies and gentlemen, ESCAPE was an answer to the Penang State Government vision for a world class theme park destination back in 2009 and we've been delivering new exciting products since.

Draw more Tourists
I hope this Guinness World Record attraction will be a catalyst to draw more tourists to Penang.

Also I hope this new benchmark will inspire a new tourism vision for Penang.

Borderless World
In a borderless world today, being the best in Malaysia is no longer good enough.

We need to raise the bar, we need to be amongst the best in the world to win business.


Haze problem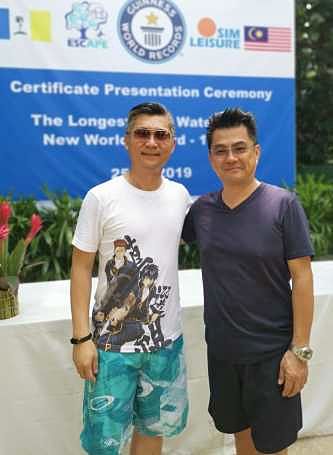 L-R: Chairman of Sim Leisure Jackson Tay | CEO Sim Choo Kheng.Before I end my speech, a sobering reminder to all of us about the importance of environmental protection especially after the devastating haze problem we've had in the past 2 weeks.

If…Protect Nature
It is always my belief that if we want the people to protect nature we must first make them fall in love with nature.

Ladies and gentlemen, we at ESCAPE have worked very hard in placing FUN inside the natural environment in Penang.

And we look forward to cultivating more love for nature through this Guinness World Record attraction.

Thank you.

On TripAdvisor, Escape Theme Park currently has about 1,700 reviews, of which 81% rate it "excellent" and 14%, "very good". Ticket prices are multi-tiered with discounts for advance bookings. Check them out at ESCAPE's website.