Sim Leisure Group took the unusual step of demonstrating that its core theme park business has been doing fine in 1HFY19, never mind the reported net profit loss.



In its press release, the company said its

operation of theme parks

in Penang generated RM1.93 million net profit (1H2018: RM1.68 million).

So, it was a commendable increase of 14.9% y-o-y.


But if you take into account one-off IPO-related expenses of RM3.99 million, then Sim Leisure (which listed on Singapore Exchange in March 2019) slips into the red.

Then there also are:

• Expenses incurred to maintain its listing status (comprising directors' fees, audit fees, sponsorship and other compliance fees) of RM0.73 million.



• On

e-off other income from the write-off of aging suppliers of RM0.37 million in 1H2018.

Taking into account all these factors, Sim Leisure had a 1H2019 net loss of RM2.8 million (1H2018: RM2.1 million net profit).


"While we were impacted temporarily by one-off listing expenses, we expect financial performance to improve over time as we remain in growth mode. Our disruptive, innovative and cost-competitive business model will continue to deliver strong results."

-- Sim Choo Kheng,
CEO, Sim Leisure
In addition to its 1H2019 financial results, the Group announced the signing of an agreement with Jelas Puri Sdn Bhd, a subsidiary of WCT Holdings Bhd (listed on Bursa Malaysia), to build and operate its first indoor sports recreational centre located at Paradigm Mall in Petaling Jaya, Malaysia.

Sim Leisure has begun construction of the Sports Centre, which spans close to an acre of floor space.

The Group will subsequently operate the Sports Centre, paying a percentage of its gross revenue from ticket sales to Jelas Puri instead of rental expenses.

The tenancy for the Sports Centre is for a period of up to 12 years.

The Group expects to officially launch the Sports Centre by end Nov 2019, in time for the year-end school holiday season.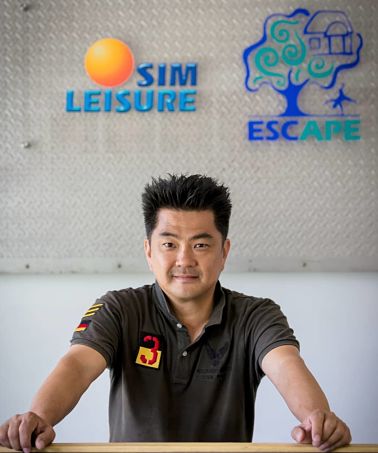 "We expect to see our indoor version of ESCAPE growing exponentially in the years to come as the retail shopping business continues to undergo a transformation. Moreover, I believe ESCAPE Challenge is on its way to replace the conventional family entertainment centre, where arcade games are replaced with mechanical rides."

-- Sim Choo Kheng (photo)
Paradigm Mall Petaling Jaya has become a rising icon in the heart of Petaling Jaya, next to one of the busiest highways in Klang Valley, the Lebuhraya Damansara-Puchong.

The mall spans six floors with 700,000 square feet of retail space and houses more than 300 outlets.

Leveraging on the success of the Group's ESCAPE theme parks in Penang, the Group will officially launch ESCAPE Challenge, an indoor version of ESCAPE which targets the youth in urban populations.

Furthermore, with ESCAPE Challenge, the Group aims to capture the rising trend of lifestyle malls where shoppers frequent shopping centres to fulfil their recreational needs.

Mr Sim Choo Kheng, CEO of Sim Leisure, said, "For years, we have been approached by developers and mall operators to develop an indoor version of ESCAPE as traditional shopping centres are evolving into lifestyle malls where urban populations fulfil their recreational needs in a familiar setting.

"ESCAPE Challenge has developed faster than expected and has always been a part of our growth plans. It will be our showcase indoor recreational centre which we will use to present to future customers in China, Singapore and the ASEAN region. "


ESCAPE Gravityplay and Guinness World Record longest tube slide expected to drive rising numbers of visitors

The Group is in the midst of constructing the world's longest tube slide which spans 1,140 metres. Upon its expected completion and official launch by end Sept 2019, this new attraction will officially set a Guinness World Record for the world's longest tube slide, overtaking the current record of 602 metres held by Action Park in New Jersey.

Concurrently, the third of the Group's series of theme parks in Penang, ESCAPE Gravityplay, is slated to launch at the same time, by end September 2019.

This third theme park will feature a chairlift and two first-of-its-kind downhill karting tracks, Hill Rider and Tubby Racer. First of its kind in the region, the Hill Rider spans across two tracks measuring 580 metres and 700 metres respectively while the track at Tubby Racer measures 450 metres.

Mr Sim Choo Kheng, CEO of Sim Leisure, said, "The publicity surrounding the world's longest tube slide is bringing unprecedented attention and interest to ESCAPE. This new level of attention is what we have always hoped to achieve. After the official launch by end September 2019, we expect a massive increase in attendance that will come with the worldwide attention.

"While we achieve earth-shattering feats, this is just the beginning for ESCAPE. We have a pipeline of initiatives that will further increase attendance at theme parks. Beyond Penang, our global aspirations remain on track.

"We will continue to scale our proven and successful business model into new markets across the region that are awaiting a new genre of affordable and healthy family entertainment."