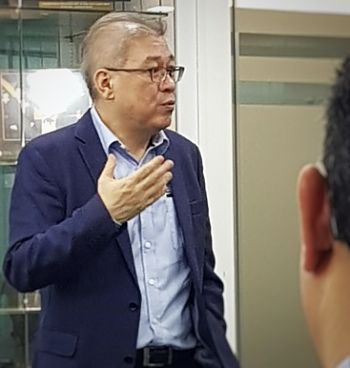 CEO Khoo Boo Hor at 1HFY19 results briefing today. NextInsight photoSunningdale Tech reported a net loss of $1.1 million for 2QFY19 but maintained its interim dividend of 3 cents a share.

CEO Khoo Boo Hor said the 2Q result included one-offs and also reflected slowing automotive sales in China (-12.4% in 1H19, according to trade data), which led to lower utilisation rates.

Manufacturing parts (such as sun roofs) for the auto sector is a key business for Sunningdale, which produces precision plastic parts for diverse industries.

Here are the financial results released last night:
| | | | | |
| --- | --- | --- | --- | --- |
| Year ended 31 Dec (S$ m) | 2Q2019 | 1Q2018 | 1H2019 | 1H2018 |
| Revenue | 163.1 | 181.9 | 322.6 | 350.8 |
| Gross Profit | 15.6 | 23.0 | 32.8 | 44.5 |
| Profit after tax | (1.1) | 9.7 | (0.3) | 11.7 |
Sunningdale said it is confident that its 2H2019 would be stronger than 1H2019.



Its stock closed higher at $1.32 (+4 cents) today, despite the 2Q loss and a sell call by UOB Kay Hian with a target price of $1.01.
Stock price

$1.32

52-week range

$1.25 – $1.67

PE

9

Market cap

S$252 m

Shares outstanding

190.7 m

Dividend
yield

6%

One-year return

- 2%

Source: Yahoo!
2Q saw the peak in costs arising to the shift of its manufacturing operations out of Shanghai to lower-cost Chuzhou, a move which is reaching its tail-end in the current 3Q.

In addition, 2Q "other income" fell mainly due to a foreign exchange gain of $0.3 million versus $3.4 million in 2Q18.

• Revenue from the automotive segment declined 15.5% yoy to S$60.0 million.



• R

evenue from the consumer/IT segment declined 7.6% yoy to S$62.3 million.

• Conversely, revenue from the healthcare segment increased 11.0% yoy to S$15.2 million driven by strong demand from two customers.

The second half of a year is seasonally stronger than 1H for Sunningdale.

This time, among other things, Sunningdale expects to see higher utilisation at its new Penang plant with a new medical project.

This is one of several that is boosting Sunningdale's production of healthcare-related devices.

The company has clinched new customer projects (auto) also for its Chuzhou plant.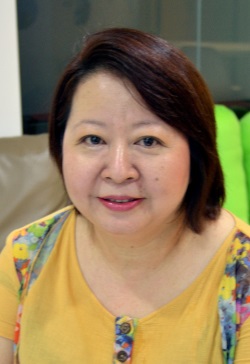 CFO Soh Hui Ling. NextInsight file photo.Regarding the impact of the US-China trade war, one of Sunningdale's clients in China has gotten the company to produce parts out of Sunningdale's Batam plant instead.

And a few clients have signalled they want Sunningdale's production of their parts to shift to Sunningdale's plants in Thailand, where they plan to relocate the assembly of their goods.

(It doesn't make sense to ship parts from China to Thailand for assembly into finished goods).

Sunningdale auto clients who are staying put in China mainly assemble the parts produced by Sunningdale into vehicles for sale in China, reckoned Mr Khoo.

Looking ahead, the Group said it will focus on tightening cost controls and enhancing capacity utilisation.

Sunningdale's 2Q2019 results press release is here.