Excerpts from UOB Kay Hian report

Analysts: Lucas Teng & Llelleythan Tan


Good Proxy To Singapore's Infrastructure And Construction Upcycle
BRC has emerged as the largest supplier of steel products after a recent merger and is reaping synergies in procurement and operations.


BRC ASIA

Share price:
$1.37

Target:
$1.75
It is also benefitting from Singapore's booming infrastructure and construction upcycle, with a healthy orderbook of S$750m.

BRC's recent dividend policy of at least 30% payout, or 5 S cents, demonstrates its commitment to shareholders and robust cash flow.

Initiate coverage with a BUY and a target price of S$1.75, based on 11.5x FY20F PE.

INVESTMENT HIGHLIGHTS
• Initiate coverage with BUY and PE-based target price of S$1.75, implying a 28% upside. We value BRC Asia (BRC) at S$409m, based on 11.5x FY20F PE, pegged to its long-term average mean (excluding outliers; mainly from the high base in FY17-18).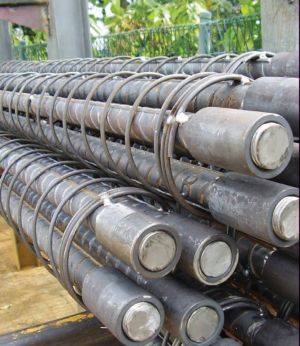 BRC has a healthy orderbook of S$750m.We believe that at current price levels, the group is undervalued, trading at 9.0x FY20F PE and below its long-term average.

BRC is also set to benefit from strong industry trends on the back of an upcycle in infrastructure and construction projects and enhanced scale after its acquisition of Lee Metal.

• Merger provides monopolistic power, improved earnings and a strong shareholder. BRC acquired its closest rival, Lee Metal Group, in Jul 18, which gave it a 60-70% market share in the supply of steel products. We expect net profit to grow 149% in FY19 and 19% in FY20.

Its steel products include steel prefabricated columns, steel meshes and rebars which are used in construction projects that require residential and civil engineering works.

Synergies are coming from larger procurement and increased efficiency from the integration of factories and processes.

Operating margin rose from 1.7% in 1HFY18 to 3.0% in 1HFY19, while net profit almost tripled yoy to S$11.5m in 1HFY19. BRC's largest shareholder with a 72% stake is a related entity of Rui Gang Lian Group, one of China's largest iron ore traders and importers.

• Beneficiary of Singapore's infrastructure and construction upcycle. For 2019, the Building & Construction Authority is forecasting construction demand of S$27b-32b, with the public sector expected to continue contributing about 60% of total demand.

This is after three consecutive years of decline in 2015-17. The industry also exhibits a countercyclical nature, with GDP from the construction sector increasing at a CAGR of 36% during the global financial crisis in 2007-09.

BRC has supplied iconic projects such as Resorts World Sentosa and Pinnacle@Duxton, and its orderbook currently stands at S$750m.

Moving forward, there are many major infrastructure projects with several leading indicators pointing to an upturn in the construction industry.

Full report here.