Excerpts from RHB report

Analysts: Lee Cai Ling & Jarick Seet

Singapore Medical Group: Buy On Dips; Upgrade To BUY


S'pore Medical Group

Share price:
38 c

Target:
48 c
♦ Upgrade to BUY from Neutral, with unchanged DCF-based TP of SGD0.48, 26% upside. SMG's share price 10 May.

The stock is currently trading at 14x P/E, a discount to its peer average of 23x P/E. We think that it is a good level to accumulate.


♦ CHA Healthcare paid an average of SGD0.549/share. Singapore Medical Group first issued 30m shares via private placement to CHA Healthcare in Feb 2017 at SGD0.50/share, and subsequently, CHA subscribed to 3m rights shares at SGD0.48/share.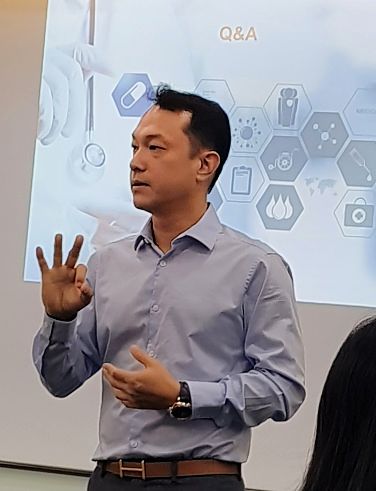 Dr Beng Teck Liang, CEO of Singapore Medical Group. NextInsight file photoIn Feb 2019, CHA increased its stake to 24.13% (from 6.87%) by purchasing 83m shares from SMG's existing shareholders (including management) at SGD0.605/share.

CHA is also providing a SGD10m convertible loan at a conversion price of SGD0.423/share. About 80% of the loan has been earmarked for M&A activities. If the bond is converted, CHA stands to own 27.69% stake in SMG.

♦ Near term profitability should be impacted by aggressive growth plan. In 1Q19, the group opened the O&G and paediatrics clinic in Punggol, and its second aesthetic clinic SW1 in downtown Singapore.

SMG also recently opened a breast care clinic last month. Regionally, it has expanded SW1 into Vietnam, and should take a new clinic 2-3 years to breakeven. The group intends to on-board 10-12 specialists this year, and new specialists may take time to ramp up their practice to full capacity.

♦ Share price 1-year return of over 20%. The stock slipped 15% since 10 May with a 1-year return of -22.4%. Share price fell due to recent market sentiment, coupled with SMG's higher operating cost as a result of its ongoing expansion plan.

Another overhang could be the price disparity between the conversion price (at SGD 0.423/share) of the convertible loan, and the sale of vendor shares (at SGD0.605/share), which may have raised some concerns as to the minority shareholders' interests. The stock is currently trading at 14x P/E, a discount to peer average of c.23x P/E.


♦ We upgrade to BUY from Neutral, with an unchanged DCF-based TP of SGD0.48, given the share price has fallen 15% from SGD0.445 to SGD0.38, at a 52 week low since 10 May.

FY19F P/E was trading at 16.8x compared to the current 14.4x. We think this is a good opportunity to buy on dips.

Full report here.