Date: 24 April 2019
Venue: Four Points by Sheraton Singapore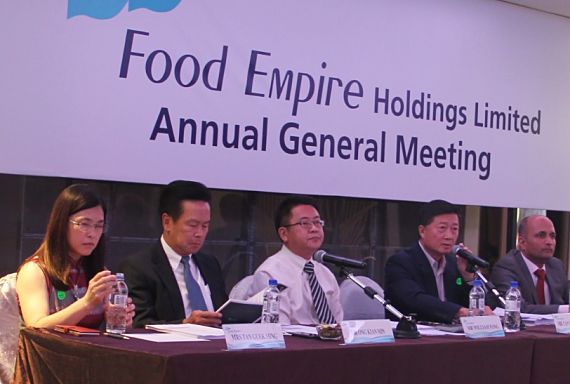 L-R: Tan Guek Ming, Non-Executive Director | Ong Kian Min, Independent Director | William Fong, CFO | Tan Wang Cheow, PBM, Executive Chairman | Sudeep Nair, Group CEO

Selection of questions and answers at AGM. (The text is not entirely verbatim and has been edited for brevity and clarity).
AGM photos by Ong Chin Keet.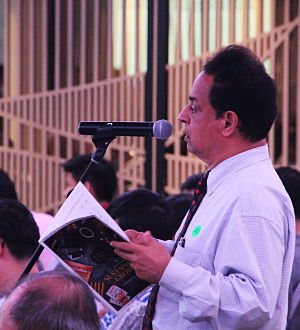 Mano Sabnani, a retired newspaper editor.Q: Indochina segment revenue has been going up nicely but the segment result is a loss of US$1.17 million in 2018 while it was a gain of US$741,000 in 2017.

Tan Wang Cheow, Executive Chairman: That segment comprises Vietnam and Myanmar. We recorded roughly US$4 million losses in Myanmar and nearly US$3 million profit in Vietnam. The year before, Myanmar didn't lose as much money.

We are trying to improve in Myanmar but the local currency has been dropping over the past two years and we have not been able to raise selling prices because our competitors are holding prices.

By the way, in Vietnam, we lost money for many years before we made headway.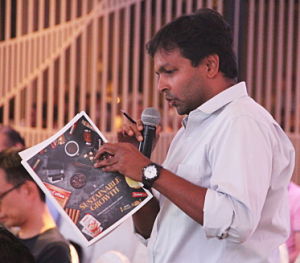 Vishal Gala, investor.Q: Group expenses have grown fast but not the revenue. What is the reason apart from rising headcount and higher selling expenses in Indochina?

Sudeep Nair, CEO: One of the reasons is: Around 40% of the group's revenue comes from Russia.

Sales in local currency have gone up, expenses have gone up also. When you translate sales into USD, it comes down because the ruble has been devalued.


Q: In the "Others" segment, there is sizeable revenue (sales to external customers: US$57.9 million) and profit (US$21.8 million). What's in "others" and can you show more information?

Sudeep Nair: A large chunk of the profitability comes from our ingredients business. Going forward, we are expanding our Indian facilities, and as the ingredients business becomes even more sizeable, we will show "ingredients" as a segment.



Q: The ingredients business generated US$19.1 million in revenue. What are the contributors to the rest of the "Others" segment?
Tan Wang Cheow: Non-dairy creamer and coffee make up "ingredients". The rest of "Others" comprise: snacks US$8 m

illion

, Middle-East US$6 m

illion

, Europe US$5 m

illion

, Asia US$15 m

illion

and other markets US$5 m

illion

.
Q: Since the ingredients business is so profitable, is there a case for building plants elsewhere, so you have integrated operations and can supply to yourself and to others?
Sudeep Nair: Yes and no.

The profitability depends to some extent on the cycle of commodities. Unfortunately, the lead time for projects to build plants is quite long -- three, four years.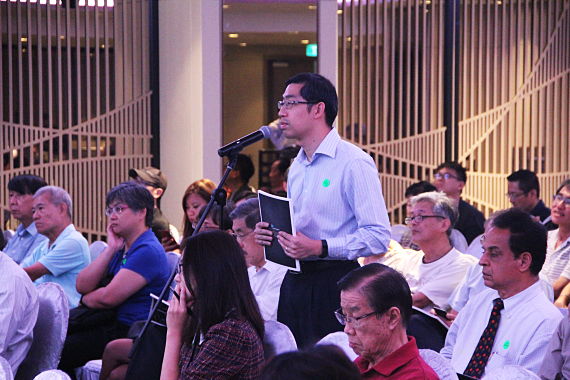 Stephen Chen, investor.

Q: In the mid-2000s, the company had Returns on Equity in the mid-teens to 20%. In the last 10 years, we have had relatively muted returns.

Tan Wang Cheow: Unfortunately in the last few years, the sanctions against Russia and the oil crisis have caused the ruble to come down. This was beyond our control. Despite that, we have been able to generate profits and dividends to shareholders.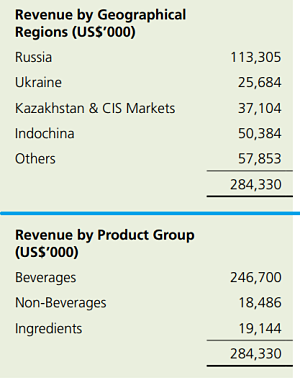 Q: What's the situation in Ukraine which used to be a lucrative market for Food Empire?

Tan Wang Cheow: Unfortunately, in 2013, there was war in the eastern front but we have continued to be profitable in the country.

Sudeep Nair: We were profitable in Ukraine in 2018. In 2019, if the local currency stays where it is, we'll continue to be profitable.

Tan Wang Cheow: To add, since the financial crisis of 2008, we have done two things -- diversify our markets and you can see the growth of Vietnam and so on.

In five years, we have grown our Vietnam revenue from US$5 million to US$45 million.

The second thing we have done is backward integration -- we have built a coffee plant in India, a non-dairy creamer plant in Malaysia and we are planning another one. We have created more profitability and more roundedness for the company.


Q: The proposed dividend is 14% of the earnings per share and a yield of 1.2%. The company has zero gearing, so you can go to the banks for borrowings if necessary. You have capex and growth plans but you can afford to pay more dividends.
Year

2013

2014

2015

2016

2017

2018

Dividend
(SG cents)

1.052 c

1.231 c

0.563 c

0.6 c

0.6 c

0.68 c
Tan Wang Cheow: In deciding on the dividend, we considered many factors. We have requirements for the use of the cash, including building another non-dairy creamer plant. We don't want to to be over-reliant on banks -- in the 2008 global financial crisis, a bank asked us to repay a loan within two weeks.


Stock price

55 c

52-week range

50 - 69 c

PE (ttm)

11.9X

Market cap

S$294 m

Shares outstanding

534 m

Dividend
yield (ttm)

1.24%

1-yr return

-15%

Source: Bloomberg
Sudeep Nair:
Unfortunately because of the geography where we operate, the last 5 years have been difficult.

We have been diversifying, and fundamentally the company has become very strong. Our earnings streams are diversified, our geographies are diversified.

You'll be happy if in the next 12 or 24 months, we are able to deliver better sets of results so you can see rewards in the form of capital appreciation.

We expect growth to be broad-based if currencies stabilise, which we see is happening.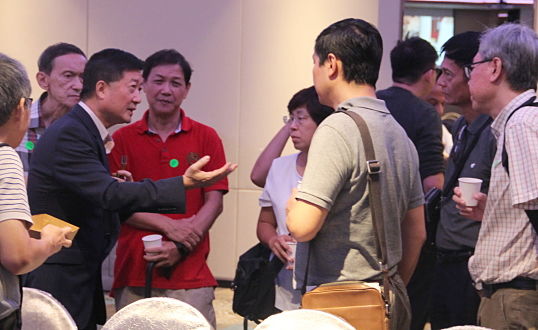 Executive chairman Tan Wang Cheow chats with shareholders.