AEM Holdings' stock price was up 10 cents to $1.15 before lunch break today after the company announced two pieces of good news:

• Firstly, as of 25 April 2019, AEM, a

leader in test and measurement solutions,

had received sales orders worth S$209 million for delivery in FY2019.


Stock price

$1.15

52-week
range

64 c – $1.68

PE (ttm)

9.3

Market cap

S$312 m

Shares outstanding

271 m

Dividend
yield (ttm)

1.65%

1-year return

-25%

Source: Bloomberg
Management said it has revised upwards the 2019 revenue range to between S$225 million and S$250 million.

The guidance given on 22 Feb this year was $180 m - $210 m.

Capital expenditure range is between S$4 million and S$7 million. The increase in capex is to support engineering development for future customer programmes.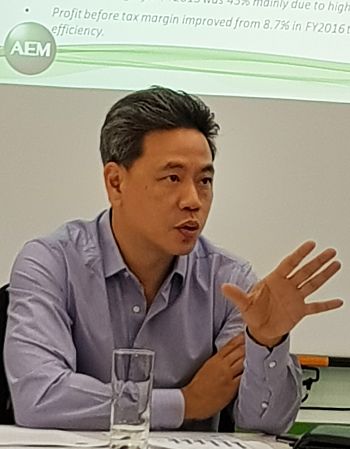 "This is an important milestone in AEM's strategic initiative to participate in the world's largest 5G infrastructure rollout exercise."

-- Loke Wai San (photo),
Executive Chairman, AEM
• Secondly, AEM said its multimode fiber optic bandwidth test solution WideOptix-SR4 has passed acceptance test by Huawei.

AEM, in collaboration with China Electronics Technology Group Corporation No 23 Research Institute, developed this test solution for qualifying high-performance, short reach cabling links for Huawei's 5G network.

Test results from AEM's WideOptix system were found to be consistent with the expected results across alarge number of tests carried out on various test samples.

With this acceptance, AEM has also received first prototype purchase order for the system.