Around two years ago (Jan 2017), a strategic relationship took formal shape.

Its "anniversary" has been marked last year and this year by events that reflect growing ties.

To start at the start, in Jan 2017, Singapore Medical Group (SMG) placed out 30 million new shares to CHA Healthcare Singapore (CHS) which became the No.4 largest shareholder with a 8.8% stake.



Who is the parent group CHA? It is widely recognised as South Korea's

leading expert in infertility, women's health and maternity care, with c.6,000 deliveries and c.12,000 IVF cases

annually.



CHA has won accolades for excellence in clinical research

and accomplishments in the fields of reproductive medicine and O&G.


In Jan 2018, as though to mark their first anniversary, SMG and CHA announced their JV's acquisition of a 65% stake in IVF specialist group City Fertility Centre of Australia.

By last week, ties have gotten a lot warmer and closer.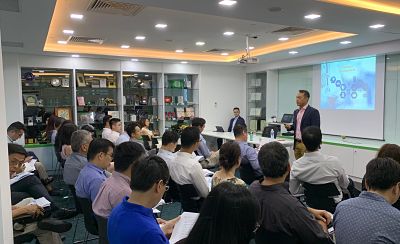 Full house at FY18 results briefing by Dr Beng Teck Liang, CEO of SMG.
Photo by Kamal SamuelIt was announced that CHS would increase its stake in SMG to 24.13% through a $50m purchase of partial stakes of 4 key SMG management staff and one substantial shareholder.

In addition, CHS will extend a $10 million convertible loan to SMG for M&A (80%) and working capital (20%).

If the loan is converted in full on maturity one year later, CHS's stake in SMG will rise to 27.69%.

That translates into an average price of 55 cents. (see table; CHS's initial stake was purchased two years ago at 50 cents apiece)


What's a good price to pay for SMG shares (from CHA's perspective)?

When

No. of shares

Price/
share

Total

Jan 2017

30 m

50 c

$15.0 m

July 2018

3 m

48 c

$1.44 m

Feb 2019

83 m

60.5 c

$50.215 m

2020*

23,640,662

42.3 c

$10.0 m

Total

139,640,662

Ave: 54.9 c

$76.655 m

*Assumes full conversion of CB
The convertible loan from CHS is subject to shareholder approval at an upcoming EGM.

(There is likely to be discussion about the conversion price being 42.3 cents, which is a 3.5% discount to the volume weighted average price of SMG shares traded on the 30 market days preceding the convertible loan agreement).


Stock price

48.5 c

52-week range

38 – 58 c

Market cap

S$230 m

PE (ttm)

17.6x

Dividend yield

--

Year-to-date
return

-13%

Shares outstanding

474.4 m

Source: Bloomberg
If approved, and if the loan is eventually converted fully, CHS's stake of 27.69% comes within striking distance of the 30% threshold for a mandatory general offer for SMG.

It's understood that CHS has no takeover intent.

In fact, even though CHS would soon become the single largest shareholder of SMG, it's understood that it would leave SMG to pursue its business and Dr Beng to stay firmly in the driver's seat.

But there's plenty that CHS and SMG will come together to do which would accelerate SMG's growth.

Here's an excerpt from the press release:

"...the expanded strategic relationship will leverage CHA's expertise in personalized anti-aging care and Korea's renown in dermatology and aesthetics to further expand SMG's strong market leadership in key verticals such as oncology and aesthetics. For example, the strategic relationship envisages close collaboration between Chaum Wellness Center, CHA Evercell beauty rejuvenation programs and SMG's SW1 aesthetics business to provide patients with a seamless premium care experience. There are also expected to be patient synergies between SMG's oncology business and CHA's Tokyo Cell Clinic, amongst other services. The CHA-SMG combination is expected to lay the foundation for Asia-Pacific's first dedicated platform for comprehensive wellness care covering the entire anti-aging, beauty and preventive care spectrums."


Over the next few years....

The strategic relationship plans to actively pursue new investment opportunities in select jurisdictions in both developed and emerging markets that can optimize the latent synergies and provide a balanced growth trajectory.

Dr Beng Teck Liang, CEO of SMG, said, "Today, we are a regional player in Southeast Asia with global ambitions. This investment and strategic relationship allows us to readily realise this ambition. We are now part of a global collaboration platform which is growing not just in Southeast Asia and the South Pacific, but in developed markets in North Asia and further afield in the US and elsewhere."


The SMG press release has an abundance of information on CHA as well as its relationship with SMG. Click here.

See also: Singapore Medical Group reports 52.1% rise in net profit to S$12.9 million for FY2018