Excerpts from Canaccord Genuity's report

Analysts: Reg Spencer & Larry Hill

Estimates Revised
DecQ'18 report


Alliance Mineral

Share price:
A$0.16

Target:
A$0.45
DecQ production pre-released: SC (spodumene concentrate) production of 22.5kt (SepQ 28.4kt) was below prior CGe of 29kt, with lower output previously flagged as being attributed to lower grades (due to poor mining productivity) and temporary water shortages in Oct Nov (since resolved).

High C1 operating costs of US$824/t were a function of high strip ratios and lower production, both of which should see improvement in H1'19 (see below).

Sales & Pricing: 23kt of SC were shipped during the quarter priced at US$880/ t, in addition to 380t of tantalum concentrates.

Reported cash flows were "messy" following the completion of the acquisition of Tawana Resources in Dec'18 by A40 (ie consolidated cash flows for Tawana reported under accounting standards, despite A40 being the acquirer). We expect this to normalise in the MarQ and should get more detail when A40 reports full financials in the coming weeks.

Balance sheet: The company reported an end of period cash balance of A$13.5m, with debt of A$33m (from total facilities of A$53m). We note that as at the end of Jan 19, A40 had 32kt of un-sold concentrates, with a 23kt shipment scheduled for early February providing a useful boost to cash reserves.

Outlook - expect significant improvement in the MarQ: While DecQ production was disappointing, A40 reported SC production of 13kt for Jan 19 (~60% of total DecQ production), implying Bald Hill could hit the upper end of the H1'19 guidance range of 65-80kt if current production rates are maintained.

We anticipate a significant QoQ reduction in C1 costs owing to lower strip ratios and higher production volumes, while cash flow should benefit from concentrate inventory reduction with several shipments planned for the MarQ.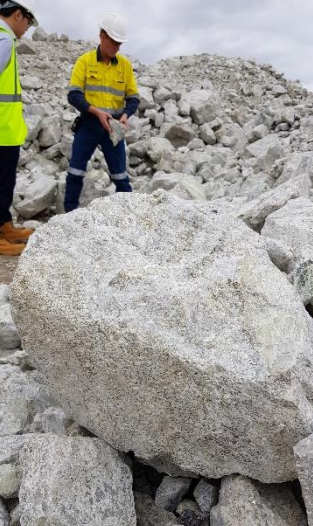 At Bald Hill: Pegmatites (rock-like objects) are mined and go through the plant facility to be processed into lithium concentrate. Photo by KGI Research Plant upgrade (and higher production) on track for 2H'19: The upgrade of the Bald Hill plant (increases production capacity from 155ktpa to 240ktpa) remains on track for SepQ 19.

Our CY19 production forecasts remain unchanged at +180kt.

Finalising balance of offtake expected to be a key catalyst in coming months: As outlined in New offtake arrangements, the re-structuring of the offtake agreement with Burwill Holdings sees +100ktpa of planned production now uncommitted.

A40 reported that it expects that new offtake arrangements will be "substantively completed" during the MarQ. Confirmation of offtake for uncommitted production, along with pricing remains a key short-term share price catalyst, in our view.


Valuation & Recommendation:
Our target price (NPV10%) is unchanged at $0.45/share. The market has reacted negatively to A40's DecQ result, and while production was disappointing, we highlight that operating performance is already improving.

On this basis, we see recent share price moves as an overreaction, with the opportunity for a significant re-rating should A40 deliver in line with our MarQ expectations.

We estimate that A40 is pricing in US$465/t SC (vs current market prices of US$700-740/t). and combined with a CY20e EV/EBITDA of 1.2x, we see the shares as significantly undervalued. Maintain BUY.