"Young Investor" contributed this article to NextInsight


"Anchun currently has approximately RMB 155m of cash and bills receivables as disclosed in the latest financial statements, which is equivalent to SGD 60c per share.
"It is my personal view that the company should return at least RMB 50m to shareholders as the cash is mainly IPO proceeds sitting idle in the bank for more than 8 years already. For this purpose, I would like to gather shareholders with the aim of doing an EGM requisition (if we are able to gather more than 10% of shareholder votes. As of today 15 Jan 2019, I have support totalling 7+%.)
"If you are a shareholder and interested to join in, please email me at
This email address is being protected from spambots. You need JavaScript enabled to view it.
with your name and number of shares in this company."


I posted the above on www.valuebuddies.com and I would like to attract shareholders' support here for the effort to table a resolution: To return RMB 50m of cash (SGD 0.20 per share) by way of capital reduction.


Stock price

18.1 c

52-week
range

17.1 – 31c

PE (ttm)

--

Market cap

S$9 m

Shares outstanding

50 m

Dividend
yield (ttm)

--

1-year return

-30%

Source: Yahoo!
Why I'm proposing the resolution:

The business of Anchun International, a S-chip, has been in a prolonged downturn since its IPO in 2010, so the company has not been able to fully utilize the IPO proceeds.

As at 30 Sept, there was about RMB 86m of unutilized IPO proceeds and more than RMB 155m net cash and bills receivables.

The money was initially earmarked for buying a piece of land for capacity expansion. Due to the industry downturn, the purchase was called off.

Given that current capacity utilization is barely 50% (personal estimate), there is no reason to keep those IPO proceeds for longer.

I'm confident that the cash is real and management is made up of "good and honest people". Reason: Management comprises of a team of individuals rather than 1 single controlling party.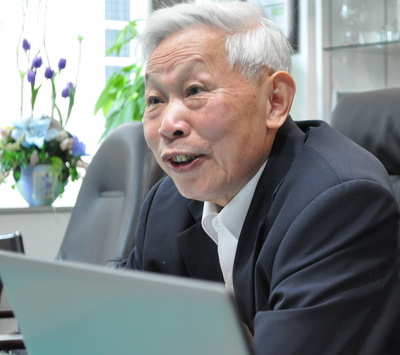 Xie Ding Zhong was non-executive chairman while his daughter Xie Ming was CEO. In June 2018, she relinquished the CEO post and was appointed executive chairman. She holds a Master's degree in Science from the University of Louisiana at Monroe, USA. NextInsight file photo.The biggest shareholder, who has only a 21.45% stake, is Ace Sense Holdings in which Xie Ming, the executive chairwoman, and her sister, Xie Xing, have a deemed interest.

The risk of fraudulent activities there is much lower than at other S-chips as every decision is deliberated by a team rather than 1 guy who can do whatever he wants.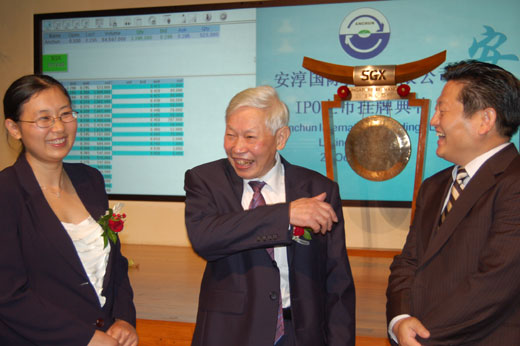 Xie Ding Zhong at SGX auditorium for Anchun's IPO in 2010, with his daughter, Xie Ming.
NextInsight file photo.Over the years, Anchun has not paid dividends but this was mainly due to low profits/losses and not because of "shareholder unfriendliness".

The company has not made reckless acquisitions unlike some which have done so and subsequently made impairments.

Last but not least, I have personally visited the company in Hunan province twice over the last 5 years, and have found management to be extremely down-to-earth and diligent.

I would argue that the company should return some cash to shareholders and establish further credibility as a proper and honest company.

If and when its business picks up, profits will go up, and Anchun's share price should follow, thus it can do fund raising then if necessary.


The Company looks over-capitalised in relation to its business requirements.

The test of whether the cash reported on its balance sheet is real is best proved by a special dividend.

Even Hanwell Holdings has relented to shareholder pressure, and recently declared a 3.6 cent-a-share capital reduction.

Anchun should do the same,

which is why I'm hoping to gather the 10% support and put some pressure on management.



But I have never doubted Anchun management's integrity.

You may ask why doesn't the management privatise the company.

I believe staying listed provides a lot of benefits to the company such as more favourable terms when buying land from local governments in China, customers are more assured of their credit-worthiness and bank loans will be cheaper if and when necessary.

In the event that the 10% target for requisition of an EGM is not achieved, it's not a total failure as a 5% support already allows us to put forth a resolution at the next AGM (in April).