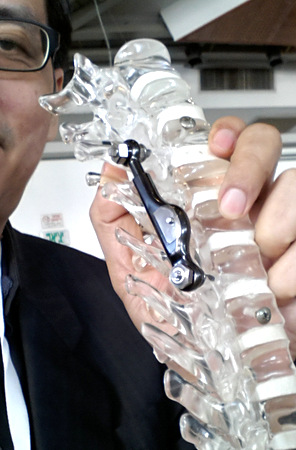 ApiFix offers a minimally invasive system with a small implant being attached to the spine at the apex of the major curve, using only two screws.
NextInsight file photo.The Sunday Times article "SGH sees more cases of scoliosis with greater awareness" on Nov 11 said, on average, the Singapore General Hospital performs around 20 surgeries a year for adolescents and 180 surgeries on adult degenerative conditions for scoliosis.

ApiFix, a portfolio company of Singapore-listed Trendlines Group, has developed a breakthrough solution -- which is minimally invasive and less costly -- for treating scoliosis.

We learnt that 3 patients have recently been treated with the ApiFix solution in Singapore, and asked ApiFix CEO Paul Mraz about them.

• Can you describe briefly the 3 surgeries done in Singapore using the ApiFix technology?

Paul: These three surgeries were all performed on the same day in early Nov 2018 at the National University Hospital.

Two of the patients were the typical adolescent girl with mid-stage progressive scoliosis (Lenke Type 1 curves) whose deformities were both approximately 50 degrees.

The third patient was a young woman in her early 30s with a severe curve of 60 degrees. The surgeries went exceptionally well and significant curve correction was achieved for all three patients.


• How did these 3 patients get on board the ApiFix treatment?

Paul: The two adolescent patients were introduced to the ApiFix MID-C System during their clinic visit to see Dr. Gabriel Liu, Head & Senior Consultant, University Spine Centre, National University Hospital.

The third patient discovered ApiFix via the Internet, contacted the company and we referred her to Prof. Gabriel.

• What is the current status of the patients?

Paul: All three patients are doing well. It is a very short recovery time of 1-2 days in the hospital and 1-2 weeks to return to school or to work. That's very different from a traditional spinal fusion surgery to correct scoliosis.

• What is the cost of the treatment?

Paul: It is not easy for us at ApiFix to get the total hospital cost to the patient as we do not have access to that information.

However, based on our experience in Singapore and other countries, I can share with you that the cost of an ApiFix procedure compared with a traditional spine fusion procedure is approximately 50% less for a number of key reasons:

1) The duration of the ApiFix surgery is only 1-2 hours versus 5-6 hours for a traditional spine fusion surgery
2) The length of stay for the patient in the hospital after surgery is 2 days, instead of 5-7 days for traditional spine fusion
3) The cost of the implants and other associated devices is approximately 35% lower.
4) And of course the recovery time for patients treated with a ApiFix is measured in weeks and not several months but this is not associated directly with a cost.

• What is the scope of opportunity that ApiFix has to do more cases in Singapore?

Paul: ApiFix is in the very early stages of introducing the technology to the Singapore market with only a single center of excellence at this time.

With time, we will train additional centers on the technology and Singapore will also be a hub for us to bring surgeons from other Asia-Pacific countries to be trained.

• What are the locations where the top 3 highest number of cases have been carried out by ApiFix?

Paul: ApiFix's MID-C System has CE Mark approval and is available in 10 countries today (Europe, Israel, Singapore and Canada).

• What are some of the key internal targets achieved by ApiFix this year?

Paul: The main activity for ApiFix in 2018-2019 is focused on receiving FDA approval in the United States based on long-term clinical data from treating over 250 patients since 2012 in Europe and Israel. (See link).