Excerpts from CGS-CIMB report


China Sunsine (Add, TP: S$1.41)
* Sunsine is boosting its capacity by 13% to 172,000 tons of rubber chemicals in FY19F to meet demand as it is currently running at c.98% utilisation.

* Signs of ASPs stabilising in Oct should offer some respite and could support gross margins sustaining at c.30% in FY19F.

* The stock appears cheap at 7x 12M forward P/E (ex-cash 4x) with net cash of S$0.33/share, as we believe that the negatives from declining auto sales in China have been priced in.


CSE Global (Add, TP: S$0.50)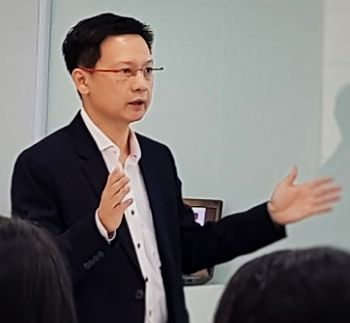 Eddie Foo, CFO of CSE.
NextInsight file photo.* Currently trading at 11.8x CY18F P/E vs. our target of 13.5x (based on historical 5-year mean). It is net cash (3Q18: 6.7Scts/share), with a committed FY18 DPS of 2.75 Scts, implying c.6% dividend yield.

* In 3Q18, gross margin (GPM) edged up to 27.5% (vs. 2Q18 GPM of 26.9%). CSE expects GPM to stabilise at 26-27% in FY18F, enabling it to stay in earnings recovery mode.

* Order wins will be steady with continued "flow contracts". In the longer term, the collaboration with Serba Dinamik could lead to downstream O&G, power and utilities contracts from the Middle East and Malaysia.


HRnetGroup (Add, TP: S$1.10)

* HRnetGroup is the only SGX-listed proxy for the labour markets in China and Singapore. We also like its assetlight and fairly defensive business model, with the twin earnings growth engines of professional recruitment and flexible staffing.

* Net cash of S$275m (at end 3Q18) is available to fund North Asian expansion, with potential 16-22% earnings upside from M&As not factored in.

* It currently trades at 13.7x CY19F P/E (9x ex-cash), at a 20-50% discount to peers. The stock also offers a c.3% dividend yield based on 50% payout.


Silverlake Axis (Add, TP: S$0.56)

* 1QFY6/19 EBITDA margin expanded to 47.5% (1Q18: 33.4%) resulting from higher-margin licensing revenue.

* Key catalysts include major order wins amid the digitalisation trend in ASEAN's banking sector that could further boost its order backlog of RM320m as at end-Sep.

* It is trading at 15.8x 12M forward P/E, below its historical average of 18.2x and at a c.20% discount to its regional peers' average of 19.6x.


Y-Ventures (Add, TP: S$0.56)

* The company turned profitable in 1H18 and we anticipate further earnings growth of more than 100% in FY19F as YVEN continues to tap on the burgeoning e-commerce market.

* Key catalysts include stronger-than-expected earnings and on-boarding of more branded partners.

* It is trading at 15x FY19F P/E, a c.50% discount to global e-commerce peers.


Full report here.