Excerpts from CGS-CIMB report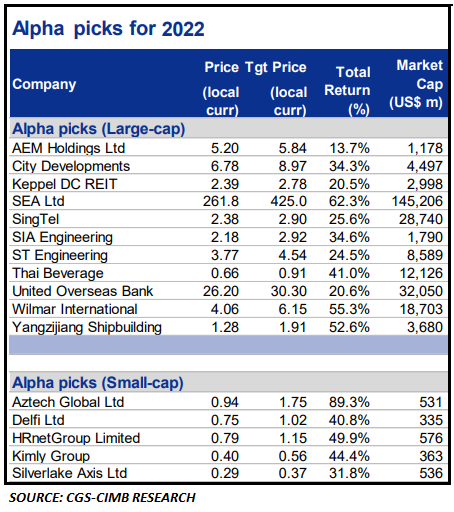 AEM Holdings (Add, TP: S$5.84)
– It's all about earnings

 Why we think share price will continue to do well in FY22F. We think AEM's share price will continue to re-rate into FY22F, driven by earnings recovery starting with record revenue for 4Q21F (both our expectation and management guidance).


AEM

Share price:
$5.25

Target:
$5.84
This is on the back of orders for a new generation of test handlers (THs) from key customer Intel Corp (INTC US, NR).

 How is AEM addressing investors' key concerns? The key concern from investors is AEM's customer concentration risk and order book driven nature of the business (tied to Intel's capex), which pose cyclical earnings risk.

To address these concerns, AEM has made eight acquisitions since 2017, giving it the ability to offer its own branded system level test (SLT) solution.

Management has guided that it expects 5- 10% of its quarterly revenue to come from other semiconductor companies from 2H22F. On its customer concentration risk, AEM remains the sole supplier for THs to Intel and we think it is now difficult for another supplier to muscle their way in.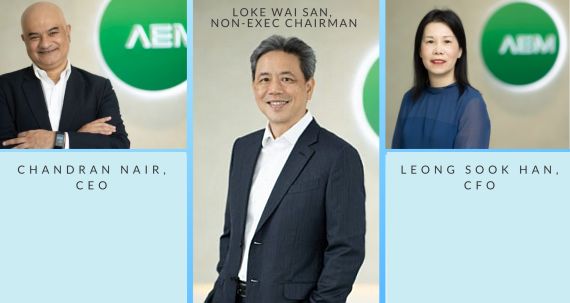  SLT will be an opportunity for AEM to develop a new revenue stream, we believe. AEM has been selected as the SLT solution provider for an undisclosed memory integrated device manufacturer (IDM).

Notably, working with this customer has also allowed AEM to engage with other semiconductor companies (which cannot be named due to non-disclosure agreements) that work with this memory IDM.

Based on AEM's 1H20 results presentation slides, industry-wide SLT revenue could post CAGR of 21.6% over 2019-2024.

 Improving valuations. On the valuation front, a secondary listing on another exchange or a delisting from SGX to relist on another exchange to enjoy the higher valuation there may only work in the short term.

There could be market specific circumstances for the higher valuations in other exchanges that in the long run may not sustain.

Instead, with Temasek Holdings (via Venezio Investments) now the largest shareholder and the Singapore's government's roadmap for Singapore to remain a relevant player in the semiconductor industry, we think AEM has the support for further acquisitive growth (cash balance as at end-Sep 2021 for AEM was S$204.1m).

We think one possibility is for AEM to acquire other growing companies with a different set of semicon/life science customers offering different products/services compared to that provided by AEM.


 Recommendation. Reiterate Add based on an unchanged 14.92x P/E multiple on our FY23F EPS. Our target price remains S$5.84.

 Potential re-rating catalysts are stronger-than-expected orders from its major customer and earlier-than-expected success in securing orders from other prospective customers.

 Downside risks are delivery delays (AEM forecasts none currently) due to supply chain challenges and aggressive competitive response from its peers.


Full report on the other alpha picks here.