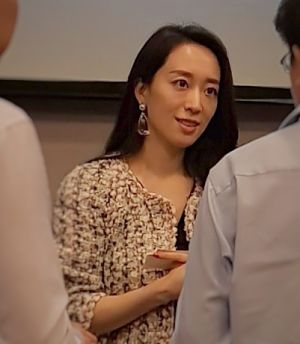 Yang Xue, co-founder (Sasseur Group), non-executive director (REIT manager), and the chairman's wife.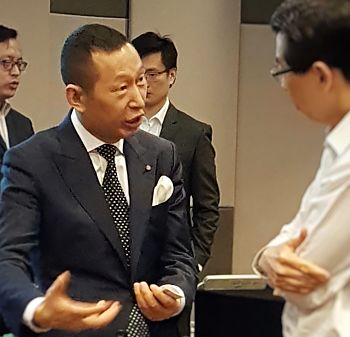 Xu Rongcan, Chairman of Sasseur REIT manager. Photos by Leong Chan Teik


The REIT manager's CEO, Anthony Ang, replied: "Generally speaking, sales for the first quarter account for about 25% of the year's. Second quarter is 20%, third quarter 25%, and the four quarter, 30%. In other words, you will have the best quarter coming up, hopefully."

That should be music to the ears of potential, and existing, investors of the REIT which owns four outlet malls in China (Chongqing, Bishan, Hefei and Kunming) selling out-of-season (or slow moving) branded goods.At the 3Q18 results briefing, someone asked: "Historically, how does your business perform season by season?"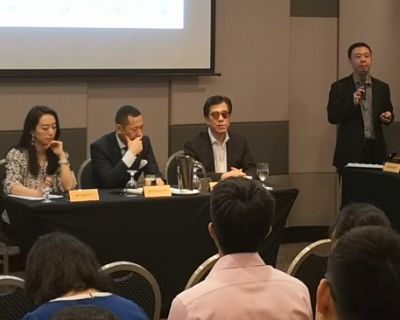 Sasseur REIT manager top guns (L-R): Yang Xue, co-founder (Sasseur Group), non-executive director | Xu Rongcan, chairman | Anthony Ang, CEO | Ken Chew, Chief Investment Officer.
Photo by Ngo Yit Sung Already, the annualised distribution yield -- ie based on the distribution covering 28 March 2018 till 30 Sept 2018 -- is already high at 8.4%.

That's based on 3Q18 closing price of 72.5 cents of the units of the REIT.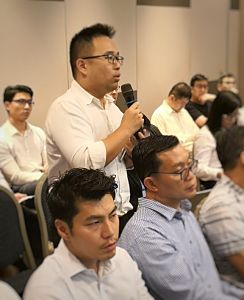 Photo by Ngo Yit Sung. The unit recently traded lower, at 68 cents, so the annualised yield is close to 9%.

The REIT, which listed on the Singapore Exchange in March 2018, pays distributions semi-annually.

For the period from the REIT's listing date to 31 Dec 2019, distributions will amount to 100.0% of the distributable income to unitholders. Thereafter, the distribution would be at least 90.0% of the REIT's amount available for distribution.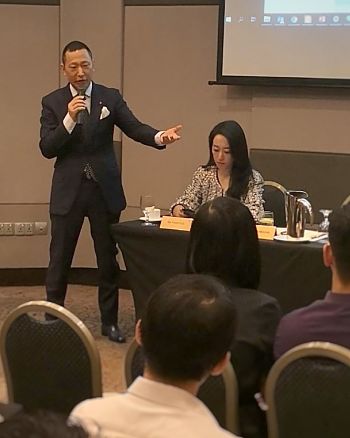 Xu Rongcan, Chairman of the REIT manager, gave an impassioned description of how the REIT's outlet malls are designed to enhance the customers' shopping experience beyond just buying goods. Photo by Ngo Yit SungWould the current high yield be threatened by the current US-China trade war?

The answer is no, because Sasseur REIT's business is all about Chinese middle-class consumption, said the Head of Investor Relations, Compliance and Risk Management, Chen Zhen.

In addition, he pointed out how regulations have recently changed in favour of a business like Sasseur: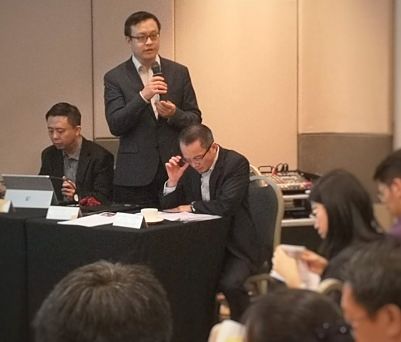 Chen Zhen, Head of Investor Relations, Compliance and Risk Management. Photo by Ngo Yit Sung 1. China is implementing income tax reform to stimulate domestic consumption (See Reuters story).

2. China has recently introduced an e-commerce law that reins in traders (daigou) -- a network that has a growing and significant impact on the retail industry -- who buy goods from overseas for sale in China through unofficial and previously unregulated channels.

3. China is increasingly enforcing the official overseas tariff-free spending limit of RMB5,000 per person -- which will curtail the buying of branded goods from overseas by Chinese travellers.

4. China has reduced import tariffs which narrowed the price differential between branded goods bought overseas and those sold in China (such as outlet malls of Sasseur REIT).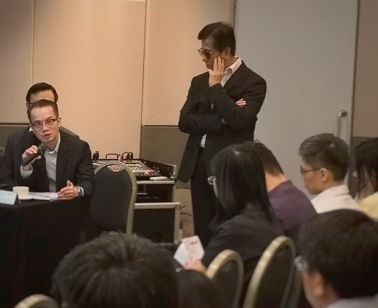 Fred Chee (seated), CFO. Photo by Ngo Yit SungAnother question raised at the 3Q18 results briefing is on L Catterton Asia's sale of a partial stake in the Sponsor of Sasseur REIT.

This matter had been clarified by the REIT manager in an October announcement on the Singapore Exchange as well as in our article SASSEUR REIT: Confusion over L Catterton's stake cleared

To an investor's suggestion that the REIT's financials be reported in RMB (instead of Sing dollar) for greater clarity on its performance, the management said it would seriously look into reporting in both currencies.

The 3Q18 PowerPoint materials are here.


Our visit to Sasseur REIT's outlet mall in Chongqing.