♦ Emerging Towns & Cities Singapore: Strategic decisions by management to enhance the Group's portfolio of investment properties have gathered momentum as its Golden City project's rental income rose 67.6% yoy to S$0.8 million during the quarter.

Apart from the stream of recurring contributions from its investment properties, the Group maintains an order book of 282 apartments sold which is slated to be progressively recognised.

Mr. Tan Thiam Hee, Executive Director and Group CEO of ETC Singapore, remarked, "The steady growth of local businesses and foreign direct investments flowing into Myanmar have led to an influx of expatriates to the country over the past five years.

"With the majority of this demographic being mid-level professionals, Golden City's availability of one and two-bedroom apartments coupled with various lifestyle amenities will bode well for us.

"Already, we are capitalising on this under-served segment through the signing of our recent agreement to lease 147 apartments to Huawei Technologies at Golden City.

"Moving forward, we remain cautiously optimistic that this untapped demand has the potential to drive growth as we execute our two-pronged strategy of complementing short-term development profits with long-term recurring income."

For more info, see PowerPoint materials here.


♦ Neo Group: The Group's core Food Catering business remains healthy, recording a 16.6% yoy revenue growth to S$32.0 million for 1H2019.

Bolstered by recurring income from its childcare market segment served by Gourmetz Pte Ltd and the Tingkat business under 2 newly incorporated catering subsidiaries – Kim Paradise Pte Ltd and Savoury Catering Pte Ltd, the Group's Food Catering business continues to capitalise on its diversified range of 11 brands to garner greater interest from new market segments.

Newly-acquired food catering subsidiaries, Lavish Dine Catering Pte Ltd, which focuses on high-end catering experiences and Ye Liang How Catering Services Pte Ltd, which serves the corporate and public sector, are also expected to contribute to the Food Catering business' growth for the rest of FY2019.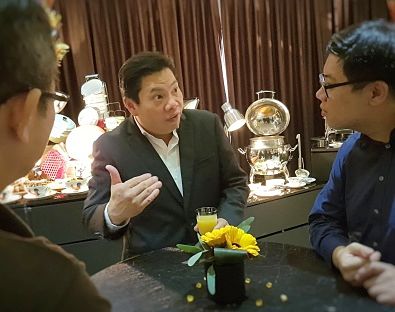 Neo Kah Kiat, Founder, Chairman and CEO of Neo Group. NextInsight file photo.Mr. Neo Kah Kiat, Founder, Chairman and CEO of Neo Group Limited, said: "With the upcoming festive season in the rest of FY2019 fast approaching, we expect a surge in orders for our core Food Catering segment.

"Harnessing 11 distinctively unique catering brands with different cuisines, we remain well-positioned to capture a larger share of the market during the peak season. Our extensive performance review of both our Food Retail and Supplies and Trading businesses also continue to gain momentum.

"Barring any unforeseen circumstances, the Group is confident that it would remain profitable for the financial year ending 31 March 2019."

For more info, see announcement here.