Excerpts from Phillip Securities Research report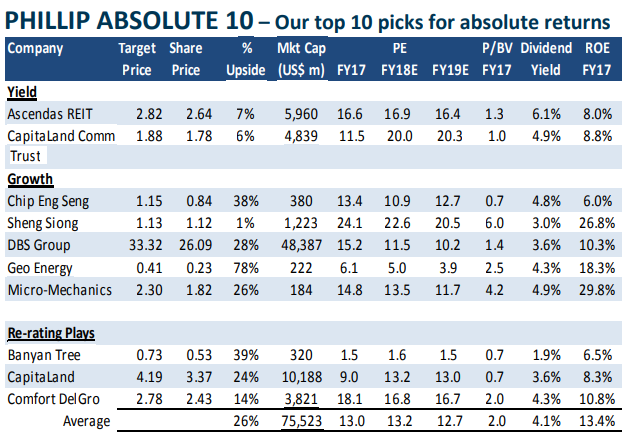 Source: Bloomberg, PSR.
Phillip Absolute 10 performance assumes equal weight to every stock in the portfolio. Any change to Phillip portfolio is only conducted at month end.

Our inaugural Phillip Absolute 10 Model portfolio began in January. It started well with a rise of 4.9% in January. Banyan Tree and CapitaLand led gains in January.

DBS has been a significant contributor to our performance with a gain of 15% for the period of JanFeb18. We then switched to OCBC in March due to the higher upside to our target price and a beneficiary of higher interest rates (in particular through insurance business).

In July we swapped out Asian PayTV, Dairy Farm and OCBC, with CapitaLand Commercial Trust, Sheng Siong and DBS.

In September, our gains could not match the STI. Our largest gainers were Geo Energy, ComfortDelgro and DBS Group. Transportation stats continue to support the reduced supply of private hire vehicles and the taxi fleet has started to recover, albeit modestly. Geo was helped by an announcement to dual list in Hong Kong.

Weakness was in Sheng Siong, Ascendas REIT and CapitaLand.

We are still comfortable with our portfolio and no changes will be made.

Sheng Siong is undergoing some profit taking after some stellar gains. We expect strong earnings from the company as gross margins pick up from higher contribution of fresh food and sales expands with new store openings.

Ascendas REIT share price was hurt by a share placement. We still like Ascendas for its diversified portfolio of more than 100 properties. It will also enjoy pick-up in rental for the business parks as office rentals in the core central region continue to climb. New investments into Singapore will favour their high-spec buildings.

CapitaLand is pulled down by the expected weakness in property sales as new cooling measures were rolled-out. We like CapitaLand emphasis on building up its recurrent revenue base as it seek higher quality income with better ROEs from an asset-light model.

Full report here.