Hong Kong-based investor Sam Lam contributed this article to NextInsight after reading ALLIANCE MINERAL ASSETS/TAWANA RESOURCES: Open letter from shareholder
As a long-term investor in HK-listed Burwill Holdings, I have kept a close eye on the spodumene concentrate and lithium carbonate markets in China, and followed the development of AMAL/TAW on a regular basis.

While appreciating Mr. Teo Luan Boo's article "ALLIANCE MINERAL ASSETS/TAWANA RESOURCES: Open letter from shareholder" (published on NextInsight on 8/10/2018) that mostly focuses on upstream investment, here I would like to share my observations of the downstream market in China.


Burwill has injected more than A$40m capital into AMAL/TAW through pre-payments and share placements, and helped bring in Weier Antriebe und Energietechnik Gmbh's A$30m capital.
AMA stock

26.5 c

52-week range

24 – 46 c

PE (ttm)

--

Market cap

S$175 m

Shares outstanding

660 m

Dividend
yield (ttm)

--

1-year return

-20%

Source: Bloomberg
These investments have played a critical part in kicking off the Bald Hill Mine project and made it possible for Bald Hill to produce and deliver the first spodumene concentrate shipment this May after less than 12 months.

Moreover, the cost of capital is virtually zero, which has greatly reduced the financial burden on AMAL/TAW, so management can focus on operational issues.

I believe these investments have greatly benefited shareholders of both Burwill and AMAL/TAW.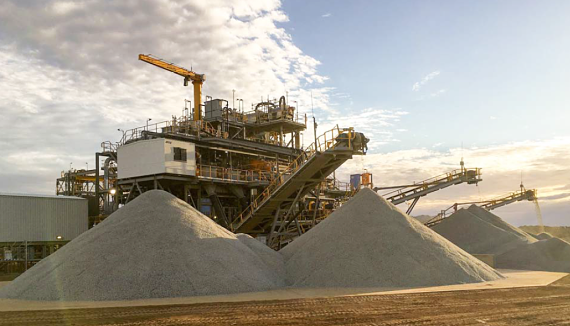 Spodumene concentrate after processing at Bald Hill Project which is 50-50 owned by Singapore-listed AMA and Australia-listed Tawana, both of whom are on course for a merger. Photo: Company
As a close follower of China's spodumene concentrate and lithium carbonate markets, I believe it is a wise decision and in the best interests of all shareholders to put the second Dense Media Separation (DMS) plan on hold for now, in viewing of the drastic price drop this year.

Chinese battery-grade lithium carbonate prices have been dropping since the 2nd quarter of this year and have further dropped to below RMB80,000/t at end-September, down more than 51% YoY.

The market is well aware of those Chinese lithium carbonate producers with imported prices over US$700/t who have suffered severe losses. As such, the spodumene concentrate market continues to cool down with asking prices failing to attract enough buying interest currently. This weak sentiment is likely to prevail for a while.

Against this backdrop, the capex required for DMS stage 2 is tens of millions of dollars, which will inevitably incur high financial costs (e.g., c.15% p.a. from the Tribeca loan).

Plus, the new spodumene concentrate supplies coming onstream from new mines such as Pilbara Minerals (PLS) and Altura are to hit China's shore in the second half of 2018.

The new project, should it move forward, is set to become a big drag on AMAL/TAW's cashflow and earnings.

Mr. Teo Luan Boo also mentioned that "AMAL/TAW currently has only 1 offtake partner while PLS has 4 offtake partners". While there are some merits in diversifying risks, in fact only 2 of PLS' offtakers have the lithium concentrate processing capacity.

One has already secured its spodumene concentrate supply in Australia and the other has a designated spodumene concentrate supply as an OEM.

For PLS' other 2 offtakers without lithium concentrate processing capacity, one of them is going to take the spodumene concentrate for conversion in some other convertors on a consignment basis, but this will not be easy in a down market.

The lithium carbonate conversion capacity in China has not reached the expected capacity yet.

Currently, the convertors generally have no excess capacity to process material for third parties.

As for the other offtaker, they are going to have a JV with PLS for a downstream conversion plant outside China but it will take time to build such a plant.

Thus, there is uncertainty whether these four offtakers can fully digest PLS's production.

As we understand, there are only a handful of sizable lithium carbonate manufacturers in China. Should they choose to dump their spodumene concentrate on the market, prices will be weighed down further.


On the other hand, Burwill's JV, Baojiang Lithium, has the capacity to process the current production from Bald Hill, which is particularly valuable when the market is in the down cycle.


The capacity of Burwill's JV conversion plant in China is 15,000 tons of lithium carbonate per year, equivalent to a consumption of 120,000 tons of spodumene concentrate.

The JV partner of Burwill's conversion plant also has another 15,000 tons lithium carbonate capacity per year.


From my experiences with Chinese businesses, buyers who are not end-users and/or don't have their own processing capacity, may put their consignment plan on hold in a downcycle market.

But Burwill is an end-user of spodumene concentrate with their own conversion capacity, so they need the material to feed their plant whatever the market situation is.