Excerpts from Ernest Lim's post on his blog


This week, Singapore Medical Group ("SMG") caught my attention.

SMG has dropped 39% from $0.725 on 18 Jul 2017 to trade at $0.440 on 3 Oct 2018. My guess is, part of the fall may be attributable to:

a) Lower, or no earnings growth for some of the healthcare players in FY18F.

However, this is likely not the case for SMG, as analysts believe SMG is on track for a minimum 40% growth in FY18F net profit. It is noteworthy that SMG has already posted a 70% jump in 1HFY18 net profit;

b) Reduction in the general PE valuations ascribed to the healthcare sector;
So, what caught my attention?
a) Positive chart: SMG is testing its downtrend line established since 26 Jan 2018. (For more info on the technicals, see Ernest Lim's blog)

b) Cheap valuation compared to peers: SMG is trading at 14x FY19F PE vis-a-vis sector average 29x FY19F PE. Although SMG has a smaller market cap relative to some of its peers, it has a high earnings growth rate;

c) SMG is near the 52-week low of $0.415. 52-week high is S$0.645;

d) Based on Bloomberg data, the average analyst target price is $0.650. This represents a potential capital upside of around 48%;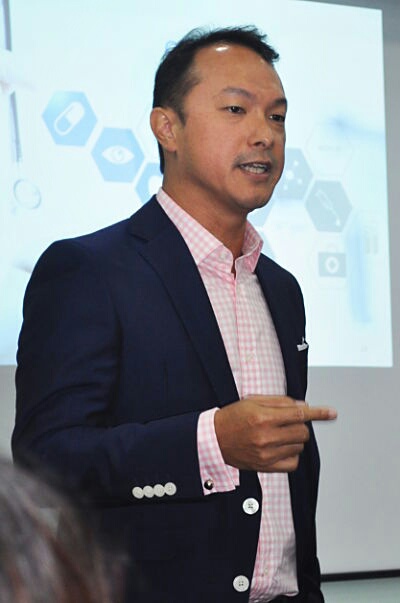 Dr Beng Teck Liang, CEO of Singapore Medical Group. NextInsight file photo.e) SMG's 2QFY18 results statement mentioned that it continues to explore avenues to enhance shareholder value and possible corporate actions that may unlock value for shareholders.

Such actions may include a formal dividend policy in FY2019 and a share buy-back mandate, subject to all necessary approvals and compliance.

Although I do not know how long such initiatives will take to materialise, it is comforting to note that company does take note of shareholder value;

f) SMG also mentioned in the 2QFY18 results announcement that they are likely to continue their growth in 2H as they hire more specialists and open new clinics in Singapore. It also plans to scale up their aesthetics platform, SW1, overseas, likely in Vietnam and Indonesia;

g) Raffles Medical, arguably one of the sector leaders, if not the leader, has breached its trading range of $1.00 – 1.14 with volume expansion on 1 Oct 2018. If Raffles Medical continues to move, this may fuel some interest in "cheaper" healthcare plays (with earnings growth) too.


Risks
a) As of now, SMG is not giving out any dividends; ie no dividend return based on now;
b) There is a possibility that doctors may leave SMG once their lock-up periods end;
c) Slowdown in medical tourism;
d) I have no direct access to management and am not extremely familiar with the business;
e) SMG is illiquid. Ave 30D volume is around 159K shares per day only. i.e. Not easy to enter or exit;
f) Chart reading is subjective. There is no guarantee that SMG may rally even if the downtrend line is breached on the upside;
g) Execution risk in their "acquire and grow" strategy where profitable businesses are acquired with the aim to grow and expand through organic growth initiatives.
Readers who wish to know more about SMG can refer to the SGX website for more information and HERE for analyst reports.

See also: SINGAPORE MEDICAL GROUP: Cheapest medical stock?