China Sunsine reported record earnings for 2Q18 but the stock promptly tumbled -- from $1.49 to $1.23 -- in the subsequent two trading days. Portuser, who contributed this article to NextInsight, questions the basis of CGS-CIMB lowering its target price to $1.41 from $1.87, which it set 12 days ago, and gives his take on the cautionary statements in Sunsine's 2Q18 results announcement.


China Sunsine is the world's biggest producer of rubber accelerators and China's biggest insoluble sulphur producer. On 26 July 2018, a CGS-CIMB report set $1.87 as the target price of China Sunsine share.

Just 12 days later, on 7 Aug 2018, the broking firm slashed the target price to $1.41 -- despite Sunsine releasing 2Q18 results which beat CGS-CIMB's expectations. (Report here)
| | | | |
| --- | --- | --- | --- |
| RMB'm | 26 July | 7 Aug | Variance |
| 2018F | 546 | 615 | 69 |
| 2019F | 453 | 450 | (3) |
| 2020F | 465 | 463 | (2) |
Let's compare the profit forecasts in the two reports (see table):
• In its 7 Aug report, CGS-CIMB raised its 2018 forecast substantially to account for the RMB 240m 2Q18 profit, which was much higher than the RMB 162m it had estimated on 26 July.

• The latest profit forecasts for 2019 and 2020 are almost the same as those made earlier.

• The original $1.87 target price was 9.8 times 2019 earnings per share. The revised $1.41 target price is 7.7 times.

Many investors are at a loss as to the exact cause of the target price downgrade when the latest projected profit for 2019 and 2020 are almost the same as the earlier ones.

The broking firm's downgrading decision seemed to be based on its observation:

"While rubber accelerators (RAs) still in a tight supply situation in China, prices of RAs are coming off since end-Jun, allegedly due to slowing downstream demand for tyres and possibly for the non-tyre rubber products as well. China's total tyre output in 6M18 was 435.7m pieces, representing a mere 0.3% yoy increase and according to an industry news source on rubber tyres in China, production has reportedly stagnated for many large tyre enterprises in Shandong province amid an overcapacity situation."

But could the slowdown in the first half of 2018 be transitory?

Demand for tyres is on an uptrend world-wide on the back of a growing global vehicle population.

If the tyre industry in China slows down, Sunsine can export more of its products. Export currently accounts for one-third of Sunsine's output.

If ride-hailing gains further popularity in the future, more intensive vehicle usage will result in higher mileage, which will in turn drive up demand for tyres. (See: The Future of Cars 2040: Miles Traveled Will Soar While Sales of New Vehicles Will Slow, New IHS Markit Study Says)

Toyota is preparing for lower car sales by investing in ride-hailing company Grab. (See: Toyota to Invest US$1 Billion in Grab As Lead Investor for Grab's New Round of Financing)
Some investors are uneasy with the following four points in Sunsine's

2Q18 results announcement:

1) "China's GDP grew 6.7% and 6.8% in 2Q2018 and 1H2018, respectively. Automakers sold a total of 14.072 million units in China in the first half of 2018, representing 0.83% growth in auto sales year-on-year. However, China's economy is facing a slowdown in its growth, and this is likely to affect the demand for tires, and consequently, the Group's sales.


2) The "trade war" between US and China has created tension in the world economy. Although our US sales only accounted for less than 5% of our total sales revenue, the extra tariffs imposed by the US government on Chinese tire manufacturers will result in the further weakening of Chinese tire exports to the US market, and may indirectly affect our sales.


3) The environmental protection regulation in China continues to be stringent, and the Chinese government has recently commenced an environmental inspection operation named "The Battle for a Blue Sky" which will last for 3 years. This will materially affect all chemical companies in China, including all three of our production plants.


4) Some rubber chemical producers have invested more in environmental protection and safety production measures, and more and more producers will eventually comply with the environmental protection regulations and resume their production. This will intensify competition, as evidenced by the selling price of rubber chemicals declining since the end of June 2018. As such, the Group expects that the ASP of rubber chemicals will continue to normalise
."


These statements are cautionary in nature and temper investors' exuberance over the exceptional RMB 240m profit in 2Q this year.

My other views are that the first two points are in fact motherhood statements.

Sunsine surely will suffer if the economy tanks; but it will fare better than capital goods companies. Demand for tyres is unlikely to drop precipitously, ensuring reasonable rubber chemical sales.

As for the third point, it should be noted that Sunsine, which has been pouring resources into green technology, was unscathed during recent enhanced enforcement by the authorities against industrial pollution.


The last point on normalisation of product prices has been making its rounds regularly in Sunsine's quarterly results announcements.

Gross margin to stay above 30%
Sunsine's gross margin rose above 25% between 2014 and 2016 when stepped-up anti-pollution enforcement by local governments led to the closure of some sub-par rubber chemical producers.

When the central government stepped in 2017, more closures ensued, and Sunsine's gross profit margin surged: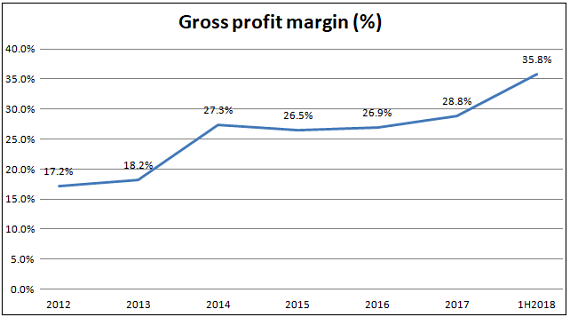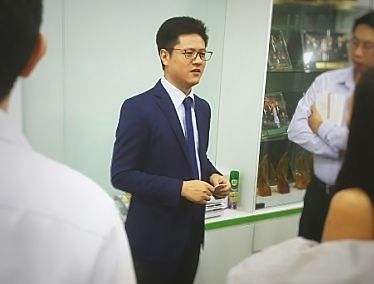 CFO Tong Yiping: Sunsine is confident of maintaining its gross margin above 30%. NextInsight file photo. During the company's briefing for 2Q18 results held on 8 Aug, the CFO shared that the weakening of product prices since end-June was partly due to lower raw material prices.

Sunsine was confident of maintaining a gross profit margin above 30% in the future, which together with rising volume, will deliver good profit.

The fluctuation of rubber chemical prices in reaction to seesawing raw material prices does not have an adverse impact on profit, over time.

New capacity ready to take off
Sunsine is awaiting government approval to start production of its 10,000-tonne TBBS line and 10,000-tonne insoluble sulphur line.

TBBS is a high-grade rubber accelerator.

The new TBBS line is fully automated and its output will be more consistent in quality than the existing manually-operated TBBS line.

Sunsine plans to add another 20,000 tonnes of TBBS production capacity after the new process has functioned smoothly.

Although Sunsine started producing insoluble sulphur only in 2008, its quality improvement through R&D has won over new customers, and that calls for the new line.

Overall, sales of Sunsine's products have been rising and this trend should continue when the two new lines go into production.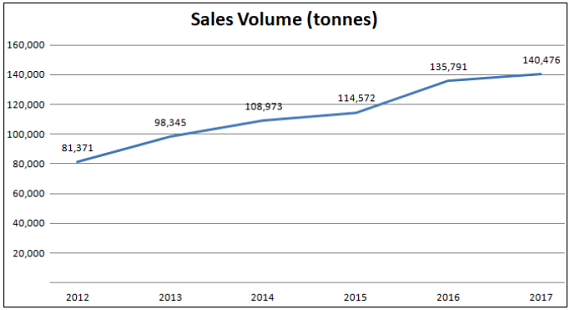 The rubber chemical industry is growing in tandem with rising tyre consumption.

Sunsine has cash, land and ready infrastructure to expand expeditiously when new demand emerges.

Its main rubber accelerator rivals, Tianjin Kemai and Yanggu Huatai, see growth opportunities, but lack funds.

Tianjin Kemai failed twice, in 2015 and 2017, to raise IPO money from the Shanghai Stock Exchange.

Yanggu Huatai managed to raise, early this year, half what it needs for replacing its old factories and expanding capacity. Construction will take about three years.

CGS-CIMB's projected 2019 and 2020 profits of around RMB 450m are good enough in comparison with past earnings.