Premium outlets in China are doing a roaring business these days, going by Sasseur REIT's performance.


Total Sales

Actual
28 Mar - 30 June 2018
S$'000

Proforma
a28 Mar - 30 June 2017
S$'000



Variance




Chongqing Outlets

100,551

86,286

+16.5%

Bishan Outlets

16,707

12,205

+36.9%

Hefei Outlets

43,499

25,606

+69.9%

Kunming Outlets

32,588

13,456

+142%

Portfolio

193,345

137,553

+40.6%
Even its relatively mature Chongqing mall has chalked up 16.5% y-o-y revenue growth in the period 28 March-30 June 2018.

The strongest gainer was the newer outlet in Kunming, where sales soared 142% (see table).

The REIT is structured with an "Entrusted Management Agreement" (EMA) whereby rental income (concessionary similar to Net Property Income) is fixed and

raised annually and a variable component that is pegged to sales generated by its mall tenants.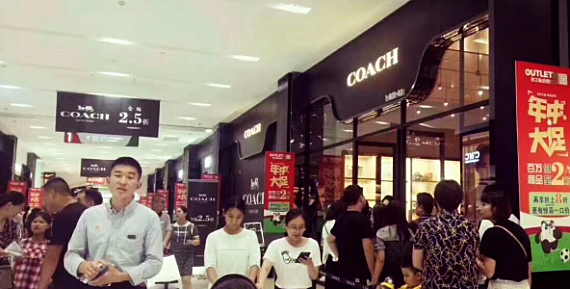 The fixed component, which increases approximately in line with inflationary expectations at 3.0% per annum, provides downside protection to Sasseur REIT while the variable component, which grows in tandem with sales performance of the malls, allows investors to participate in the upside from better sales performance.



Thus, unlike conventional retail REITs, which focus on rental income growth and rental reversion as measures of operating performance, the sales growth derived from Sasseur REIT's malls are a better proxy of its portfolio performance.
Actual S$ '000

Forecast S$ '000

Variance



Total sales

193,345

177,669

+8.8%

EMA rental income

32,278

31,352

+3.0%

Distributable income to Unitholders

18,743

17,912

+4.6%

Distribution per unit
(S$ cents)

1.587

1.517

+4.6%
In Sasseur REIT's maiden results release following its recent listing on the Singapore Exchange, it said distributable income exceeded forecast by 4.6%.

Distribution per unit was 1.587 Singapore cents, translating into an annualised distribution yield of 8.4% based on the REIT's market closing price of S$0.73 on 30 June 2018.

Total sales at the REIT's malls was 8.8% higher than forecasted (see table).

Total Sales

Actual S$'000

Forecast S$'000

Variance
%

Chongqing Outlets

100,551

94,566

+6.3%

Bishan Outlets

16,707

15,442

+8.2%

Hefei Outlets

43,499

40,792

+6.6%

Kunming Outlets

32,588

26,869

+21.3%

Portfolio

193,345

177,669

+8.8%
The stronger sales, both on a year-on-year and forecasted basis, ties in well with the high-growth story in China's outlet mall industry.

The sector is projected to grow at 24% per annum over the next 3 years and is poised to become the largest outlet industry in the world, ahead of the US, by 2030.

Sasseur REIT has a relatively short weighted average lease to expiry of 3.2 years by net lettable area and 1.3 years by total property income.

This practice not only provides Sasseur REIT the option to phase out under-performing tenants and bring in newer brands as consumers' preferences change, it also gives it the opportunity to increase chargeable rent for existing occupants.


"Despite the second quarter being a seasonally slower quarter for the industry, Sasseur REIT performed very well in sales, putting us on track to achieving our forecasted sales targets for the full fiscal year. Sales at Chongqing Outlet mall continues to out-perform forecast as a more mature mall, while sales at the younger Outlet malls at Bishan, Hefei and Kunming continue to gain traction with strong growth. Sasseur Outlet malls usually show strong sales performance during the second half of the year, as the sales price per unit and per customer of fashion items in the autumn and winter seasons would be higher. In addition, there will be more major sales promotion events than in the first half of the year, such as the grand anniversary activities in September."
-- Anthony Ang, CEO of the REIT Manager (photo).

Solid Growth Prospects
Sasseur REIT has a strong pipeline of potential properties available for future acquisition, with 2 Right of First Refusal ("ROFR") properties in Xi'an and Guiyang, and 3 pipeline properties in Nanjing, Hangzhou and Changchun. Though some of these properties are relatively new, their sales performances have been very strong.

Assuming all of these properties are acquired in future, the aggregate Gross Floor Area ("GFA") of its initial portfolio will grow by more than 3 times. Additionally, the Sponsor continues to actively expand its portfolio of Outlet malls, with Sasseur (Changsha) Outlets slated to open later this year.

The Sponsor has also installed a general-partner-scheme recently to provide the Outlet mall operation management teams with performance bonus in the respective Outlet malls that they operate. The performance bonus will be linked to the results of these Outlet malls' operations. This will align the interests of the mall operation management teams more tightly with the business, and will contribute positively to the superior performance of all the Sasseur Outlet malls.

For more info, see Powerpoint material here.