Exerpts from CGS-CIMB report

Analyst: William Tng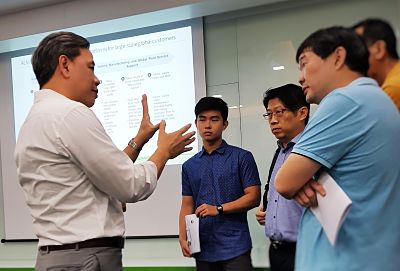 AEM executive chairman Loke Wai San speaks with investors. NextInsight file photoAEM Holdings's 1Q18 core net profit at 18% of our full-year forecast was below expectations.

The results came in lower than our expectations due mainly to the higher operating expenses arising from its three recent acquisitions.


AEM

Share price:
$1.49

Target:
$1.78
Assuming a 17% corporate tax rate, 1Q18 core net profit formed 24% of AEM's FY18 guidance (pre-tax profit of at least S$42m).

Given that AEM is still the sole supplier to its major customer, the key risks going into the rest of FY18 are order delays or reduced orders from its major customer.

AEM has commented that based on its own observations, its major customer is likely to have satisfied its requirements for new machines and, going forward, less predictable replacement demand (for customer's legacy machines) will kick in.




We believe AEM will have better visibility on the outlook for 4Q18 when it announces second-quarter results sometime in Aug 2018.

AEM will also launch its own Test Handler product and hopes to announce customer wins in the 2H18/FY19 time frame. On a positive note, there remains room for AEM to raise its FY18 pre-tax profit guidance of at least S$42m as the visibility for the fourth quarter is limited.

The impact of a trade war on AEM is hard to quantify.

If we apply a 25% and 50% haircut to our earnings forecast for FY19 and maintain our target P/E of 10x, the revised target prices will be S$0.905 and S$1.36, respectively.

Our current scenario is a TP of S$1.78 based on 10x (17% discount to sector average) FY19 earnings.

Full report here.