Singapore Medical Group (SMG) last year more than tripled its net profit to a record $8.5 million, emerging as of the largest specialist practitioners dedicated to women's health and wellness.

1Q this year saw key financial performance metrics pointing northward again.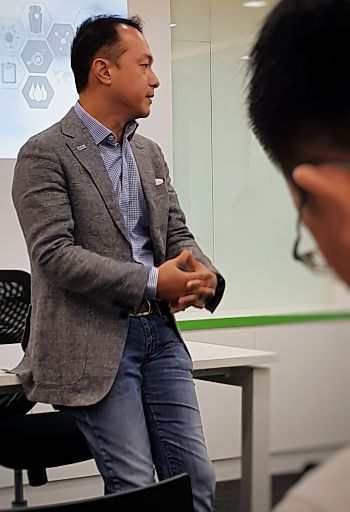 Dr Beng Teck Liang, CEO of Singapore Medical Group, at 1Q18 results briefing.
Photo by Leong Chan TeikIn particular, net profit rose 139% y-o-y to $3.4 million as acquired businesses and existing ones grew.

"This is just the beginning as we chart further growth in the year ahead," said Dr Beng Teck Liang, the CEO.

Investors will be looking out for, among others, the maiden contribution from its 85% stake in Pheniks Pte Ltd, which owns the SW1 clinic, acquired in April 2018.

Dr Beng, in answer to a query at the recent 1Q18 results briefing, said SW1 -- comprising five general practitioners and one plastic surgeon -- has shown profitability.


S'pore Medical Grp

Share price:
50 c

Target:
74 c

Source: UOB KH
UOB Kay Hian expects SW1 to contribute S$5m-10m in sales and profit of S$1m-2m per year.

SW1, which takes up about 7,000 sq ft of space in Paragon, is the largest aesthetic, plastic surgery and medical spa clinics in Singapore.

Said Dr Beng: "We have begun to forge ahead with plans to scale this platform into the region in neighbouring geographies where we have an existing footprint. This one-stop aesthetics destination, highly synergistic and complementary to our women's health segment, is another monumental step in our growth story."

S$'000

1Q18

1Q17


Change

Revenue

19,229

14,033

37.0%

Gross Profit

8,917

6,064

47.0%

Gross Profit
Margin (%)

46.4

43.2

3.2 pts

EBITDA

4,942

2,332

111.9%

Profit Attributable
to Owners

3,421

1,432

138.9%

Net Profit
Margin (%)

17.8

10.2

7.6 pts

Earnings/Share
(S$ cents)

0.74

0.45

64.4%
Aside from SW1, the quarters ahead will likely see positive momentum from:

♦ A new diagnostic centre at OUE Downtown, which could narrow its losses.

♦ A new Novena centre, where utilisation is 45-50%.

♦ JV/ associates: Eye clinic PT Citputra SMG in Jakarta has turned profitable; CHA SMG (Australia) is profitable and seeking more market share.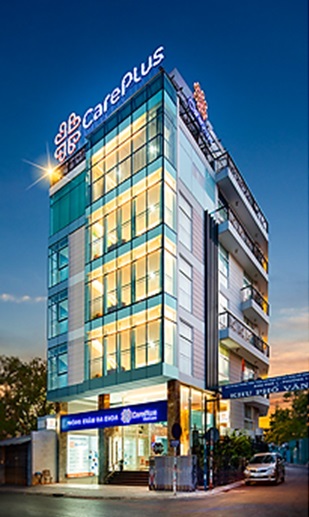 SMG has a stake in the CarePlus Clinic Vietnam, a multi-disciplinary healthcare specialist clinic.
Picture: CompanyStill loss-making was its Vietnam JV which owns a specialist clinic which focuses on health screening, women's health, pediatrics and diagnostic imaging.

In sum, the share of losses of associates/JV dropped to S$12,000 in 1Q18, from S$48,000 a year earlier.

The group's overall financial performance in 1Q can be gleaned from the table (right).

This was SMG's inaugural quarterly report as its growth in market capitalization had exceeded the level required for mandatory quarterly reporting under listing rules.

The top line was driven by the Healthcare segment which increased 47.7% yoy to S$14.3 million. The Diagnostic & Aesthetics segment rose 14.2% yoy to S$4.9 million.

EBITDA increased 111.9% yoy to S$4.9 million while EBITDA margin expanded 9.1 percentage points to 25.7%, underpinned by continuous efforts to streamline operations while deriving cost synergies from recent acquisitions.


Stock price

50 c

52-week range

48 - 72c

Market cap

S$232 m

PE (ttm)

25x

Dividend yield

--

Year-to-date
return

-12%

Source: Bloomberg
CEO Dr Beng said, "After a record-setting year in 2017, our growth trajectory has continued to garner momentum as we've registered double-digit growth in key verticals such as oncology, obstetrics & gynaecology ("O&G") and paediatrics. Furthermore, our buy-and-grow inorganic growth strategy has translated to significant improvements in our profit margins.

"For each of the acquisitions we completed in 2017, we have helped to further fuel organic growth while driving operational efficiencies in staffing and marketing. These initiatives have translated to our net profit margin climbing 7.6 percentage points to 17.8%.


Where Singapore Medical Group's practices are located:

Paragon Medical Centre, Mount Elizabeth Medical Center, Mount Elizabeth Novena Specialist Centre, Novena Medical Center, OUE Downtown Gallery, Gleneagles Medical Centre, Farrer Park Medical Centre @ Connexion, Mount Alvernia Hospital and other locations in Bishan, Hougang, Jurong, Toa Payoh, and Tiong Bahru.
"Organically, we are firing on all cylinders, having opened a new O&G clinic in Paragon and a new paediatric clinic in Bedok. The opening of these two clinics further strengthens our hub and spoke model with our flagship at Mount Elizabeth Novena along with seven specialist clinics which extend into the heartlands.

"Similarly, in our diagnostics segment, we officially opened our 5,500 square feet centre at Novena Medical Center in February. Within diagnostics, we are planning to add more radiologists in the third quarter of 2018 as we continue to see opportunities for growth. In addition, we have started our cardiology practice with the opening of 2 new clinics in Novena and Paragon.

"These initiatives will continue throughout the year as new clinics in key segments such as O&G, paediatrics and other specialist verticals are being formulated."