Emerging Towns & Cities Singapore ("ETC Singapore") is increasingly becoming a Myanmar property play, as it positions itself ahead of the country's liberalisation of foreign ownership of condominiums.

ETC is acquiring for up to US$20.0 million an up to 20.0% stake in Golden Land Real Estate Development Co., increasing the Group's effective stake in the Golden City project to up to 69.0%.

This acquisition will be funded via the issue of up to 301,111,111 new shares at S$0.09/share or notes, or a combination of both.

For an idea of the Golden City project, watch this video of our visit earlier this year -->


Furthermore, ETC is proposing a US$11.9 million acquisition of a 17.0% equity interest in Uni Global Power.

As consideration, it will issue 179,161,111 new shares at S$0.09/share. This particular interested party transaction is subject to shareholders' approval at an upcoming EGM.

If approved, ETC would have an effective interest of up to 80.9% in the Golden City project.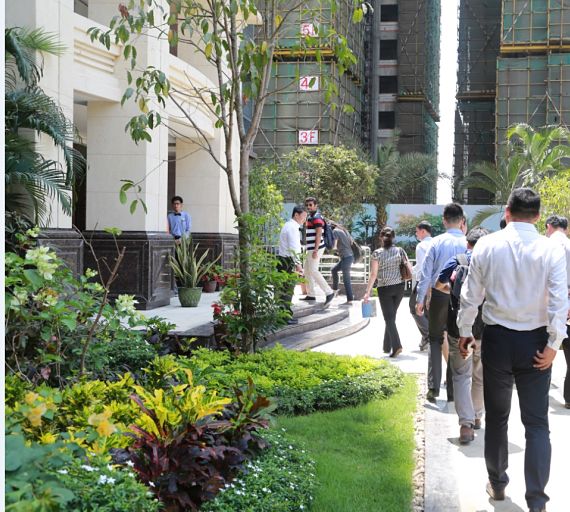 @ Golden City condominium. NextInsight file photoPhase 1 of Golden City is 63% sold while Phase 2, 31%.

Until recently, Golden City's buyers pay cash as Myanmar banks did not give mortgage loans.

In a breakthrough, ETC recently partnered with Yoma Bank to provide affordable financing to Myanmar citizens, resulting in a number of sales of units in Golden City.

ETC is in talks with other local banks to provide similar financing.

Meanwhile, the long-awaited implementation of by-laws of the so-called Condominium Law will soon materialise, according to market talk.

This is expected to open the gates wide for foreign investments in condominiums in Myanmar.

Taking another step to ride on the wave of growth, ETC said it will developing its first green-field project with an US$24.4 million acquisition – effectively clinching a 61.0% stake in a luxurious residential development which resides on a 2-hectare land in the prime CBD of Yangon.


While the local property market continues to thrive, we are convinced that the advent of the impending Condominium Law, which will attract foreign direct investments from eager overseas buyers, will drive Myanmar into the next golden era of real estate development. Golden City's prime location in the Yankin Township is well poised to capitalise on the influx of fresh investments once the Condominium Law is enacted."


--
Tan Thiam Hee (photo),
Group CEO,
ETC Singapore.
The project is nestled in a zone with amenities and government institutions, including the Yangon Regional Parliament and the Singapore embassy.

ETC will place out 367,355,556 new shares at S$0.09/share or notes or a combination of both, to the vendor.

Meanwhile, ETC said its 3Q17 revenue rose 101% to S$19.6 million on sustained demand for Golden City units, coupled with the fresh launch of holiday apartments in Daya Bay (China) previously held as investment properties.


During the quarter, 22 units from Golden City worth S$12.7 million were recognised as revenue while the sale of 27 units (net) of Daya Bay worth S$5.9 million was recognised.

Revenue for the remaining 237 and 363 units for Golden City and Daya Bay respectively are expected to be progressively recognised in the final quarter of FY2017 and FY2018, sustaining the growth momentum.

Recovering from a loss in the preceding quarter, ETC recorded a net gain attributable to shareholders of S$1.4 million (3Q2016: S$0.5 million), supplemented by a fair value and exchange gain of S$0.7 million and S$1.2 million, respectively.


Was Mr Luo Shandong desperately in need of cash?

Mr Luo is the controlling shareholder (20.59% stake) of ETC Singapore and his privately-held companies in China were due to receive RMB 112 million on 31 Dec 2017.

Instead,

between July and Oct this year,

unauthorised withdrawals totalling RMB118 million were made from

the bank account of ETC's 60%-held Huizhou Daya Bay Mei Tai Cheng Property Development Co.

to some of Mr Luo's Chinese companies.

ETC does not expect the withdrawals to have a material impact on itself because:

♦ Private companies of Mr Luo are owed around RMB 112 million by Huizhou Daya Bay pursuant to various loan agreements.

These loans were due to be repaid on 31 Dec 2017.



♦

ETC also owes Mr Luo a sum of around US$23.9 million (equivalent to about RMB 159 million at the prevailing exchange rate) pursuant to a Convertible Loan Agreement dated 25 January 2017 which is due on 25 April 2018.

ETC is exploring the possibility of offsetting the unauthorised withdrawals against the amounts that ETC owes Mr Luo and his companies.

ETC has given a detailed account of the surprising turn of events here and here.