Following the release of Trek 2000 International's 3Q17 results, its CEO bought 800,000 shares of the company for $215,440 last Thursday (9 Nov), according to a filing on the SGX.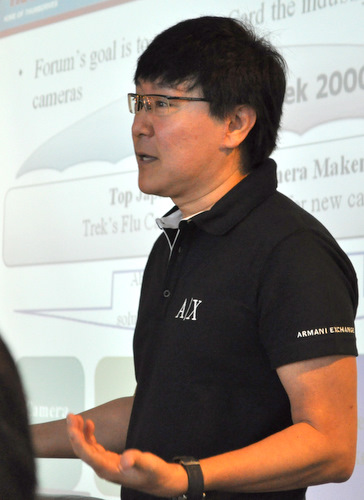 "By leveraging on our history of R&D capabilities and a track record of innovative solutions, our core Interactive Consumer Solutions (ICS) division continues its growth momentum as we seek to develop disruptive technologies within consumer wearable, medical and cloud technologies.

-- Henn Tan,
Executive chairman and CEO,
Trek 2000 International.

(NextInsight file photo)
That works out to an average of almost 27 cents a share.
Henn Tan, who is CEO and executive chairman of Trek, now holds 101,597,591 shares, or a
31.46% stake.
He last bought Trek shares in Sept 2015:
42,000 shares at nearly 31 cents apiece.

He is the N0.1 shareholder, followed by Toshiba Corporation (16.32%) and Osim International (8.79%).



No.4: Creative Technology (8.52%).




Trek --inventor and patent owner of the ThumbDrive™ and Flucard® -- has just reported a 24.0% rise in net profit to US$2.2 million for 3Q2017.

9M17 net profit adds up to US$5.5 million, up 53% y-o-y.

And what a gusher of cash its asset-light business continued to deliver: Operating cash flow totalled US$5.5 million in 3Q17 and US$12.3 million in 9M17.


Stock price

28.5 c

52-week range

21 – 29 c

PE (ttm)

8.5

Market cap

S$92 m

Shares outstanding

323 m

Dividend
yield (ttm)

--

Source: Bloomberg
In addition to its continued business strength, Trek has a net cash position of US$33.6 million and US$16.5 million worth of quoted investments.

There is a case to be made that the stock is undervalued:

♦ The net cash and quoted investments total S$68 million, accounting for approximtely 74% of Trek's market cap of S$92 million (based on share price of 28.5 cents).

♦ In the last 4 quarters, Trek's aggregate net profit was US$7 million (S$9.5 million). This includes a 1Q17 provision for sales commission (US$0.5 million) and loss from the disposal of its 19% stake in Racer Group (US$1.3 million).

Thus, the implied valuation of Trek's business is 2.5X PE merely.


Trek's asset-light business model generates nice operating cashflows, especially since 2015 (US$8.4 million). Here's how much flowed into the company in the last 4 quarters and the corresponding periods:
| | | | | | |
| --- | --- | --- | --- | --- | --- |
| US$ 'm | 3Q17 | 2Q17 | 1Q17 | 4Q16 | Total |
| Operating cashflow | 5.5 | (3.6) | 10.4 | 3.1 | 15.4 |
| US$ 'm | 3Q16 | 2Q16 | 1Q16 | 4Q15 | Total |
| Operating cashflow | 8.4 | 2.6 | (5.1) | 8.1 | 14.0 |

The market would love Trek's stock a lot more if, given its large cash pile and strong operating cashflow, it would resume paying dividends in FY17.

It last paid a dividend (0.5 cent) for FY2015.

Trek, how about a 1.5 cent dividend for FY17? That would amount to about S$4.9 million (US$3.6 million) only.

The implied yield would be 5.3% based on a stock price of 28.5 cents.
For the 3Q17 results, click here.