Emerging Towns & Cities Singapore ("ETC Singapore") has entered into a strategic partnership with Yoma Bank to provide financing to Myanmar citizens acquiring residential units in the Group's flagship Golden City project in Yangon.
Together with Yoma Bank, Golden City will introduce a 15-year home loan programme, offering instalment plans to buying its high-end apartments and condominiums.
Buyers put down deposit of 30% of the property's cost while Yoma Bank will provide loan the rest at an affordable rate.



See video of our visit to Golden City -->




Stock price

8.3c

52-week range

5 – 16 c

PE (ttm)

2.9

Market cap

$80 m

Shares

962 m

Dividend
yield (ttm)

--

Year-to-date return

1.2%

Source: Bloomberg
Mr. Tan Thiam Hee, Executive Director and Group CEO of Catalist-listed ETC Singapore, remarked, "This initiative and collaboration with Yoma Bank is expected to alleviate the costs to be borne by the potential buyers which will match the growing demand for affordable housing.

"The Group aims to make the comforts of high-end luxury living more accessible to locals as improving standards of living in Myanmar continue to grow in line with its sanguine economic outlook.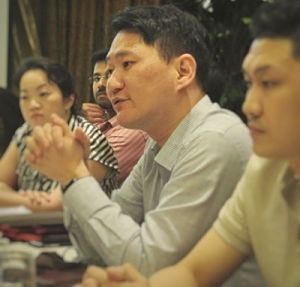 "A
part from the impending Condominium Law that could potentially catalyse the sales development of our projects at Golden City, we are also encouraged by (prospects for) the commercial units we hold on site at Golden City Business Center. With operations to commence from October 2017, we have already inked agreements with various multi-national corporations which will move their corporate offices to our premises given our project's strategic location. Apart from validating the quality of our projects, this secures recurring income streams for our business."
-- Tan Thiam Hee (photo),
Executive Director and Group CEO, ETC Singapore.
Golden City is expanding its search of financing options for buyers through discussions with other banks.

In Myanmar, investors are further incentivised by the potential to earn substantial rental yields in the current market. At present, the Golden City project has witnessed strong rental returns from its properties, ranging between US$2,500-3,500 per month1 for the two to four bedroom apartments.

Representing a rental yield in excess of 10%, investments in Golden City project are deemed to generate attractive returns that are above average for the high-end projects in Yangon.

Although foreign investors have shown keen interest, they are usually dissuaded by irregular government policies regarding house ownership.

As the Condominium Law, which will allow foreigners to purchase properties in Myanmar, is now being refined and is slated to be enacted soon , further growth in demand in Golden City units can be expected, particularly from foreign investors.