Many of you may have come across frequent news articles detailing how malls in many countries, including the USA, China and Singapore, are starting to fizzle out. Once vibrant and busy storefronts are now deserted, and many shopkeepers are struggling to stay open at all.

The rise of e-commerce and the sharing economy as well as the unpredictable economic environment have been the main culprits for these shuttered malls.

What happens in many occasions is that the biggest brands are the first to get disrupted and forced to close due to dwindling sales. These biggest brands are often the anchor tenants that drive traffic to the malls, and after they close down, the mall is unable to attract sufficient shoppers for the rest of the tenants to stay in business.

Some Malls are Struggling in Singapore

In Singapore, the digital disruption of malls is happening in front of our eyes. Every day, people choose to shop on Zalora, buy groceries from RedMart and purchase value-for-money products on Tao Bao. We log on Carousell to buy and sell products to other people and even before making in-store purchases, we check product reviews online. With Amazon Prime entering the local market, the stakes have been raised with faster delivery and lower prices.

It's no surprise that the latest statistics from the Urban Redevelopment Authority (URA) on 28 July puts the current vacancy rates at close to 8.1% in the industry, or 0.4% point higher than at the same time last year. This is also nearly double the industry vacancy levels at the end of 2013, when it was hovering at the 4.5% mark. Coupled with the weak retail sector, rents have fallen.

For investors, this trend could mean bad news. Many Singaporeans, in pursuit of higher yields, have invested in Real Estate Investment Trusts (REITs) that own retail properties. Once vacancy rates go up and rents come down, their returns may be suppressed.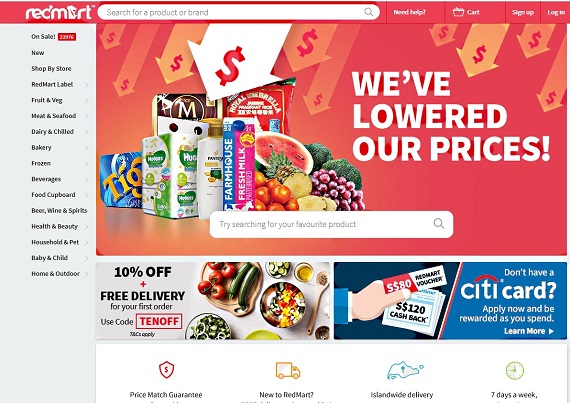 Local online grocer Redmart was acquired by Alibaba-backed Lazada last year. (Company website)
Contrary to what everyone is saying, we believe this will not be the end for retail REITs in Singapore. Here are four reasons.


1. Singapore Is Not Like The USA Or China, Where Malls Are Quite Far Away

While the weak retail scene has been a recurring theme in Singapore, our country is unlike the USA or China – we are a small island.

Our malls aren't scattered in far-flung regions. When we use the term suburban malls, we use it quite loosely compared to how Americans use it. Singaporeans don't usually need a car to get to a mall.

When we go out of the house, we don't have to make a conscious decision to go to the mall, it's just that we inevitably end up in one because that's where all the food, cafes and entertainment are. The malls have integrated themselves into a way of life for many Singaporeans.

Also, unlike malls in the USA, malls here do not necessarily rely on anchor tenants to pull in shoppers. Anchor tenants are usually those that take up large spaces, such as grocery stores, cinemas, departmental stores and food courts. Often, anchor tenants of a particular segment may have to compete to secure locations in malls.

Best of all, the malls under the portfolio of REITs in Singapore are usually the highest quality ones. Which brings us to our second point.

2. Malls That You Can Invest In Are High Quality Ones That Will Survive


"There are nearly 100 malls in Singapore, and combined, these REITs own close to 25% (24) of those malls. These 24 malls represent the crème of the crop. They are almost always located near MRT stations and are near large pool of population in residential and office areas."

Capitaland Mall Trust, SPH REIT and Fraser Centrepoint Trust are three of the biggest retail mall REITs in Singapore.

There are nearly 100 malls in Singapore, and these REITs own close to 25% (24) of those malls.

These 24 malls represent the crème of the crop. Almost all are located near MRT stations and are near large pools of population in residential and office areas.

The managers of these malls are very experienced and have great expertise in enhancing the malls to stay relevant to consumers. Before the retail scene in Singapore heads south, they would have taken active steps to ensure their mall is a choice location for retailers.

They do this by enhancing the malls to increase lettable space to improve rental income as well as ensuring people get the best experience and keep coming back. In an economic downturn, the malls owned by REITs are the ones that will survive as they will experience a "flight to quality", and other lower quality malls will be the first to go.

The management team, having so many malls under their purview, will also be able to identify trends and leverage on economies of scale. This can be seen when CapitaLand decided to redeveloped Funan, from an IT (Infrastructure Technology) mall to a lifestyle one, and when Suntec REIT refurbished its retail section. Recently, CapitaLand announced that it will explore tie-ups with Alibaba and Lazada to manage a digital mall, connecting shoppers online to offline.


3. Footfall Is Stable; And Should Remain So

As mentioned, when you go out in Singapore, there's a really high chance you will step into a mall even if you did not plan for it. In fact, in the recent quarterly results from the three biggest retail REITs, they all reported a slight uptick in shopper traffic.

There are several reasons why footfall traffic should remain healthy. In the short-term, the Ministry of Trade and Industry expects the GDP growth in Singapore to be within 2.0% and 3.0%, which could boost consumer spending. This will be bolstered by healthier tourist receipts, with the Singapore Tourism Board (STB) reporting a 4.0% increase in tourist and a 15% increase in tourist receipts in the 1st quarter of 2017.

In the longer term, there's been no indication that the Singapore government is veering from its target of having 6.9 million people by 2030. Its manpower policy, including for workers, permanent residents and expats, could be gradually loosened to achieve this target and bolster demand at REIT-owned malls.

Lastly, people will continue to want to look at and feel products. They will want to see the actual colour, touch the material and even try it out before making a more informed purchase, whether at the store or online.


4. Tenant-Mix Changes Over Time

Even though some retail outlets will be affected by e-commerce and have to shut, there will be new areas of growth. This has always been the case.

Over the past decade, there have been areas of growth while other sectors have weakened. Education is a prime example: Fraser Centrepoint Trust's portfolio has 16.0% of its space rented out to services and education today compared to 3.3% in 2007.


New ideas are being born all the time, and lately, we are seeing "laser tag rooms" and "escape rooms" selling experiences start to come to the fore.

This shows that the number of centres in Singapore was not high 10 to 15 years ago.

The sector steadily grew, adding diverse areas of education including music, sports and for infants as well as more tuition centres have popped up over the years.

Now, there is a defining moment as many of these centres can be disrupted by technology which may allow students to learn from their homes.

Department stores have experienced the exact opposite. In 2007, Fraser Centrepoint Trust indicated that 16.7% of its portfolio were occupied by department stores. Today, they do not even have a sector indicating the space department stores take up.

The tenant mix for retail properties 10 to 15 years ago was quite different, and we should expect it to be quite different in the next 10 to 15 years. New ideas are being born all the time, and lately, we are seeing "laser tag rooms" and "escape rooms" selling experiences start to come to the fore. This is a new segment that people cannot easily experience from their desktop at home.

Also, there's been some indication from more matured retail markets such as the USA that brick-and-mortar stores actually support demand for products from a particular brand or segment. This means that even if the current store does not keep up with times and has to close down, it's biggest online rival might deem it profitable to open a brick-and-mortar store to complement its online store as well as increase demand.

While there's no guarantee that brands that flourished 10 to 15 years ago will continue to do well today, there is a guarantee that new and innovative brands will always rival older and more outdated ones. REITs may go unaffected by this trend.


♦ Favourable Macro Factors
Government Policy
Government policies may also play a part in supporting shopping malls in the mid-term. Besides its manpower-related policies, the government has also limited supply of retail space since 2013. This means that even as local population grows, new retail space growth will be limited. This will further bolster retail malls in Singapore.

REITs Have Strong Sponsors

Even though the government has limited supply, it does not mean that REITs will have a limited supply of properties to add to their portfolio. This is because they have strong sponsors.

CapitaLand Mall Trust can rely on CapitaLand's portfolio of properties which include ION and Changi Jewel; SPH REIT can look to add Seletar Mall which SPH still holds; and Fraser Centrepoint Trust may acquire Fraser The Centrepoint, Eastpoint Mall and Waterway Point among other retail properties.
Investing In Retail REITs
Retail REITs still have a lot to offer. Overall, the retail REIT segment in Singapore (including overseas retail REITs listed here) has delivered a return of 16.7% since the start of the year. This lags behind Office REITs (18.5%) and Industrial REITs (19.5%).

When you're thinking of investing, you can also think about the malls that you visit and why you visit them. Is it because they're doing a good job attracting you with their outlets, promotions, events, and ability to keep up with times? These are good indications of the type of managers you want to manage your investment.

On the flipside, non-REIT-owned malls tend to not do as well because individual owners have to come to a consensus on what to do best for themselves rather than the mall. If owners don't find tenants for themselves, they lose their entire returns, and this makes them think about the short-term rather than the long-term for the betterment of the mall.
This article is republished with permission from Dollars and Sense.