Singapore-listed Alliance Mineral Assets is on the verge of becoming the fourth lithium producer in Australia. Its mine, known as Bald Hill, is sited in Western Australia.

Alliance and its JV partner, Tawana Resources, have signed an offtake agreement to sell -- for about US$200 million -- at least 200,000 tonnes of high-grade lithium concentrate at a fixed price to Hong Kong-listed Burwill Holdings.

Australian research house Cannacord Genuity has just produced a report on both companies. Excerpts:




With further de-risking of the project expected with the imminent maiden resource (including expected subsequent upgrades by mid'17) and feasibility study, Bald Hill's key appeals will become more apparent – low capex start up, short lead time to production, good exploration upside and potential for a considerable mine life.

Bald Hill JV partners Tawana Resources and Alliance Mineral Assets achieved a major milestone recently with the securing of product offtake and prepayment, which combined with a recent capital raising now sees the project effectively funded through development.
Strong pricing
"Pricing achieved under the offtake agreement is very strong, and places it at the upper end of current market price ranges. Furthermore, such pricing suggests the potential for strong operating cashflow - our estimated operating costs of A$484/t product could support project level EBITDA (100% basis) of +A$120m over Years 1 and 2 of production."

-- Reg Spencer (photo),
Analyst,
Canaccord Genuity


Offtake Agreement – strong pricing underpins solid operating margins

• Bald Hill Joint Venture partners (TAW and AMAL) recently announced that they have executed a binding offtake agreement for planned spodumene production from Bald Hill, with Hong Kong Stock Exchange listed Burwill Holdings Ltd.

The key terms of the agreement include:
− Initial 5 year term
− Exclusive rights to all planned spodumene concentrate production
− Fixed price of US$880/t (FOB Esperance) for 6% Li2O product from Mar'18 to Dec'19 (price adjustment of +/- US$15/t for each +/- 0.1% Li2O increment/decrement in grade with a min. of 5.5% Li2O)
− Price and volumes for subsequent to be negotiated and agreed based on prevailing market conditions

"Extremely bright future"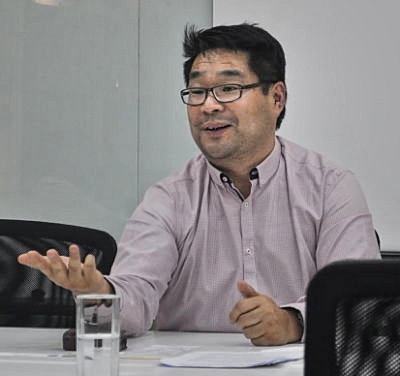 "I believe the future is extremely bright for our company. Someone has already committed to pay US$200m for our product; that's even bigger than our market cap."


- Tjandra Pramoko,
CEO of Alliance Mineral Assets
(market cap: S$144 million)
(NextInsight file photo)