Three key happenings at coffeemix group Food Empire recently:

» Food Empire Holdings CEO Sudeep Nair has done it thrice in a row, buying loads of shares of the company right after the release of its quarterly results.

Food Empire: 70 c

UOB KH target:
90 c

RHB target:
96 c
»

Solid 1Q2017 results (US$6.3 million net profit, 59% rise y-o-y), triggered a rise in UOB Kay Hian's target price for the stock from 78 cents to 90 cents. RHB also upped its target price from 76 cents to 95 cents.

»

Food Empire officially opened its instant coffee plant in India.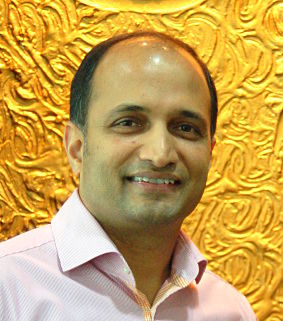 Sudeep Nair, CEO.
NextInsight file photo The positive 1Q2017 results were a catalyst for the stock price as were the CEO's stock purchases.

As a result, the stock price has doubled since mid-Nov, from 35.2 cents (after the 3Q2016 results) to 56.5 cents (after the 4Q2016 results) and to 70 cents recently (after the 1Q2017 results).

The CEO's average purchase price was 50.86 cents.

Since Nov 2016 (when he made the first insider purchases of Food Empire since May 2012), Mr Nair has loaded up 15,522,200 shares for S$7.89 million. He now holds a 10.2% stake in the company.

This table details his purchases after the release of Food Empire's 3Q16, 4Q16 and 1Q17 results:
Date

No. of shares bought

Average price

Cost

Stake
(%)

15 May 2017

813,800

65.8 c

$535,155

54,608,599 (10.24%)

12 May 2017

2,800,000

65.4 c

$1,830,920

2 March 2017

3,175,800

58.2 c

$1,847,680

1 March
2017

824,200

56.5 c

$465,591

22 Nov 2016

2,500,000

43.2 c

$1,080,000

16 Nov 2016

2,500,000

41.7 c

$1,042,250

15 Nov 2016

1,350,000

40.3 c

$544,185

14 Nov 2016

1,558,400

35.2 c

$548,713

Food Empire's 1Q2017 reflected relative stability in its markets, especially in its No.1 market, Russia, where the ruble has strengthened and looked stable.

The ruble-USD exchange rate has been mainly below 60 to 1 compared to mainly above 70 to 1 in 1Q2016. The other two markets that did well are as follows:


1Q2017 revenue

Why rise

Russia

+23%
US$29.9 m

Ruble rose against USD

Kazakhstan & CIS markets

+ 142%
US$9.2 m

Change in business model; reduction in price compensation to distributor in Kazakhstan; aggressive promotion.

Other Markets

+ 38% US$11.8 m

Higher sales of non-dairy creamer and instant coffee.

Food Empire is working on improving sales in Myanmar and China, and turning them into its next growth catalysts.

In Myanmar, it recently introduced BOLT, a chocolate-flavoured 3-in-1 malt drink.

In China, under a new management, Food Empire is driving sales of its coffee products online in addition to the conventional channels (supermarkets and convenience stores).

In South Korea, 20%-associate Caffe Bene is the main contributor to the "share of loss of associates" of US$734,000 in 1Q2017. Caffe Bene typically experiences relatively low sales in winter and higher sales in summer.


On 16 May, Food Empire officially opened its state-of-the-art instant coffee manufacturing facility in Mambattu, Andhra Pradesh, India.

The celebration was graced by Mr S. Iswaran, Singapore Minister for Trade and Industry, and Mr. N. Amarnath Reddy, Andhra Pradesh Minister for Industries.



The plant is currently producing 10 different types and qualities of spray dried instant coffee and granulated coffee.



Despite being operational for slightly more than a year only, the plant is already profitable. About half of its output serves as raw material for Food Empire's own consumer products, while the other half is sold to third parties.

Food Empire said it would ramp up production and expand its product portfolio from the plant.