Day

Share
price closing

Volume traded

Thurs
(from 2.30 pm)

38.5 c
(+7 c)

72.8 m

Friday
(whole day)

34.5 c
(- 4 c)

53.6 m
The share price of Alliance Mineral Assets Limited (AMAL) rose 9.5% in aggregate on Thursday and Friday after a 3-day trading halt and a 5.5-day trading suspension.

Though the no-trading days created unease among investors, they were necessary for the preparation of what turned out to be a very lengthy announcement by AMAL covering not only an US$200-m offtake agreement but also clarifications on the offtaker's announcement and on media reports.

The offtake agreement, signed on 20 April with Hong Kong listco Burwill Holdings, came after AMAL fielded expressions of keen interest from an increasing number of suitors.

They had sought a supply of lithium concentrate from AMAL's mine -- the Bald Hill Project -- which is gearing up to be Australia's fourth lithium producer by year-end.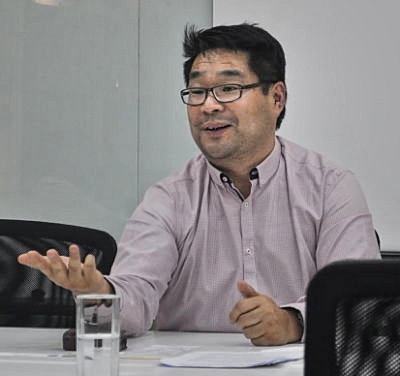 "I believe the future is extremely bright for our company. Someone has already committed to pay US$200m for our product; that's even bigger than our market cap."

-- Tjandra Pramoko,
CEO of Alliance Mineral Assets
(market cap: S$176 m)
(Photo by Leong Chan Teik)
Among the suitors were the industry's leading players, says Tjandra Pramoko, CEO of Singapore-listed AMAL.

Their interest had been sparked although the feasibility study is not completed yet. Neither is the JORC resource estimate.

The potential offtakers had seen and learnt enough through their due diligence -- and wanted a deal fast, considering that there are few new lithium mines, or big additional capacity from existing mines, coming onstream anywhere in the world in the next two years or so.

Lithium demand has risen -- and so have prices -- and is expected to surge with the rapid advent of electric vehicles and household power storage which use lithium-ion batteries.

Following the signing of the offtake agreement, Burwill has prepaid a total of A$7.5 million -- split equally between AMAL and its JV partner, Tawana Resources, which has committed to spend A$20 million for exploration and capex in order to earn 50% of the mine's economic rights.


The agreement provides for further prepayments to AMAL and Australian-listed Tawana on July 15 and Sept 15 this year, totalling A$17.5 million (see table).

Thus, the total prepayment -- which is non-interest bearing -- amounts to A$25 million, and is to cover the development and operational costs of AMAL's mine.

Burwill's 20 April announcement said that starting from Feb 2018, it shall, in the first two years, purchase an aggregate of at least 200,000 tonnes of high-grade lithium concentrate at a fixed price, worth about USD200 m.

Tawana, which raised A$15 million in a placement of its new shares right after the offtake agreement was inked, said the fixed offtake price is US$880 a tonne for 6% Li2O. The price will be adjusted by US$15 per tonne for every 0.1% variation in the grade.

US$880 per tonne is higher than the latest publicly available contracted price for 6% Li2O concentrate of US$750 per tonne as clinched and reported by Neometals Ltd in its announcement on 16 February 2017 to the Australian Stock Exchange.

Mr Pramoko estimates that the average cost of production of lithium in Australia is A$400 to A$500 per tonne.


Raining cash on Bald Hill

Amount

When

1. Burwill
pays

A$7.5 m prepayment

Done (April 2017)

A$8.75 m prepayment

15 July 2017

A$8.75 m prepayment

15 Sept 2017

2. Tawana capital raising#

A$15 m

Done (April 2017)

Total

A$40 m

# See announcement
If AMAL produces excess lithium concentrate, which is likely to be the case, Burwill has the first right of refusal to buy at the same offtake price for the first two years.

Burwill is locked in as a long-term customer: It has exclusive rights to the lithium concentrate from Bald Hill for five years and pre-emptive rights for the subsequent five years.


AMAL stock price

34 c

52-week range

5.7 – 42.5 cts

PE (ttm)

--

Market cap

S$176 m

Shares outstanding

481 m

Dividend yield
(ttm)

--

Year-to-date return

279%

Source: Bloomberg
Burwill plans to process the lithium concentrate into lithium carbonate. It said it plans to invest in a plant in China with an annual production of 10,000 tons of lithium carbonate.


While selling lithium concentrate will fetch a solid profit margin, AMAL is looking to a bonus from the sale of another mineral, tantalum, from the same ore that yields lithium.

Tantalum, fortuitiously, now commands a decent price of about US$70 per pound, up from the US$50-55 range in 1Q2016 which had made it unviable for AMAL to continue with commercial mining.

AMAL is in talks with Mitsubishi Corporation RtM Japan Ltd for the latter to be a distributor of its tantalum.

AMAL is just about half a year away from commissioning its plant and delivering, in Feb 2018, its first quarterly shipment of lithium concentrate to Burwill.

Thus, AMAL is looking at substantial profits and cashflow from 2018 (for at least two years). Not surprisingly, given the business progress, its stock price has gained 279% year to date.

For details on the offtake agreement and other developments, see AMAL's (lengthy) 4 May 2017 announcement here.