Time & date: 3 pm, 24 April 2017.
Venue: Carlton Hotel

Photos by Ong Chin Keet


After suffering losses in 2014 and 2015 stemming from an oil & gas downturn hitting its key Russian market, Food Empire Holdings turned in a net profit of US$13.8 million from the sale of, chiefly, its 3-in-1 coffee products in 2016.

And it resumed paying dividends (0.6 cent a share).

With Food Empire's share price up about 25% in the year to date, at this week's AGM, shareholders' questions moved away from anxiety-ridden topics such as hedging against forex losses to those on growth and strategy and raising profitability.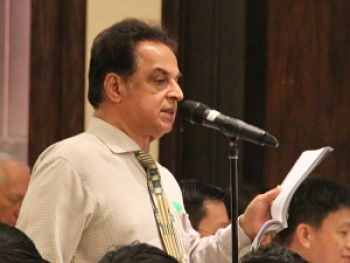 #1. Shareholder Mano Sabnani (photo) noted that 2016 revenue from Russia and Ukraine were steady and segment results rebounded.

But the picture was very different in Kazakhstan and CIS market. Why?


Russia

Ukraine

Kazakhstan and CIS market

2016

2015

2016

2015

2016

2015

US$'000

US$'000

US$'000

US$'000

US$'000

US$'000

Total revenue

108,199

107,522

23,480

24,811

27,170

35,808

Segment results

15,199

3,185

2,394

(1,915)

230

2,726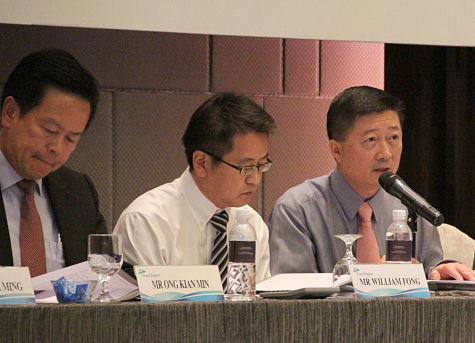 Tan Wang Cheow (extreme right) with CFO William Fong (centre) and lead independent director Ong Kian Min.Food Empire executive chairman Tan Wang Cheow replied that these economies have historical and trading ties with Russia, and were still affected by Russia's economic problems and the still-weak ruble.

Their currencies are way down from pre-2014 levels but the situation has stabilised. "Going forward, things are looking more positive."


Indochina

2016

2015

US$'000

US$'000

Total revenue

40,092

29,445

Segment results

2,008

1,491

Profit attributable to equity shareholders of the Company

793

1,288
#2. A shareholder noted that the "yield" from Indochina (almost exclusively accounted for by Vietnam) is low with a net profit of US$793,000 on US$40 million revenue.

He said he understood that Food Empire had to spend a lot on A&P and asked if yields would improve in the future.

Food Empire CEO Sudeep Nair replied that over the last four years, the company had succeeded in growing its market share in Vietnam through having the right team and products.

In addition, investments -- mainly, A&P spending to meet Food Empire's initial emphasis of growing the topline.

"Every market has entrenched players and competition is very tough. You have to invest," said Mr Nair.

He explained Food Empire's approach: "We pick a few markets, see the results, if we don't see good results, we change the team, the distributor, the product, etc. If it still doesn't work, we will call it off."

#3. Shareholder Mano Sabnani noted that Food Empire's A&P expenses totalled US$28 m (2015: US$25 million), or more than 10% of revenue. "This a is a big number compared to that of Super Group and others. And our net profit was US$13.8 million, so the A&P was about double that."

Mr Tan replied that in comparable companies, A&P spending is typically 14-18% of sales. As for any comparison with Super, one has to understand that a significant portion of its profitability comes from B-to-B ingredient sales (which require little or no A&P, unlike sales of branded products to consumers).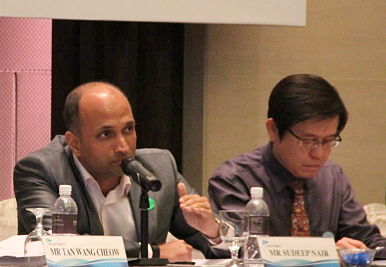 Sudeep Nair with Chief Operating Officer Tan Joon Hong.Mr Nair added that even in times of economic crisis, A&P spending has to keep pace with competitors in order for Food Empire to maintain market share. In new markets, A&P spending has to be high in order to gain a foothold. In the next three years, Food Empire is focusing on growing in Asian markets.

"In the longer term, I can assure you we are building a Food Empire stronger than maybe five years back because we will have diversified our region and revenue base," said Mr Nair.

#4. Shareholder asked for an update on Caffe Bene of South Korea, in which Food Empire invested in 2016 when it was loss-making.

Mr Nair replied that Food Empire has board representation and has pushed for, and seen through, improvements in the operation and management of Caffe Bene but "it's always a challenge to be an outsider."

He added: "We are hopeful that this year, 2017, could see it turn around."

Mr Tan: "Here's a platform with 700-800 outlets and it's not often this sort of opportunity comes to you. A piece of good news is, in the last one year, they have managed to clear most of the litigation issues."

#5. Shareholder asked why Food Empire has invested in a building in Playfair Road, which it has rented out 100%, when the money could be used to grow the core F&B business.

Mr Tan replied that the building and the adjacent one (which houses Food Empire's corporate office) serve as collateral for bank borrowings for Food Empire to invest in factories outside of Singapore. But, of course, if a good purchase price is offered for the building, the company would consider.

#6. A shareholder proxy asked where Food Empire exports its non-dairy creamer to.

Mr Tan replied that a portion of the non-dairy creamer is for its own 3-in-1 coffee production. The rest is exported to several countries such as Malaysia, Indonesia, Vietnam, Japan and South Korea.

#7. Shareholder commented that Food Empire could focus on a few cities in China, instead of trying to sell all over the country.

Mr Tan said Food Empire has relocated to China a veteran staff to spearhead growth in that market. The executive had proven his capabilities in heading its business in Mongolia previously. In China, one of his emphasis is to promote and sell Food Empire products online. "His dream is to achieve US$8-10 million of sales in China."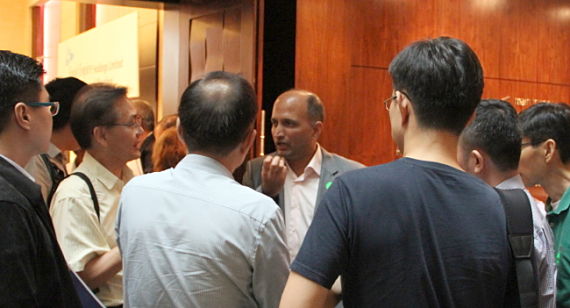 After the AGM, shareholders hear more from CEO Sudeep Nair.