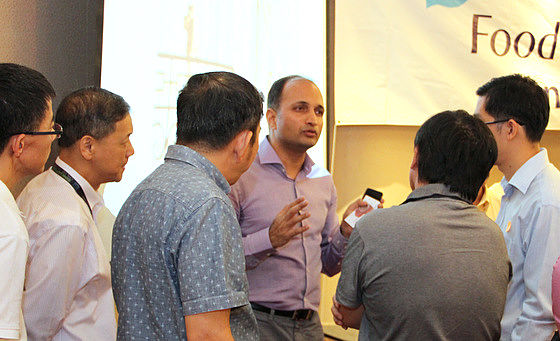 CEO Sudeep Nair speaking with shareholders after a Food Empire AGM. NextInsight file photo

In the first insider purchases since May 2012, Food Empire's CEO, Sudeep Nair, bought 7,908,400 shares over four days in Nov 2016 after the 3Q results were released.

His outlay: $3,215,148.

He made purchases again last week after the release of the 4Q results -- at much higher prices (see table).


| | | | | |
| --- | --- | --- | --- | --- |
| Date | No. of shares bought | Average price | Cost | Stake (%) |
| 2 March 2017 | 3,175,800 | 58.2 c | $1,847,680 | 50,994,799 (9.56%) |
| 1 March 2017 | 824,200 | 56.5 c | $465,591 | |
| 22 Nov 2016 | 2,500,000 | 43.2 c | $1,080,000 | |
| 16 Nov 2016 | 2,500,000 | 41.7 c | $1,042,250 | |
| 15 Nov 2016 | 1,350,000 | 40.3 c | $544,185 | |
| 14 Nov 2016 | 1,558,400 | 35.2 c | $548,713 | |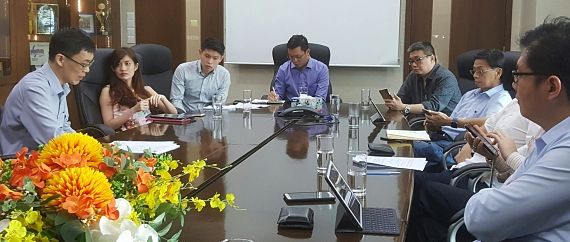 Photo by Leong Chan Teik Takeaways from an FY2016 analyst briefing by Food Empire:

1) 2016 marked a return for Food Empire Holdings to significant profitability and a dividend (0.6 cent a share) after two years.

Food Empire's net profit attributable to shareholders in 2016 was US$14.5 million (2015: US$210,000). This was boosted by a US$4.2 million forex gain versus a US$16.9 million forex loss in 2015.

Stripping out the forex impact, Food Empire's operating profit was US$14.5 million, a 5.4% dip y-o-y.

The forex impact was also significant in 2014, when a forex loss of US$29.2 million dragged its bottomline down to negative US$13.2 million.

In these three years, one can see the relative stability of Food Empire's business if the forex impact (primarily from the Russian ruble) is stripped out.


Food Empire

62 cents

52-week range

22-64 cents

Market cap

S$323 million

PE (ttm)

15.7

Dividend yield

0.99%

Net asset value

28.83 US cents/share

Source: Bloomberg, Company
2) Continuing its 2-3 year growth surge in Vietnam, Food Empire reaped US$39 million in revenue there, largely from its Cafe Pho product. Since 2H2016, it has been joined by a new product, Cafe Me, which is being distributed through the same network but whose performance is still nascent.

Food Empire's advertising & promotion expenses, particularly in Vietnam, have risen in tandem with business growth. Going forward, the latter will be relatively slower given the high base.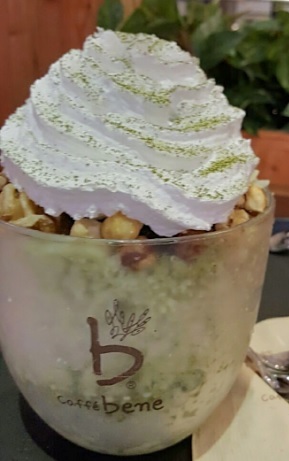 A JV between Food Empire and the Salim Group owns 38.44% of Caffe Bene. NextInsight photo 3) Caffe Bene, the South Korean coffee chain which Food Empire took a stake in in 2016, is set to turn around this year after contributing the bulk of the "share of loss of associates" of US$697,000 last year.

Food Empire's 51%-owned subsidiary extended a convertible loan of 11 billion won (SGD13.5 million) to Caffe Bene in Dec 2016, and could be repaid in equity of Caffe Bene in mid-2017 and end-2017.

Given that the largest shareholder of Caffe Bene is a Korean private equity fund, it is likely that Caffe Bene will seek a listing in a few years, which would provide an opportunity for exits by existing investors.

4) Food Empire's greenfield projects, which include the non-dairy creamer plant and the instant coffee plant in India, as well as its snacks manufacturing facility in Malaysia, were profitable in 2016.

Categorised under "ingredients" in the FY2016 statement, sales of coffee and non-dairy creamer to external customers jumped from US$5.7 million in 2015 to US$10.5 million. Food Empire aims to increase its production to reap economies of scale.


Food Empire

Share price:
$0.62

Target:
$0.78
(Source: UOB KH)
5) Capex this year includes US$4 million for a production line to produce potato chips.

There could also be capex for undisclosed projects alluded to in the FY2016 financial statement: "...the Group has begun efforts to move towards premium coffee products" and "The Group also remains on the lookout for inorganic growth opportunities as well as strategic partnerships that are complementary and synergistic in nature which would allow the Group to gain access into new markets or acquire new distribution channels."