Best World International's share price has been moving up since CLSA Singapore last Friday (13 Jan) became the third and latest house to initiate coverage of Best World International.


13 Jan (Fri):

$1.405



19 Jan (Thurs, noon)

: $1.62



CLSA target:

$2.50
The stock has moved up 15.3% from $1.405 at the start of trading on Jan 13 to $1.62 at noon today.

CLSA issued a "buy" call and target price of $2.50, forecasting glowing performance by Best World in 4Q2106, leading to its 2016 full-year profit being a record.

And the record-busting performance continues into 2018, according to CLSA, driven by Best World's new direct-selling business in China.

Best World is due to release its 2016 results in late February (going by the timing of its release in 2016).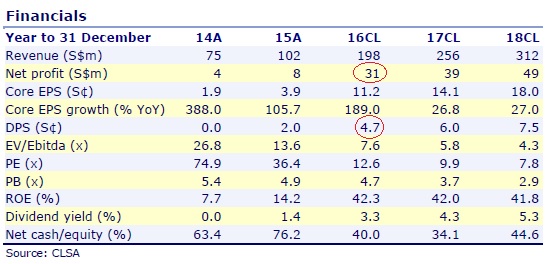 Note: Net profit in 2015 was $10 m, not $8 m.
CLSA's forecasts:

• Firstly, full-year 2016 net profit would reach S$31 million, a record. This implies that 4Q net profit was $8.7 million as $22.3 million was recorded in 9M2016.

• Secondly, the dividend for the year would total 4.7 cents a share, another record.


Target price

2016F
net profit

2016F dividend*

CLSA

$2.50

$31 m

4.7 c

Maybank Kim Eng

$2.11

$29 m

3.75 c

CIMB

$2.21

$30.25 m

3.6 c

* Includes 2 cent interim dividend paid prior to a bonus share issue
Similarly, this implies that CLSA expects the final dividend to be 2.7 cents a share, as Best World had paid 2 cents as an interim dividend.

CLSA's forecasts are the most bullish among the three houses that cover the stock (see table).

How much in absolute dollars will Best World be paying out as dividends?


Per share

Issued capital

Total ($)

Interim dividend

2 c

220.184 million

$4.4 m

Final dividend

(CLSA forecast)

2.7 c

275.229 million (post-bonus issue)

$7.4 m

$11.8 m

The $11.8 m amounts to a payout ratio of 38% based on CLSA's net profit forecast of $31 m.