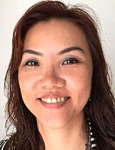 This article, written by Jennifer Tan (left, Director, Research & Products, Equities & Fixed Income, at the Singapore Exchange), originally was published in SGX's kopi-C: the Company brew series. The article is republished here with permission.

Wong Teek Son has always been fascinated by the interactions between atoms that produce different states of matter and chemical compounds.

His love for this branch of natural science spurred him to become a chemist, laying the foundation for the creation of Singapore-listed glove manufacturer Riverstone Holdings Ltd decades later.

"Chemistry was my favourite subject in school – I enjoyed experimenting with substances to produce chemical reactions and create new compounds," recalled Wong, who was born in Malaysia's Cameron Highlands hill station.

The Bachelor of Science with Honours graduate from the University of Malaya worked as a research and development chemist in a company supplying cleanroom products before setting up his own business in the late 1980s.

His sole proprietorship – based in Selangor, Malaysia – provided glove chlorination, laundry and packaging services to glove makers. In 1990, together with partner Lee Wai Keong, he formed Riverstone Resources to focus on the manufacture of cleanroom natural rubber and nitrile gloves using advanced production techniques.

"I never planned to go into business. The opportunity presented itself only because the company I worked for shut down, and we were able to use their production lines," said the 54-year-old.
"We were able to provide a great deal of value-add by developing gloves in partnership with customers, according to their specifications."


- Wong Teek Son
Riverstone CEO
Competition in the industry, however, was intense. There were at least 300 glove factories in Malaysia – most found it tough to survive and many closed down.

"We realised we needed to provide a service to our customers – it's not just about making and selling gloves," said Wong, who also holds a Master in Business Administration from Australia's Monash University.

Customers in the hard disk drive and semiconductor industries were concerned about contamination, electrostatic discharge (ESD), corrosion and particle control. "We were able to provide a great deal of value-add by developing gloves in partnership with customers, according to their specifications," he added.

"A lot of R&D actually goes into each pair of gloves."

Since 1994, Riverstone Resources has pioneered the manufacture of gloves using nitrile latex in Malaysia, introduced online glove chlorination technology, and developed nitrile finger cots using its own proprietary production technique.

"Nitrile generates a very low static charge and has good dissipative properties, but plastic, which is an insulator, has high static discharge, so customers began asking for nitrile gloves," he said.

Nitrile, a synthetic rubber, is safe for those allergic to latex. It is also resistant to a wide range of chemicals, and is the most durable form of disposable gloves on the market.


Riverstone Holdings

Stock Price

90c

Market Cap (S$M)

663.3

52-week high low

$1.29-79.2c

Dividend Yield

2.5%

PE ratio

15.5

Source: SGX Stockfacts
(data as of 28 Jul 2016)

For Wong, formulating the chlorination process – treating newly formed gloves with chlorine to prevent adhesion while they were on the production line – was another milestone.

"No one knew how to do this, and everyone thought it was a very complicated process, but it's actually very simple – make chlorine gas, dissolve it in water and tumble the gloves in the solution," he said.

This culture of constant innovation is the linchpin of Riverstone, which boasts a 20-strong R&D and technical team and an annual output of 5.2 billion gloves. It has two factories in Malaysia, one in Thailand, and a fourth in Wuxi, China, with a total of 40 production lines.

The company has embarked on a five-stage capacity expansion strategy in its 30-acre site in Taiping, Malaysia's Perak state, between 2014 and 2018.

Under the third phase, total annual output is expected to rise to 6.2 billion gloves by the end of the September quarter. It aims to boost total output by one billion gloves at the end of each phase.

"We've accelerated the start of our third phase of expansion to meet increased demand from new and existing customers," Wong noted.

Riverstone expects to complete the fifth stage of its Taiping expansion plan by 2018. After that, it will focus on a recently purchased 10-acre property adjacent to the existing site, where it plans to construct additional lines and a hostel for its workers.

To insulate revenues, the company diversified into healthcare gloves.

"After the 2008 financial crisis struck, our cleanroom glove demand plunged by 50%. That was when we decided to convert some of our production lines to make nitrile gloves for the healthcare industry," Wong said.

While cleanroom gloves command better margins, demand for healthcare gloves is more resilient. Pharmacies, hospitals and clinics continue to use gloves even in a downturn, he added.

Riverstone, which listed on the main board of Singapore Exchange in 2006, has a market capitalisation of about S$780 million. It was the best performer among the 29 component stocks in the SGX All Healthcare Index last year, chalking up a total return of 151% in 2015 and 472% over the last three years. This compares with the average total return of 9.9% for the 29 index constituents in the past year.

Between 2004 and 2014, the Group averaged annual revenues of 207.5 million ringgit (S$70 million) and earnings of 34.5 million ringgit (S$12 million).

Riverstone competes with ASX-listed Ansell Ltd and NYSE-listed Kimberly-Clark Corp in cleanroom gloves. For healthcare gloves, its peers include Hartalega Holdings Bhd, Kossan Rubber Industries Bhd, Top Glove Corp Bhd and Supermax Corp Bhd – all listed on Bursa Malaysia. In Singapore, competitor UG Healthcare is on the Catalist board.


♦ Capping Costs, Boosting Margins
Margin pressure is a constant in the industry, Wong admitted.

Riverstone will curtail costs by increasing automation, streamlining production processes and improving economies of scale.

"Customers are always seeking discounts. Although we've been in cleanroom gloves for more than 20 years, we're able to maintain margins, thanks to innovation and new products."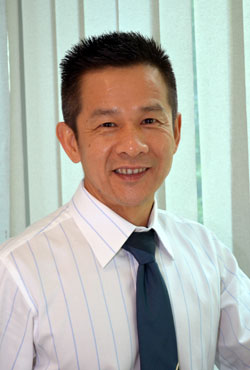 "We realized we needed to provide a service to our customers --- it's not just about making and selling gloves."

- Wong Teek Son
Riverstone CEO
(NextInsight file photo)

Its new offerings include gloves with lower surface resistance, which enables the electrostatic charge to be dissipated, or transferred slowly to the ground, without damaging sensitive equipment or parts involved in the manufacturing process.

Riverstone also offers nitrile gloves with lower ESD voltage than those available in the market.

"We were able to achieve this by using a proprietary compounding formula in the manufacturing process," Wong added.

Customisation is another strategy. "Given our flexible machinery and extensive experience, we're able to provide bespoke products to meet customer needs in the shortest possible time," he said.

Riverstone has custom-made gloves with reduced chemical content for Japanese customers in the food and beverage sector, as well as gloves that come in left- and right-hand fitted sizes for pharmaceutical clients.

It is also broadening its customer base. With hard disk drives becoming a sunset industry, it is supplying gloves to other segments in the technology sector, such as solar, battery and flat panel display makers.

"We're seeing strong demand for cleanroom gloves from manufacturers of tablets and mobile devices," Wong added.

Looking ahead, the Group expects higher sales from its US-based healthcare customers in 2016. "North America will be the market that will enjoy the strongest growth this year," he noted.

The proportion of sales from healthcare gloves is rising as demand from the pharmaceutical and medical sectors outpaces that of the electronics industry.

Healthcare gloves is expected to contribute more than 50% of overall revenues, with cleanroom accounting for less than half, compared to a 50:50 split in the financial year ended 31 December 2014.

"Our priority is to allocate production capacity for cleanroom gloves, given their higher selling prices and margins compared to healthcare gloves, and we're able to do so because our production lines are interchangeable," Wong said.
♦ Don't Worry, Be Optimistic

Outside of work, Wong enjoys jogging and ferrying his son, 15, and daughter, 16, to and from their tuition classes and extra-curricular activities.

"I always encourage my kids to be more active, to socialise with friends, to participate in sports. This will help them release stress."

The eldest in a family of four brothers and five sisters, Wong tries to instill the values of optimism and hard work in his children.

"Kids always like to compare their grades with peers. I tell them 'Don't follow the crowd, be focused and study hard'. I also advise them not to worry – be optimistic."

He is unabashed about past failures. "If they come back from school with sour faces because they flunked a test, I tell them about the times I failed my subjects in school, which in some cases, were a lot worse," he recalled with a laugh.

Wong, who misses the rolling tea plantations and cool weather of Cameron Highlands, returns to his hometown once or twice a year to catch up with childhood pals and basketball team mates.

A number of those team mates are now his colleagues in Riverstone, handling operations ranging from marketing to human resource and production. An MBA classmate also runs Riverstone's Thai operations.
"I can trust them because we grew up together, studied together and we know each other's characters.

"Having this network of friends to help me run the business makes my life easier."


- Wong Teek Son
Riverstone CEO
"I can trust them because we grew up together, studied together, and we know each other's characters," he said.

"Having this network of friends to help me run the business makes my life easier – I have fewer worries."

What does weigh on Wong's mind, however, is Riverstone's succession plan.

"Most of the management and senior positions are held by friends – they have a very strong sense of loyalty and commitment to the company, and are in the older age group of 40 to 50 years old," he said.

With this older generation of colleagues, issues concerning the protection of intellectual property and poaching by competitors hardly ever arise.

"We are now grooming the younger generation, who are in their 20s and 30s, but they may not have the same sense of belonging as we do," he noted. "The question is: Can the younger generation continue this culture in the company? That is an unknown, and remains to be seen."
| | | | | |
| --- | --- | --- | --- | --- |
| Year ended 31 December (RM '000) | FY2015 | FY2014 | FY2013 | FY2012 |
| Revenue | 560,187 | 399,327 | 357,942 | 309,815 |
| Profit before tax | 144,358 | 81,112 | 72,626 | 48,317 |
| Net profit | 126,548 | 70,953 | 57,981 | 39,655 |
| | | | |
| --- | --- | --- | --- |
| Quarter ended 31 March (RM '000) | 1QFY2016 | 1QFY2015 | YoY change |
| Revenue | 148,146 | 127,173 | +16.5% |
| Gross profit | 43,119 | 40,159 | +7.4% |
| Profit before tax | 31,681 | 32,879 | -3.6% |
| Net profit | 27,179 | 27,008 | +0.6% |
♦ Outlook
Accelerated start for phase three of expansion plan to meet increased demand from new and existing customers

Strong demand for cleanroom gloves from manufacturers of tablets and mobile devices

Continue to tap on fast-growing market for healthcare gloves

While seeking growth, the company maintains a prudent approach in addressing industry's challenges which include competition, fluctuations in raw material prices and foreign currencies

Riverstone Holdings Ltd

Riverstone manufactures and distributes cleanroom and healthcare gloves under the RS brand, primarily in Malaysia, Thailand, and China. The company offers nitrile, hand specific, and latex gloves. It also produces cleanroom fingercots, packaging bags, face masks, wipers, and other consumables. They include: hair nets, static dissipative shoes, safety booties, shoe covers, ESD rubber bands, sticky mats and rollers, swab-polyester and microfibers, antistatic gloves, static dissipative shoes, cleanroom coveralls, and cleanroom papers. In addition, the company trades in latex products, and distributes cleanroom products. The company offers healthcare products comprising white, blue, black, and accelerator nitrile exam gloves. Its products are used in the hard disk drive, semiconductor, and healthcare industries. The company exports its products primarily to the Americas, Asia, and Europe.

For financial results for the quarter ended 31 March 2016, click here.

The company website is: www.riverstone.com.my