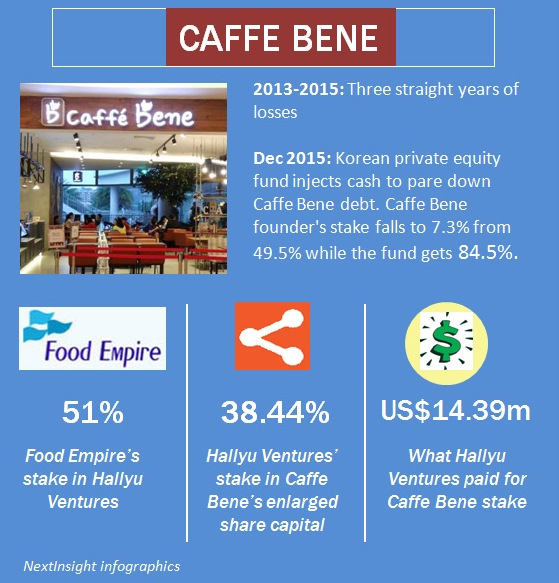 CAFFE BENE is enormously popular in South Korea. In just eight years, since its founding in 2008, it has achieved phenomenal growth to about 1,000 stores worldwide currently. (It has one store in VivoCity, Singapore)

Fuelled by a charismatic founder and by high-profile advertising using celebrities, the business, however, has flounderered financially.

Last year was its third straight year of losses, according to a Korea Times report.

Caffe Bene hired a new CEO to replace its founder-CEO in Sept 2015. The new top man sought a white knight to hasten a turnaround in Caffe Bene.

A JV comprising Singapore's Food Empire Holdings and Indonesia's Salim Group agreed to become a substantial shareholder of Caffe Bene.

Yesterday, (18 March 2016), the JV, Hallyu Ventures, which is 51% owned by Food Empire, completed its subscription of new shares of Caffe Bene.

The JV paid KRW16,590,000,000 (equivalent to US$14.39 million) cash for a 38.44% stake, which implies a market value of US$37.4 million for the entire business.

The JV has become the No.2 largest shareholder after K3 Private Equity Fund No. 5, whose stake has now been diluted to 52.02%.

Hallyu Ventures has an option to increase its stake to 51% of the enlarged share capital by end-Dec 2016.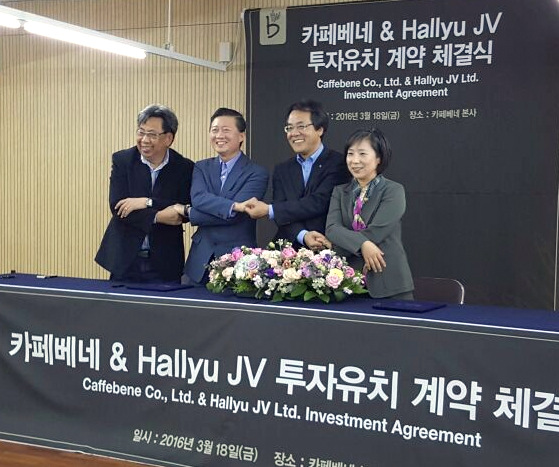 L-R: Tan Hang Huat (Group MD of KMP Group, a satellite of Salim Group in Singapore) | Tan Wang Cheow, executive chairman of Food Empire Holdings | Choi Seung-Woo (CEO of Caffe Bene) | Greta Pak (MD of K3 private equity). Photo: Food Empire
Caffe Bene had net asset value of just KRW3,355,881,136 (approximately USD2.85 million) as at 31 Dec 2015.

A key asset is its roasting plant which opened in 2014 with a roasting capacity of over 7,000 tonnes a year.

It processes coffee beans directly supplied from Brazil, Bolivia and Papua New Guinea, and sells the roasted beans to its stores in Korea and overseas, most of which are franchised.

Franchise fees along with the sale of coffee to its stores and interior design for new franchisees are the main revenue streams for Caffe Benne.



"Combining our network and expertise, we are confident to bring greater value to Caffe Bene to lift it to the next level and make it a successful global brand."

-- "This investment into Caffe Bene is part of our growth strategy to move into downstream business along the entire value chain of the food and beverage industry. We see opportunities to work with Caffe Bene, including supplying some of our products. Caffe Bene will be able to tap on our various experiences and network connectivity into the global markets in the future.
Tan Wang Cheow (photo), executive chairman, Food Empire Holdings
According to Food Empire's announcement, if the share purchase by Hallyu Ventures had been completed on 1 Jan 2015, Caffe Bene would have contributed a loss of US$5.233 million to Food Empire's bottomline.

The historical performance of Caffe Bene looks daunting but it is likely that Food Empire and the Salim Group see that Caffe Bene can be turned around financially.

NextInsight understands that Caffe Bene has a positive EBITDA (earnings before interest, taxes, depreciation and amortisation).

In addition, Caffe Bene could provide Food Empire -- best known for its 3-in-1 coffee in markets such as Russia and Vietnam -- a network to cross-sell its own range of complementary products such as potato chips.