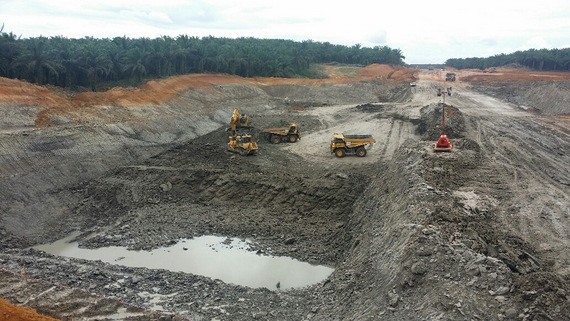 Coal mining operations started in Dec 2015 at the SDJ mine in South Kalimantan.
Photo: Company
GEO ENERGY RESOURCES reported a loss in 2014 and 2015 looks like it would be another year of red ink (its 9M2015 loss was USD10 million).

However, 2016 is likely to be an entirely different affair because Geo's second coal mine in Indonesia started production this month (Dec).

Perhaps for this reason, Geo's chairman and two other directors -- one of whom is the famed Jim Rogers -- bought lots of Geo's shares recently from the open market.

And there was a Malaysian investor, Heah Theare Haw, who emerged as a substantial shareholder in April 2015. (See table below) .

| | | | | |
| --- | --- | --- | --- | --- |
| Buyer of Geo Energy shares | Purchase date | No. of shares bought | Price | Total shareholding |
| Charles Melati (chairman) | 8 Sept 2015 | 1,950,000 | 13.838 cents | 93,345,406 |
| Jim Rogers (non-executive director) | 17 Sept 2015 | 1,700,000 | 12 cents | 3.4 million |
| Ong Beng Chye (independent director) | 9 Sept 2015 | 210,000 | 12 cents | 400,000 |
| Heah Theare Haw (private investor) | 1 April 2015 | 8,005,900 | 19.3 cents | 64,617,196 |

Geo's second mine -- SDJ -- was acquired in two steps. First, in Aug 2014, Geo acquired a 66% stake in Borneo International Resources for US$55 million cash. Then, last week, the remaining 34% was acquired for US$21.5 million in cash and US$3.5 million in new Geo shares at 18 cents apiece.

Borneo owns 98.96% effective equity interest in PT Sungai Danau Jaya (SDJ), which is the holder of the SDJ coal concession.

The money for the acquisition of Borneo came mainly from the issue of S$100 million worth of senior fixed rate notes with a coupon rate of 7%. The notes will mature in January 2018.

Geo said that it is producing 55,000 tonnes of coal for its first export shipment this month (Jan 2016) to a buyer in China.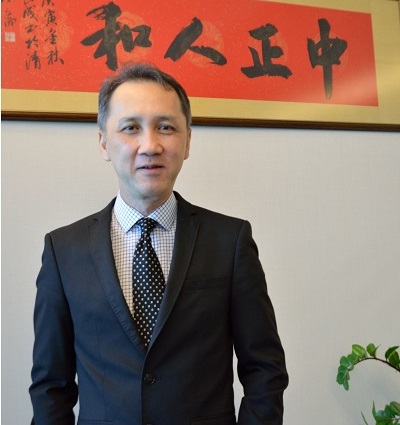 Tung Kum Hon at his Marina Bay Financial Centre office (above). He was appointed Geo Energy's CEO on 1 Nov 2015 and joined its board in Dec 2015. He was previously CEO and executive director of Bellzone Mining, a company listed on AIM in London; director and COO of a major MNC in the oil and gas, mining, properties and infrastructure industries; and CFO and executive director of Shanghai Asia Holdings.
Photo by Sim KihIt aims to expand its production to 500,000 tonnes a month by March 2016. The target annual production is 6 million tonnes for 2016. It already has signed a sales offtake agreement for 1.5 million tonnes.

Aside from overseas markets, Geo Energy is looking to sell to the Indonesian domestic market through coal supply agreements to coal-fired power plants being built to meet the country's rising energy demand.

According to a Macquarie Research report dated 6 July 2015, about 56% of Indonesia's new 35 GW power project in the next five years is expected to be generated from new coal-fired power plants.

"The quality of the SDJ coal is high at above 4,000 kcal/kg (GAR) with low sulphur content," said CEO Tung Kum Hon in an interview with NextInsight last week.

The current ICI market price for 4200 GAR coal, which is used mainly in power plants and the cement industry, is US$27 per tonne which, we understand, is comfortably above Geo's cost of production.

Overburden removal and coal mining services are contracted out to PT Bukit Makmur Mandiri Utama, a major Indonesia-listed mining services company in which GIC (Government Investment Corporation of Singapore) has a stake. (See Bloomberg story)

Geo's first coal mine (known as BEK in short) has JORC reserves of about 11 million tonnes and these are of lower calorific value, and is located a distant inland. In contrast, the SDJ mine has JORC reserves of 42 million tonnes and is just 17 km from a jetty from which the coal can be barged and exported at anchorage.


It's very important for us to turn around in 2016. With the SDJ mine, this is very possible. My immediate aim is to improve profitability and liquidity, build a sustainable business and create value for Geo shareholders"

-- Tung Kum Hon, CEO
Beyond the acquisition cost, Mr Tung said the mine -- which is situated in an existing oil palm plantation -- requires little capex for infrastructure as there is an existing road network linking it with the jetty.

The strip ratio is low at around 3 and the distance from the jetty to the anchorage place for mother vessels is only 12 nautical miles away.

"SDJ is a good acquisition and will put the Geo Group on the right track. The coal seams run close to the surface and is cleaner coal. Initial response and demand for the SDJ coal is good, and we have enquiries from buyers in China and buyers from India who have visited the SDJ mine," said Mr Tung.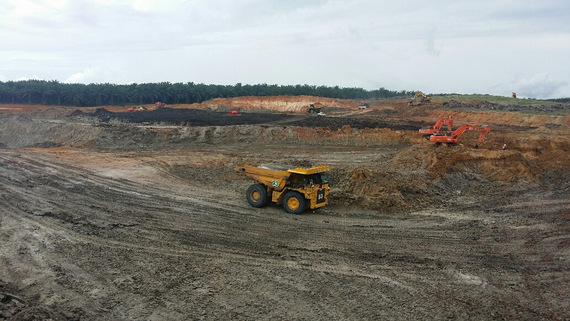 The SDJ mine has 42 million tonnes of JORC reserves. Photo: Company
With 42 million tonnes of JORC reserves and if production is maintained at 6 million tonnes a year, the SDJ mine will be fully, or nearly fully, mined in about 7 years, which is about when the mining licence expires in May 2022.

It follows that Geo should make a cash profit of US$12 million a year on average just to break even on its US$80 million acquisition cost.

Given its low production costs and development capex, its net profit is expected to be better, we reckon.

This business is a volume game, and given low production costs, any uptick from the current low coal prices will translate into sharply higher profits.

Every US$1 per tonne increase in selling price for Geo's coal will translate into an increase of US$6 million in Geo's net profit a year (assuming it produces 6 million tonnes of coal a year).

On top of that, Mr Tung noted that listed companies usually strive to pay dividends to its shareholders and Geo is no different.

Geo will consider a dividend payment -- the first since it was listed in Oct 2012 -- but it depends on the performance of the SDJ mine and the liquidity of the Group. Mr Tung would not commit to a timeframe.

"It's very important for us to turn around in 2016. With the SDJ mine, this is very possible," said Mr Tung. "My immediate aim is to improve profitability and liquidity, build a sustainable business and create value for Geo shareholders.

"We are also looking at acquiring more mining assets at current low valuations to increase further Geo's reserves of higher calorific value."