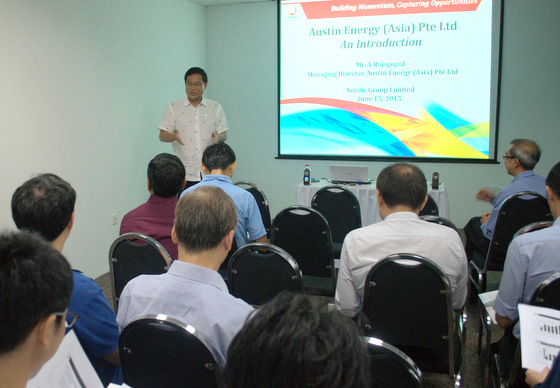 Nordic Group chairman Chang Yeh Hong expresses his thanks for the strong investor interest and turnout.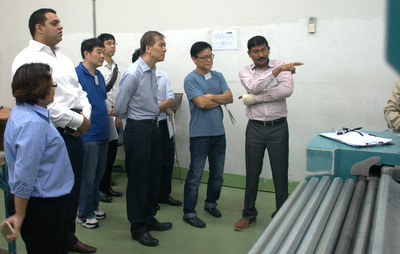 On the factory tour, investors see that Austin Energy does not need to operate with extensive machinery. Hence, it has low capex.Photos by Leong Chan Teik

To the delight of Nordic Group's management, some 20 investors turned up on Monday afternoon (June 15) for a presentation-cum-tour of Austin Energy, a company newly acquired by Nordic.

As Nordic chairman Chang Yeh Hong noted, the turnout was a heartening change from the one or two people who attended Nordic's AGM and other corporate events in recent years.

The improvement was evident recently at the EGM (the turnout was about 20 shareholders) to vote on the $26-million acquisition of Austin Energy.

Austin Energy, located in Benoi Place in the Tuas area, is a key acquisition, given that its average net profit in the past 5 years was $4-5 million, which is significant compared to Nordic's $7.9 million in FY2014.

But there's more to it -- the combination of Austin and a subsidiary of Nordic, Multiheight Scaffolding, promises to enlarge the business pie for both (more on this later).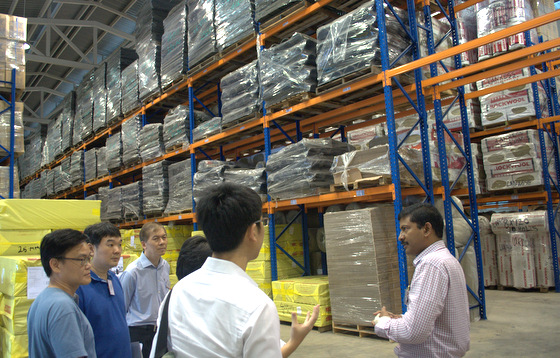 Austin Energy MD A. Rajagopal shows investors the company's inventory of raw materials for fabricating insulating materials.
Key takeaways from a briefing by Austin Energy's MD, A. Rajagopal, and Nordic's Mr Chang:

1) Track record: Austin Energy has never had a loss-making year in its 18-year history.

It offers insulation services, passive fire proofing and onsite coating. Mainly, it's thermal insulation whereby pipes in process plants or other structures are insulated against loss of heat or cold. This work is required as part of regular maintenance as well as for new capital projects.

The key industries served by Austin are oil and gas, petrochemical and, to a small extent, pharmaceutical.

2) Maintenance: This business segment has been growing over the years: From 62,790 sq m of insulation surface area in 2010, Austin's work increased to 94,420 sq m last year.

Reasons: a) petrochemical plants in Singapore are ageing and their insulation materials need to be replaced, b) underlying structures such as pipes themselves need to be repaired or replaced, hence insulation needs to be reintroduced subsequently.

Maintenance work accounted for 30% of Austin's revenue in 2014, and 70% being project-based and related to capital projects.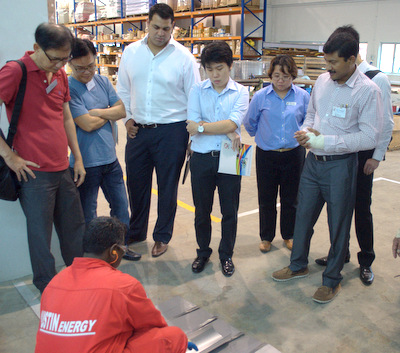 Austin has about 30 workers who fabricate insulation materials at its Benoi Place premises before these are transported to the clients' sites for installation.3) Why the high margin? To begin with, high margins are by no means the norm in the industry. Austin Energy's gross margin in FY14 was 37%.

Work is secured through open tender but where Austin is ahead of the competition lies in its automation, productivity, cost control and being alert to variations in work scope and making claims for that.

Austin's competitors include foreign players with possibly higher cost structures due to expatriate pay. Competiton for work for oil majors is limited in the sense that smaller or new players are not able to get pre-qualified.

4) Synergy: As mentioned earlier, Nordic has an existing scaffolding business called Multiheight Scaffolding whose services are required prior to the start of insulation work in tall infrastructure.

In the past, some insulation contracts were not achieved by Austin because its competitors bundled scaffolding and insulation work by their in-house operations.

In contrast, Austin had to rope in a third-party scaffolding contractor and their joint bid was uncompetitive. (The scaffolding contractor was not Multiheight Scaffolding).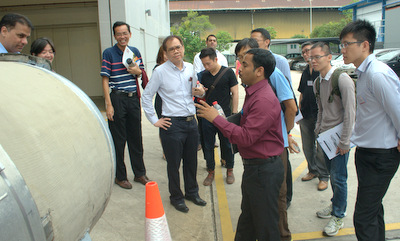 About 20 investors made the trek to Austin Energy in Benoi Place.5) Market conditions: It's not all rosy this year with weak oil prices leading oil majors to shelve projects.

6) Order book: Austin has an order book of $12.5 million which is expected to be covered in a year. This involves capital projects and does not include maintenance work as the latter does not have an upfront contract value.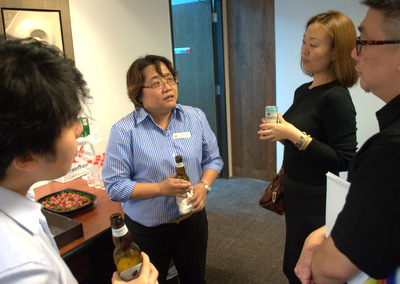 Nordic Group executive director Dorcas Teo chats with investors over beer and finger food.Considering that Nordic achieved revenue of $72.3 million last year, the inclusion of Austin Energy (2014 revenue: $29 million), will take the group beyond the $100-m milestone revenue-wise.

After climbing from the 10-11 cent level just six months ago, Nordic's stock (18 cents recently) trades at about 6X forward PE and 6.7% dividend yield. It's not expensive by these measures.

The Powerpoint materials for the above event are here.