COMTEC SOLAR LTD (HK: 712) is more optimistic on demand for its wafers and ingots going forward after its 2013 net loss shrunk to 133 million yuan from 165 million a year earlier.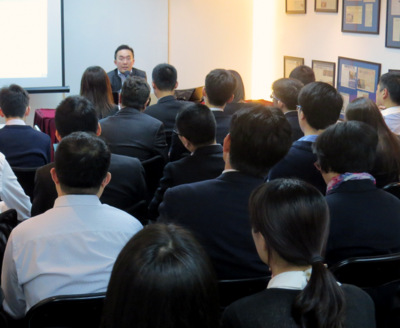 Comtec Executive Director and CFO Keith Chau addresses a roomful of investors in Hong Kong on March 25. Photo: Aries ConsultingRevenue for the solar products play was down 8.6% in 2013 to 937.5 million yuan, leading to a 10.2% drop in gross profit to 74.97 million.

However, wafer shipments last year increased 17.3% to 396.9 MW.

Management said that due to continuous cost reduction and improved conversion efficiency, customers increasingly realized the benefit of buying Comtec's flagship highly efficient "Super Mono Wafers" to assist them in reducing overall system costs and to strengthen their competitive advantages.

Furthermore, supply issues are beginning to be more manageable.

"Market consolidation is still in progress and supply and prices are seeing more stabilization.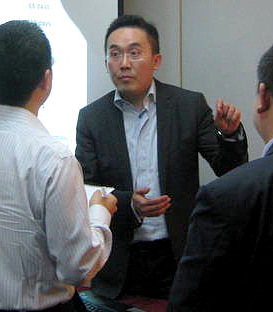 Comtec Executive Director and CFO Mr. Keith Chau responds to investor queries after the solar play's results briefing in HK.
Photo: Andrew Vanburen"Prices more clearly began to show signs of stabilizing in the second half of 2013," said Comtec Executive Director and CFO Mr. Keith Chau.

Speaking at the firm's annual results briefing recently in Hong Kong, Mr. Chau told investors and analysts that the firm's top-end N-type wafers were showing signs of renewed selling price vigor.

"We expect ASP (average selling price) increases for our 'Super Mono Wafers', mainly due to a shortage of suppliers.

"Our N-type wafers can maintain margins of over 10%," he said, compared with the firm's overall gross profit margin of 8.0% recorded for 2013.

In 2013, revenue from Comtec's home market – the PRC – stood at 285.4 million yuan, or 30.4% of the top line, higher than the 22% seen in 2012.

That was mainly due to the new Chinese government's oft-stated commitment to moving away from a highly-polluting coal-fired power plant landscape to one which provides green energy.

However, overseas sales did have their advantages.

"We especially focus on higher margin N-type wafers for our export sales, and our overseas customers generally make payments 100% on time," Mr. Chau added.

Given the market overcapacity and excessive raw material supply issues in the past, he said the years 2011-2014 could still be considered a "difficult period" for the solar sector, especially in China.

"But we are seeing positive momentum in the coming quarter and we are more positive on the rest of 2014 and 2015."

He added that Comtec was the only major China-based solar play to have production facilities outside of the PRC – in Malaysia -- a factor which would be very advantageous in negotiating a heightened trade-dispute climate, where most issues are between the PRC and its trade partners.


Turning around

Comtec has been getting closer and closer to a net profit for several reporting periods in a row, and full-year 2013 results represent no deviation from this trend.

"If not for impairments we made last year on long-term contracts, we would have come close to achieving profitability," Mr. Chau added.

"We are looking forward to bringing our Malaysian capacity online, having more positive catalysts to drive the market and hoping to bring increasingly upbeat news to the sector."

Management said the photovoltaics industry continued its capacity rationalization in 2013, and uncertainties from potential international trade conflicts between China and other countries intensified.

"Despite the challenges facing the market, we see continuous increases in global demand for solar energy, stabilized selling prices of solar products and further signs of industry consolidation.

"A large number of solar companies shut down operations or became financially insolvent which reduced industry over-capacity while the credit environment -- particularly in China -- has become more disciplined, leading to heavily debt-leveraged companies finding it more difficult to survive," said Comtec Chairman Mr. John Zhang on the firm's website.

He said the above challenges could be seen as advantages and opportunities for Comtec, given its relatively sound balance sheet and disciplined cost controls.

"Only cost-effective leaders can maintain reasonable profit margins and solid financial positions.

"Therefore, we are optimistic on the development of the solar industry," Mr. Zhang added.

Comtec's Hong Kong shares have a 52-week range of 1.03 - 2.53 hkd. The solar products play has a market cap of 1.80 billion hkd. Chart: Yahoo Finance

Helping ensure order stability down the road was Comtec's inking on December 27, 2013 of a three-year wafer supply deal to supply Mission Solar Energy LLC with 500 MW of 156mm×156mm N-type monocrystalline silicon wafers for use in solar cells from June 2014 to July 2017.

Under the deal, Mission Solar agreed to take delivery of a designated amount of mono wafers every month.

"The wafer supply agreement demonstrates the competitive advantages of our production technologies and product qualities in the solar industry, and our leading position in the high efficiency N-type solar wafer market," said Mr. Zhang at the time of the signing.

Mission Solar Energy is a company incorporated in the US state of Delaware, and is primarily engaged in manufacturing high efficiency solar cell and panels.

Comtec also received a boost of confidence late last year when China's influential Ministry of Industry and Information Technology (MIIT) unveiled the first list of companies which have met regulatory requirements to play a greater role in the country's solar manufacturing industry.

Among the firms named was a Shanghai-based unit of Comtec.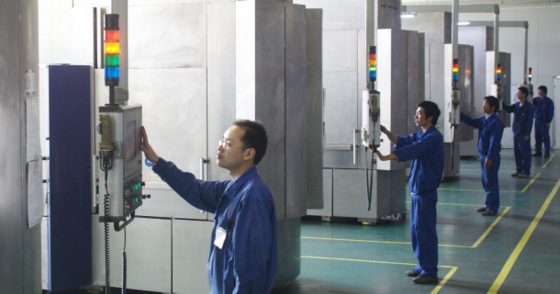 Comtec workers operating wafer slicers. The company has been manufacturing solar sector products since 2004. Photo: Comtec

Founded in 1999 and tapped into the solar wafer industry in 2004, Comtec Solar is a leading high quality monocrystalline solar ingot and wafer manufacturer in the PRC and one of the pioneer manufacturers in the PRC able to massively produce Super Mono Wafers which achieve an average conversion rate of approximately 23%. With its production bases in Shanghai and Jiangsu, Comtec Solar focuses on the design, development, manufacture and marketing of high-quality solar wafers and has accumulated strong industry experience in the manufacture of semiconductor ingots and wafers.


See also:

COMTEC Q3 Revenue Slips