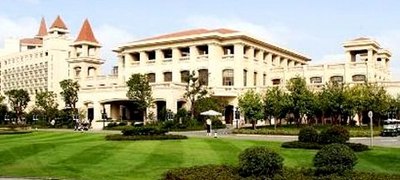 China New Town's Luodian New Town Project in Shanghai. Photo: CNTDCHINA NEW TOWN Gets New Top Shareholder

China New Town Development Co Ltd (HK: 1278; SGX: D4N) announced that China Development Bank International Holdings Ltd (CDBIH), a wholly-owned subsidiary of China Development Bank Corp, agreed to subscribe for a total of 5.348 billion new shares of the company at the price of 0.27 hkd per share.

This represents a discount of 60.3% against the last closing price of 0.68 hkd and a discount of approximately 46% to the closing price as quoted on the Hong Kong Stock Exchange on the undisturbed trading date.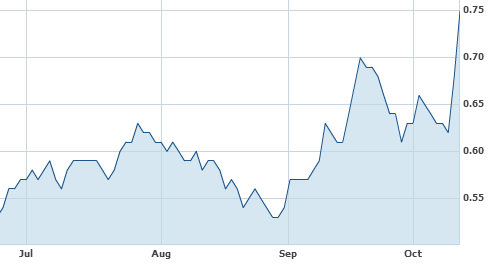 China New Town's recent Hong Kong share performance.
Source: Yahoo Finance

The total consideration stands at 1.444 billion hkd and upon completion, the shareholding held by CDBIH in China New Town will represent 54.32% of the property developer's issued capital and CDBIH will become the controlling shareholder China New Town.

CDBIH intends to make China New Town its sole listed urban land development platform and transform the company into the PRC's leading, largest integrated new town developer and operator.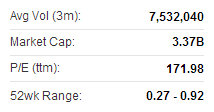 CNTD recently 0.75 hkdIn addition, China New Town proposed to increase the maximum number of shares which it is authorized to issue to 20 billion shares from 10 billion.

As part of the subscription sale deal, CDBIH -- in the absence of Whitewash Waivers -- would be obliged to make a mandatory general offer under Rule 26 of the Hong Kong Takeovers Code and Rule 14 of the Singapore Takeovers Code for all the shares and other securities of China New Town not already owned or agreed to be acquired by them.

CDBIH will apply for the Whitewash Waivers, which, if granted, would be subject to the approval of independent shareholders at the EGM by way of poll.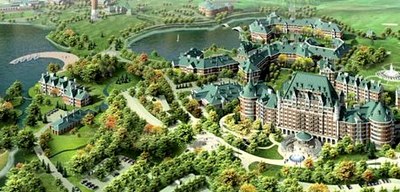 China New Town was listed in Singapore in 2007 and dual-listed in Hong Kong in 2010. Photo: CNTDThe business of China New Town Development is about transforming undeveloped land into new bustling towns but it is a relatively young company with a current market capitalistion of about 3.37 billion hkd.

It was founded in 2002, listed on the Singapore Exchange in 2007 and dual-listed on the Stock Exchange of Hong Kong in 2010.

China New Town faces challenges, among which is the mega bucks required to fund projects.

It currently plans and develops large-scale new town projects in the suburbs of three cities -- Shanghai, Wuxi and Shenyang.

The company is set to gain financial heft by doing more projects: It signed the MOU with China Development Bank on March 18 for the entry, as a controlling shareholder no less, which indirectly is wholly-owned by China Development Bank Corporation.

China New Town's Hong Kong shares surged 16.2% on Friday morning trade following the China Development Bank news.

China New Town's first half revenue surged 623% year-on-year to 898 million yuan, helping it to swing to a net profit of 30.63 million versus a net loss of 30.69 million a year earlier.

Founded in 2002, China New Town Development Co Ltd was first listed on the SGX in 2007 and dual listed on in Hong Kong in 2010, and is a pioneer firm dedicated to planning and developing new town projects in the PRC. China New Town has been engaged in the development of Shanghai Luodian New Town, Wuxi Hongshan New Town and Shenyang Lixiang New Town among which Luodian New Town has entered a maturity phase and received international and domestic recognition for its innovative new town designs and execution.


---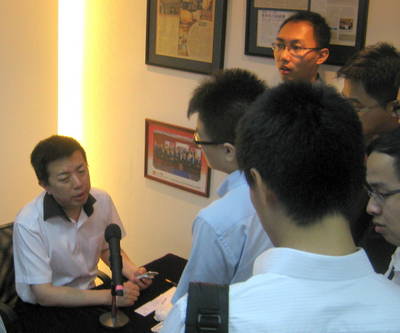 Comtec Chairman Mr. John Zhang (left) answering investor queries earlier this year in Hong Kong. NextInsight file photoCOMTEC SOLAR Chairman Cuts Stake

Comtec Solar (HK: 712) Chairman Mr. John Zhang recently reduced his shareholding in the monocrystalline wafer and ingot manufacturer by a total of 10.354 million shares.

The reductions took place three times at prices of 2.015 hkd, 1.948 and 1.976 apiece, cashing in for 20.548 million hkd.

Upon completion, Mr. Zhang's shareholding declined to 47.2% from 48%.

Comtec Solar saw a significant improvement in its interim bottom line, with the net loss shrinking to 12.1 million yuan versus a loss of 121.1 million a year earlier.

Shipment increases of 104% to over 443 MW had a lot to do with the firm nearly swinging to the black.



Comtec recently 1.84 hkdFounded in 1999 and tapped into the solar wafer industry in 2004, Comtec Solar is a leading high quality monocrystalline solar ingot and wafer manufacturer in the PRC and one of the pioneer manufacturers in the PRC able to massively produce Super Mono Wafers which achieve an average conversion rate of approximately 23%. With its production bases in Shanghai and Jiangsu, Comtec Solar focuses on the design, development, manufacture and marketing of high-quality solar wafers and has accumulated strong industry experience in the manufacture of semiconductor ingots and wafers.

---

See also: