Capesize vessel Cape Warrior (left) and Supermax vessel Zorina -- these 2 dry bulker carriers are among Courage Marine's current fleet of 5, which has an aggregate tonnage of 487,000 dwt. Photos: Company

SINGAPORE- and HK-listed Courage Marine Group (HK: 1145; SGX: E91) saw its full-year 2013 revenue rise a robust 33% to nearly 25.0 million usd, helping shrink the dry bulk shipper's net loss to 1.8 million from 10.4 million a year ago.

The reduction in the bottom line loss was also due to higher ship utilization and no impairment loss for the Group's vessels, unlike in 2012 when the impairment loss amounted to US$1.7 million.

Under another non-recurring item, Courage Marine recorded 'other gains' of approximately US$80,000 in FY2013 compared to 'other losses' of approximately US$3.8 million in FY2012 due to the disposal losses of five aged vessels.

In January 2014, Courage took delivery of MV Hsin Ho, a Panamax-class vessel with a carrying capacity of approximately 72,000 dwt, for a cash consideration of 8.6 million usd, expanding the firm's fleet to five vessels with an aggregate tonnage of approximately 487,000 dwt.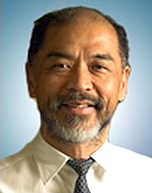 Wu Chao Huan, MD of Courage Marine.
Photo: Company"With the replacement of the vessels, the Group is well-placed to have higher efficiency in the event the dry bulk market recovers in full," said Courage Marine Managing Director Mr. Wu Chao Huan.

The Baltic Dry Index (BDI) has exhibited sharp volatility since July 2013 when it rose from the 1000 level to as high as the 2,100 level in early October before crashing to 1,500, and then recovering to the 2000 level by end-December.

Reflecting the BDI's correlation to freight rates, Courage Marine's October-December revenue surged 81% year-on-year to 9.6 million usd, helping the company swing to a quarterly net profit of 349,000 usd versus a net loss of 1.1 million in the year-earlier period.

The Oct-Dec quarter gross profit of 2.3 million usd accounted for 86% of the full-year's gross profit of 2.7 million usd.

The gross profit in full-year 2012 was approximately 0.3 million, in comparison.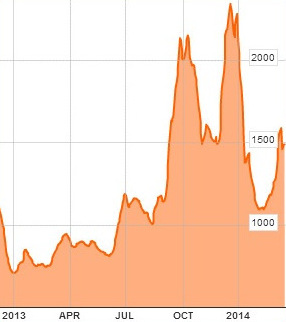 The Baltic Dry Index: Sharply higher freight rates in 4Q2103 enabled Courage Marine to achieve gross profit of 2.3 million usd, which accounted for 86% of the entire year's gross profit.
Chart: BloombergCost of sales in full-year 2013 increased by 21% to approximately 22.3 million usd, despite a 33% rise in revenue.

This was mainly due to lower fixed costs, including insurance, crew fees and depreciation.

Courage had cash and bank balances of approximately 13.2 million usd as at 31 December 2013, compared to 21.9 million usd a year earlier.
Since the start of 2014, the BDI has weakened again to the 1,500 level recently.

"The low demand for commodities in the Greater China Region, especially during the Chinese New Year period, and over-supply of vessels led to more pressure on the freight rates of the dry bulk market," said Mr Wu.

"The Group expects the financial performance for 2014 to be adversely affected by the current challenging economic conditions and uncertain outlook.

"However, the Group will maintain its cost-effective structure and focus on keeping its fleet well-deployed and running efficiently," Mr. Wu added.


See also:

COURAGE MARINE Adds USD8.6 Mln Vessel