COURAGE MARINE sees new substantial shareholder



Courage Marine Group Ltd (HK: 1145; SGX: E91) now has a new substantial shareholder – Mr. Zhou Xunlan – who bought 52.3 million of the dry bulk shipping firm's shares during a recent placement.

Mr. Zhou paid 31.38 million hkd for the shares, or 0.60 hkd apiece.

On Friday, November 15 – the day Mr. Zhou purchased the placed shares – Courage Marine's Hong Kong shares closed up 36.5% at 0.86 hkd.

Mr. Zhou now owns 65.952 million Courage Marine shares, boosting his stake to 6.23% from 1.29% previously.



Courage was informed on November 15 by Pronto Star Ltd -- a substantial shareholder -- that it placed out 116.2 million Courage Marine shares at 0.60 hkd apiece,

appointing VC Brokerage Ltd as its placing agent.

.

The shares represent approximately 10.97% of the issued share capital of Courage Marine.

The placing price represented a 30.23% discount to the last closing price and the transaction cashed in almost 70 million hkd.

Following completion of the Placing Agreement, Pronto Star, its sole owner Chiu Chi-Shun and his spouse Kuo Mei-Yuan will cease to be substantial shareholders of Courage Marine.

Pronto Star will hold 6,062,611 shares in Courage Marine, representing approximately 0.57% of its issued share capital.

Courage Marine boosted its July-September revenue 46% year-on-year to 5.1 million usd on a higher vessel utilization rate.



However, due to a 58% surge in the cost of sales and higher bunker and port charges, the third quarter bottom line swung to a net loss of 0.6 million usd compared to a net profit of 0.5 million in Q3 2012.




---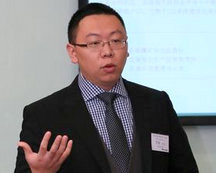 Anxin-China Senior VP Mr. Gordon Li told investors earlier this year the company was seeing tremendous growth potential from China's ongoing migration of villagers to cities and strong government support for the sector. Aries Consulting file photoJP Morgan 'bullish' on ANXIN-CHINA

JP Morgan has an "Overweight" recommendation on Anxin-China Holdings (HK: 1149).

The research house's target price on the maker of electronic work safety and security monitoring systems and equipment is 3.50 hkd.

"We remain bullish on the long-term growth potential of Anxin-China, a key beneficiary of the growing work safety and public safety industry," said JP Morgan.

On 15 November, Anxin-China announced it won bids of 'Safe City Projects' in five cities/counties in China.

"We estimate that the total contract size could exceed 100 million yuan, assuming 20-30 million yuan per site.

"This is the first batch of ISS (Intelligent Safety Systems) project wins for the company and we believe the progress is on track," JP Morgan said.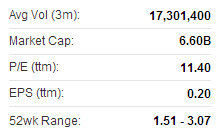 Anxin recently 2.29 hkdAfter the recent conclusion of the Third Plenary Session of the 18th CPC Central Committee (CPCCC), the government implied that it would set up a new 'State Security Committee'.

The new committee will have a domestic focus and could increase coordination between the various wings of China's security bureaucracy, split now between the police, military, intelligence and diplomatic services.

"It heightens the importance of national security and public security," the research house added.


---

See also:

COURAGE MARINE Q3 Turnover Surges Surges 46%

ANXIN-CHINA A 'Buy'