RH Petrogas has recently received a piece of good news amid declining oil prices.

The company, which is into exploration, development and production of oil and gas resources, announced last night (Oct 16) that its Overall Development Plan for the phased development of the Yongping Oilfield in the Fuyu 1 Block has received approval from China's National Development and Reform Commission.

This paves the way for the development and production of Fuyu 1 Block which is located in Songliao Basin, Jilin Province, and is operated by Kingworld Resources Limited, a wholly owned subsidiary of RH Petrogas.

Kingworld Resources entered into the petroleum contract for Fuyu 1 Block with China National Petroleum Corporation in November 2007.

Kingworld Resources had a 100% working interest in the Fuyu 1 Block during the evaluation phase.

With the commencement of commercial production, China National Petroleum Corporation would back in for a 51% working interest.

With the approval, Kingworld Resources can operate and drill up to 1,008 wells in Fuyu 1 Block over five years. These are shallow wells with average depth of less than 300 metres.

Production is expected to start in early 2015, and Fuyu 1 Block is expected to yield a total of 14.6 million barrels of oil during its production cycle, of which RHP will hold a 49% interest.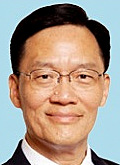 "We are very excited to receive the approval. It represents a significant milestone for our China project as it moves into the development and production phase. In anticipation of this approval, we had started pre-development preparation as well as the procurement of long lead items since early 2013. This helps to accelerate the development program and allow production to commence in early 2015. Production will be ramped up progressively as more wells are drilled."

-- Francis Chang, CEO (right)


OSK-DMG had a buy call and target price of $1.19 for the stock which bounced up 4.5 cents to 55 cents this morning with 10.8 million shares traded.

See: RH PETROGAS's "Attractively valued", TIONG WOON's at steep discount
UOB Kay Hian today lowered its target price from S$1.35 to S$1.00 after adjusting its average 2015 Brent oil forecast down to US$85/bbl from US$105/bbl under a more prudent approach to reflect the recent risks in oil prices.
RH Petrogas' corporate presentation materials are here.