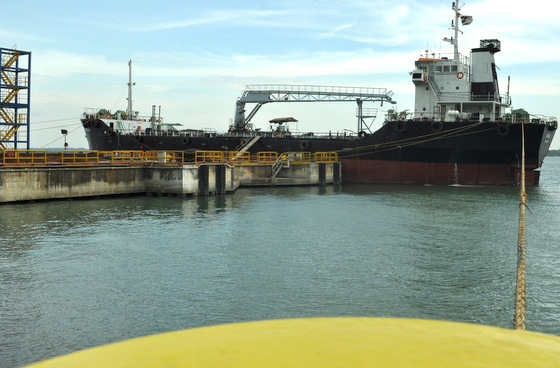 Oil tanker at Technics' jetty off Loyang Way. NextInsight file photo
Technics Oil & Gas goes into vessel repair

Technics Oil & Gas is proposing to acquire 80% in 2 marine vessel repair companies for S$16.46 million (at 1.2X book value).

The acquisition will be funded by the issue of Technics shares at 82.5 cents apiece (a 10% discount to market value) with a six-month moratorium from issue date.

Known as Marinelift Testing & Supply Pte Ltd and Rigging & Marine Services Pte Ltd, the two acquisition companies have a core business in the repair of ships, tankers and other ocean-going vessels as well as engage in civil engineering and construction works.

Their combined net profit before tax was S$2.7 million for the financial year ended 30 June 2014. Their combined NTA was S$17.14 million.

The sale and purchase agreement was inked just a few weeks after Technics received permission from the Maritime and Port Authority of Singapore to start operating its new jetty off Loyang Way.

The jetty and related infrastructure as well as deep-water dredging for a draft (minimum depth of water a vessel can safely navigate) of 6.6 metres took 3 years and nearly S$20 million to build.

The acquisition targets come with a good management team which has accumulated relevant business experience over the last 10 years.

Recent story: SERIAL SYSTEM To Acquire GSH Businesses; TECHNICS Wins Contracts
---
Former Aqua-Terra CEO joins AusGroup as non-executive director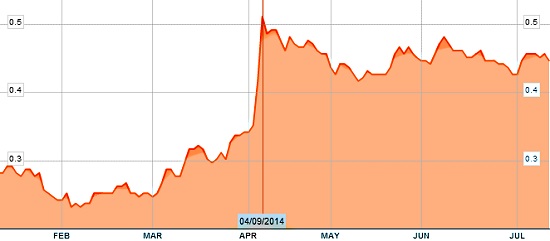 AusGroup's share price surged by more than 50% and held steady after Ezion took a significant stake in April. Bloomberg data

AusGroup has appointed former Aqua-Terra CEO Eng Chiaw Koon, 52, to be one of its non-executive non-independent directors.

A distributor of consumables for the offshore oil and gas industry, Aqua-Terra was delisted from SGX in 2010 and is a now wholly-owned subsidiary of KS Energy.

He was also previously the chief operating officer of KS Distribution Pte Ltd, a leading oilfield equipment distributor.

Mr Eng is currently the Director of Projects at Ezion Holdings.

His appointment is the latest in a series of recent additions to the AusGroup board arising from Ezion's acquisition of a 6.9% stake in AusGroup on 3 April.

On 9 April, AusGroup and Ezion announced the following proposed collaborations.

1. Use of the capacity of Port Melville to augment Darwin Port to tap higher regional demand from the oil and gas and resources industries in Australia

2. Provision of logistics supply chain and related support services

3. Development of tank farm and engineering services

4. Development of oil and gas infrastructure development

Recent story: AUSGROUP Attracts Ezion To Be Substantial Shareholder