Taxi drivers sometimes find fat wallets left in the back seat by forgetful passengers. Domestic helpers?
Here is the unusual story of a Filipina who found a bundle of cash in a plastic bag in her employer's garden last Thursday (Jan 30).
It was the eve of Chinese New Year, and what a fat hongbao the cash would have made for her

.
At dawn, she was just starting on some washing at the back of the semi-detached house in the Guillemard area when she heard a few thuds in the garden.
A neighbour had thrown some plastic bags over.
Curious, the maid, who is in her late 20s and has worked for about four years with the current employer, went to check them out.

She caught sight of cash in one of them, and hastened into the house to tell her employer about it.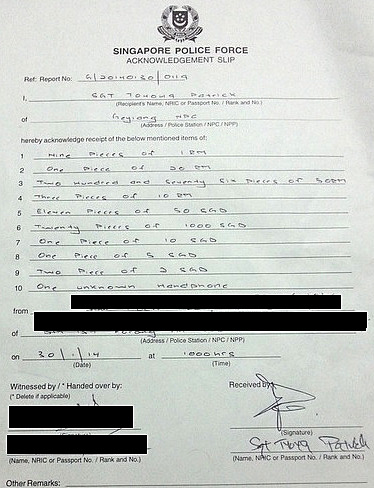 This police document itemises the money and mobile phone recovered.After weighing the unusual circumstances and considering, especially, the large amount of cash that seemed to be in the bag, her employer decided to call the police.

In the garden, the police counted S$20,000 in S$1,000 bills and S$569 in various smaller denominations.

There were also RM13,800 (comprising 276 pieces of RM50 notes) and RM59 in smaller denominations.

In the midst of the counting, the son-in-law of the man who had thrown the money arrived after being contacted.

The total haul was counted to be the equivalent of S$26,000. And in other bags, there were his mobile phone, passport, identity card, EZ-Link card and family photographs too.

It is unclear why the man had thrown over the money and personal belongings.

The employer, in recounting the episode to NextInsight today, said: "I think my maid should be commended by the police and the public for her honesty. She didn't succumb to temptation, and serves as a good example of honesty."