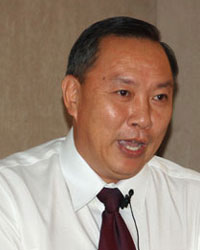 Lim Hock Chee, CEO of Sheng Siong. NextInsight file photoSHENG SIONG GROUP is very much in the news currently, though not for business reasons.

Its CEO's 79-year-old mother was kidnapped in Singapore, released on payment of a S$2-million ransom, and was otherwise unharmed.

The CEO, Lim Hock Chee, has a net worth of some S$655 million, by Forbes' estimate.

This is mostly attributable to his stake in Sheng Siong, which he and two of his brothers started with a single shop in Ang Mo Kio in 1985.

The brothers had previously been helping out in their father's pig farm in Punggol.

The 33-store supermarket chain, which has grown to become the third largest in Singapore.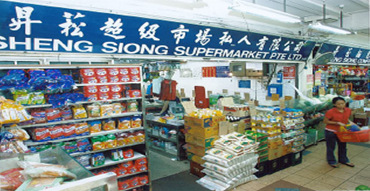 The outlet in Block 122, Ang Mo Kio Ave 3 where the story of Sheng Siong started in 1985. Photo: CompanyIt reported net profit of $29.6 million on revenue of $517.0 million for the first 9 months of 2013.

The business has a market cap of S$850 million based on the recent stock price of 61.5 cents.

As for the recommendations of analysts, we checked out Bloomberg's latest compilation and the findings are as follows:



Source: Bloomberg

Recent story: SIAS awards: Cordlife, Geo Energy, Eratat, WE Holdings, OKP, Sheng Siong, CAO

---
Excerpts from DBS Vickers' report
Buy ARA Asset Management with Sum-Of-The-Parts target price of S$2.08
Acquisition of a fund management platform in Korea, with a potential to grow further.
ARA recently entered into a conditional sale and purchase agreement for the acquisition of Macquarie Real Estate Korea Limited ("MREK") for an undisclosed sum. MREK manages two privately held REITs with an AUM of KRW588.4bn (US$554.1m).

We view this M&A transaction positively as it will enable ARA to gain an immediate foothold into Korea, a new market for the group. Through MREK, an established real estate platform, ARA will gain valuable experienced personnel and new partnerships with investors. In addition, we see potential synergies and growth through the launch of new products, tapping a larger investor base going forward.

Growing private fund business.
The private fund arm continues to grow steadily with the launch of a new platform, Morningside Investment Partners, LLC (MIP) and a US-based, public pension fund has committed US$240m as seed capital. MIP, which has an initial term of eight years, will pursue a core-plus strategy of investing in real estate assets in Singapore/ Malaysia/Hong Kong.

This complements ARA's suite of different fund products that focuses in other geographic regions. Together with MREK, fees from MIP will contribute positively to a higher recurring base in 2014.
BUY, TP S$2.08 maintained.
We believe that the group remains on track to meet its targeted S$2bn growth in AUM for 2014, supported by new private funds, while its REITs continue to acquire (Suntec, Fortune and Prosperity) and grow its recurring income fee base. Maintain our BUY Call, SOTP target price of S$2.08. This is based on 20x PE


Full report here.