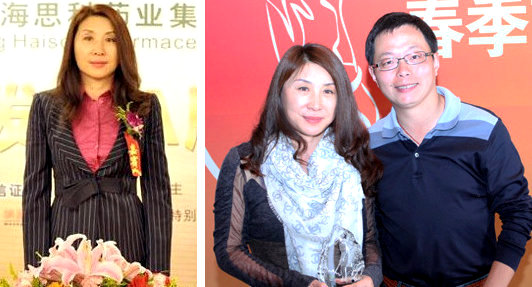 Ms. Fan Xiulian (left) vice chairperson of Xizang Haisco Pharmaceutical, at the Shenzhen-listed firm's results briefing, and on right receiving a business achievement award from Hunan entrepreneur Mr.Wei Dong. Photos: kaixian, zsvc

CHINA'S FAN XIULIAN, co-founder of Xizang Haisco Pharmaceutical Group (SZA: 002653), is among a growing number of US dollar billionaires.

Ms. Fan, 50, who also holds permanent residency status in Singapore and spends a good deal of her time there, saw her net worth surge this year on the strength in the drugmaker's shares.

She owns a 23% stake in Haisco.

Born in 1963 in Mainland China, she serves as vice chairperson of Haisco Pharma, which went public in January 2012 and has a recent market cap of 20.4 billion yuan.

Earlier this year, Haisco's A-shares surged 52% in one month alone, helping propel Haisco Chairman and co-founder Mr. Wang Junmin's net worth well over the one billion usd mark, thanks to his 44.3% stakeholding in the firm.

Ms. Fan, a graduate of Guangzhou's South China University of Technology, co-founded the precursor to Haisco with Mr. Wang in 2000, with her ascent to the firm's vice chairpersonship position taking place in 2007.



Haisco Vice Chairperson Ms. Fan Xiulian (left) has had to compete to become a US dollar billionaire in a male-dominated industry. Photo: pw5

Investors were drawn to Haisco's shares by its strong business performance, with 2012 sales up 32% at 129 million usd and net profit surging 42% to 71.5 million, which translates to a profit margin of well over 50%.

Furthermore, the company's expanding product line, ongoing urbanization, China's aging population and strong recent support from the new national government for the country's pharmaceutical industry made Haisco one of the favorite A-share drug plays among investors this year.

Shortly following its share price surge this spring, Haisco announced it would invest nearly 50 million usd in the Sichuan Province city of Meishan to help boost production of high-growth drug products.

Ms. Fan is an elusive tycoon in terms of media exposure, with only one press interview currently existing online in which she talked almost exclusively about her firm's good corporate citizenry contributions to Tibet in particular.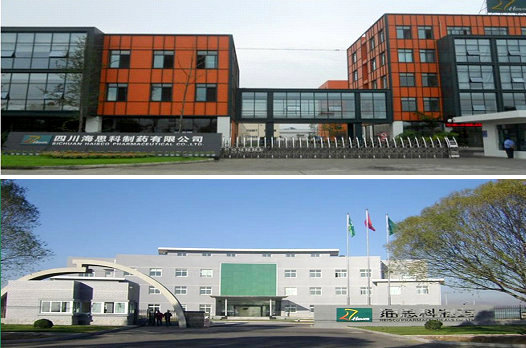 Haisco is an R&D-intensive drugmaker with facilities in Sichuan (top) and Liaoning.
Photos: Haisco
But some of her financial dealings over the years raised eyebrows in the investing community.

After becoming vice chairperson of Haisco in 2007, she inexplicably transferred her approximately 20% stake in the drugmaker to her own mother the following year, only to reclaim the shares in late 2008 when the global financial crisis was destroying equity market value around the world.

And in and around the firm's A-share listing in January 2012, the pharmaceutical play stunned the investing community by sharply swinging to a stunning net profit after registering a significant loss the year earlier.

Though Ms. Fan and the firm's two other significant shareholders faced questions at the time, investors must have been sufficiently satisfied with the answers they received, sending the Shenzhen-listed firm's shares soaring and helping push Ms. Fan's personal net worth to nearly one billion usd.




Ms. Fan has never forgotten the firm's roots in Tibet – home of some of the world's most sought-after flora and herbs growing several thousand meters high that constitute much of traditional Chinese medicine's (TCM) preventative and therapeutic ingredients.In a very rare local media interview she granted last year, Ms. Fan was asked what prompted Haisco to donate three million yuan for the Yalong Cultural Festival in the Himalayan province.

"Haisco was born and grew up in Tibet and is very reliant on the region's clean water and herbal gifts for our success.

"The growth of Haisco has also been a big boost to Tibet's economy, and vice-versa, so it is only natural that we help out the origin of our success in any way we can," Ms. Fan said.

Xizang Haisco Pharma is mainly involved in the development, production and sale of chemical drug preparations and bulk drugs, with a focus on injections, powder injections and other product lines.



Haisco's product line falls into seven series: parenteral nutrition including invert sugar injections and lipid soluble vitamins; first-aid drugs such as hydroxyethyl starch sodium chloride; antibiotics including fusidic acid sodium and cefodizime sodium; digestive system products; anesthetic agents; nervous system series and tumor-shrinking drugs.

Haisco, which targets mainly the PRC market and has yet to break into export markets in a significant way, pays a great deal of attention to R&D.

"Our growth until now has always relied heavily on bringing new pharmaceutical products to market, and our focus on innovation and boosting our drug portfolio via R&D will not change," Ms. Fan said.



She said the company's strong attention to innovation recently helped it attract 30 new technicians to its R&D plants in Sichuan and Liaoning Provinces, including nine PhD holders.

"We currently have 40 new products under development.

"Our goal is to help Chinese enjoy the same high-quality global pharmaceutical products and treatment available worldwide."

Looking ahead, she said boosting brand image and expanding the drugmaker's product portfolio were the two main campaigns.

"Since our IPO in Shenzhen, we have really capitalized on the new influx of funds to help optimize our core competitiveness and help direct monies more efficiently into the most profitable product lines.

"We are very proud of the fact that of the nine Tibetan-based A-shares currently in existence, Haisco has the best financial performance among them in all categories," she added.


---

See also:

HUANG XI: Former Math Teacher Now Self-Made Property Mogul


For more on Ms. Fan Xiulian, see:

FINDING A CURE: Time For China Drug Stocks To Soar

http://www.xzsnw.com/yalong/ylwhjdt/51106.html

http://www.jfdaily.com/a/5411873.htm

http://www.forbes.com/profile/fan-xiulian/