Main reference: Story in Sinafinance

WITH GOVERNMENT subsidies and policies, urbanization and outright attempts to create national champions in the pharmaceutical sector, is it time for healthy drug stocks in China to finally take off?

It appears that could be the case thanks to several encouraging trends for the industry.

Since 1980, China has had a one-child policy on the books.


Haisco Pharma Vice Chairman Fan Xiulian. The firm is expecting a big bottom-line jump this year Photo: goto18Now, granted there are some special dispensations given to couples in areas like Shanghai where more career-oriented women are putting off walking down the aisle and thus exacerbating regional baby shortages.

Also, China's ethnic minorities are typically exempted from the requirement as well.

Nevertheless, the over three-decade old policy has been a roaring success overall, with some academicians theorizing that without it, China's population could very well be flirting with around two billion people today – effectively halving per capita incomes across the country.

But now, the policy is becoming – to some extent at least – a victim of its own success.

The one-child policy has helped pull hundreds of millions out of poverty.

But it has also had the unintended – but hardly unforeseen – consequence of making China one of the world's oldest countries in more ways than one.

Yes, it is the proud home of a 5,000-year-old civilization, but the PRC is also one of the most rapidly aging societies, thanks in large part to the one-child policy.

This means seniors will increasingly be reliant on their single child for support in their golden years, provided said offspring lives in the vicinity of their ailing parent in a highly mobile Chinese society.

So China's rapidly aging society is the single-biggest reason to be upbeat about the country's pharmaceutical sector.

After all, the medicine cabinets of those over 60 are typically far fuller and better stocked than those under 60.

Another major reason to be optimistic about the PRC's drug makers and medical product plays is the historic shift of the population from farms to factories, and from rural areas to the country's teeming cities.

A few short years ago, China became for the first time in its five-millennia history a majority urban population.

With the masses concentrated in cities, now hospitals, clinics and pharmacies are far more accessible to the citizenry and both prescription and OTC drugs are typically much more heavily used.

Also, concentrated populations are a marketer's dream as outdoor and new media advertisements for various drug brands are far more easily targeted at key demographics, with many more eyeballs paying notice to ads.

In addition, city life affords more access to public health education and propaganda (of the good kind).

Subsistence farmers and low-wage villagers would often wait for medical problems to arise before consulting a physician.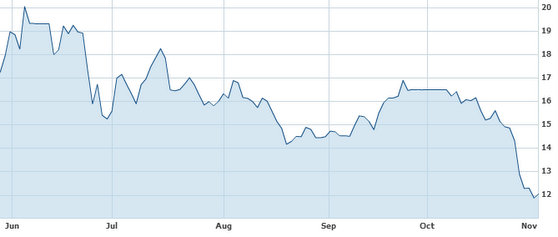 Zhejiang Huahai, whose A-shares are near 52-week lows, is possible beneficiary of pro-pharmaceutical policy from Beijing. Source: Yahoo Finance

However, the art of preventative medicine is far more prevalent in cities than in the countryside – another phenomenon which presents a massive opportunity for vaccines, supplements and other pharmaceuticals falling into the preventative medicine category.

By the year 2015, global pharmaceutical sales are expected to reach one trillion usd, with between 60-70% of these drugs expected to be preventative medicine.

While China hasn't made major inroads into the global pharmaceutical sector so far, the fact that the new national government is prioritizing the domestic drug industry and openly supporting the creation of a handful of national champions will likely lead to an export push down the road.

If and when the domestic pharma flurry comes, some A-share sector plays are likely to be in a better position to get a shot in the arm than others.

Some of the preventative medicine flagship brands that could possibly benefit most from all the regulatory and market-based upside drivers include Zhejiang Huahai Pharma (SHA: 600521), Zhejiang Hisun Pharma (SHA: 600267), Livzon (SZA: 000513), Shenzhen Salubris (SZA: 002294) and Xizang Haisco (SZA: 002653).

Just last month, Xizang Haisco Pharma announced that it received a supportive fund worth 15.6 million yuan from the government.

The drugmaker expects its FY2013 net profit to increase by as much as 40% to 620 million yuan.

---